7 DIY Cat Scratch Board and Pan Plans You Can Make Today (With Pictures)

Many cats end up in shelters because their owners can't deal with the feline scratching. It can be maddening and costly to share your home with a cat that won't stop scratching the sides of your sofa or one that's destroying your dining room table.
Instead of getting rid of your cat that scratches, give him a cat scratch board or pan to use. The great news is that scratch boards and pans are simple in design which means you can make one yourself! Here are some fantastic cat scratch board and scratch pad plans you can make yourself today.
The Top 7 DIY Cat Scratch Board and Pan Plans
1.

Modern Cat Scratching Board/Post for Sofa
| | |
| --- | --- |
| Materials: | wood boards, sisal rope, catnip spray |
| Tools: | yardstick, circular saw, drill, power screwdriver, sandpaper, sander, level |
| Difficulty: | medium |
If your cat is wreaking havoc on your sofa, this DIY sofa scratching board is perfect! It's designed to fit over the arm of your sofa so your cat can scratch all he wants without doing any harm.
This plan does require a bit of talent and experience using power tools. But if you're the handy type and have some good tools on hand, you're good to go! To complete this project, you'll need a few wood boards, sisal rope, and some catnip spray that will attract your cat to the board.
Expect to spend a full day working on this project. So, plan ahead. Collect the necessary tools and dig right in!
---
2.

Cardboard Cat Scratcher
| | |
| --- | --- |
| Materials: | cardboard, hot glue |
| Tools: | box cutter, glue gun, cut-resistant gloves (optional) |
| Difficulty: | novice |
This plan is a great way to use those cardboard boxes you haven't recycled yet. It's a project that won't cost you anything if you have cardboard on hand, a hot glue gun and glue, and a box cutter or craft knife. You'll also need a ruler for measuring the strips of cardboard and a pair of cut-resistant hand gloves if you're a bit on the clumsy side.
You can make the cardboard cat scratcher as wide as you need to accommodate your cat's size. If your cat is around when you're making this scratcher, be ready to shoo him away because he'll probably want to play with all the strips of cardboard you're cutting! Once you finish cutting and gluing this scratcher together, you'll be surprised by how sturdy it is!
---
3.

Fast and Easy Cardboard Cat Scratcher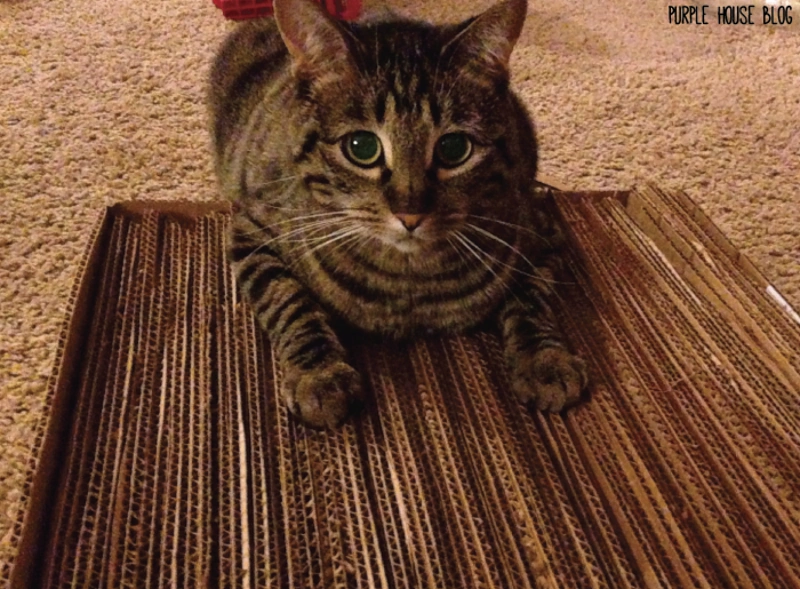 | | |
| --- | --- |
| Materials: | cardboard boxes |
| Tools: | box cutter or utility knife |
| Difficulty: | novice |
This cat scratcher made of cardboard is perfect if you're in a hurry and don't want to spend any money. Unlike the previous plan, there's no gluing required with this one. Instead of using glue, you simply cut the cardboard into strips and fit them into a cardboard box bottom so they're nice and tight.
Because this simple cat scratch board only takes a few minutes to make, you can put together a few in no time flat for use throughout your home. You will need quite a few cardboard boxes for this project and a whole load if you're going to make more than one scratcher. It's a good idea to clear a big space in your craft room or basement to make it easier to put this scratcher together.
---
4.

Wood and Rope Cat Scratch Pad
| | |
| --- | --- |
| Materials: | long wood plank, sisal rope, glue, staples |
| Tools: | saw, clamp, hot glue gun, staple gun |
| Difficulty: | novice |
If you've tried a cardboard scratcher only to find your cat rips it to shreds and leaves behind a big mess, you'll love this wood and rope cat scratch pad. You may have a couple of wood planks to use for this plan but if not, you can pick some up cheap at your local lumber yard or hardware store.
This scratch board is designed for use on the floor, and it's raised and angled so your cat can stretch his muscles while sharpening his claws. If you're using unfinished wood, consider painting or staining it so the scratcher looks nicely finished when done. This is an easy project to complete that doesn't cost much money at all!
---
5.

Cat Scratcher House
| | |
| --- | --- |
| Materials: | plywood, tv tray, jute rope, pillow stuffing, dowel, fabric for the teepee, hot glue, felt string, screws |
| Tools: | sewing machine, electric drill, screwdriver, hot glue gun |
| Difficulty: | medium |
Talk about cleverness! This wonderful cat scratcher house is made using an ordinary tv tray, scrap fabric, and jute rope. When you get this plan done, your cat will have his very own feline teepee he can hang out in when he's not using the scratch pad on the outside!
While this isn't the cheapest cat scratcher to make, you'll have to admit it's unique and one any feline would love to have! Plan on spending around $25–$30 for the materials you need and a couple of hours to do the work.
Once you gather the materials you need which include a TV tray, plywood, jute rope, and pillow stuffing plus some tools and other essentials, you can get to work making this fantastic kitty cat house complete with a scratching pad!
---
6.

Self-Groomer Cat Scratch Pad
| | |
| --- | --- |
| Materials: | wood, fabric or carpet, wire loop cleaning brush, glue, staples |
| Tools: | wire cutters, staple gun, power drill, hot glue gun |
| Difficulty: | novice |
This is a fun DIY plan for making a cat scratching pad complete with a self-groomer your cat can use for looking his best. The self-groomer cat scratch pad is made with a round piece of wood, fabric, and an ordinary wire toilet brush that's been cut in half. We recommend using a carpet sample instead of the fabric so the scratch pad base will stand up well to your cat's sharp claws.
Be sure to watch the full video tutorial before you begin, so you understand how to complete this project. Your cat is going to love this kitty scratcher he can use to pet himself! This is a low-cost scratch board that won't cost you more than a couple of dollars to make.
---
7.

Cat Scratcher Lounge Board
| | |
| --- | --- |
| Materials: | heavy cardboard, sisal rug remnant, cardboard mailers, jute rope, glue, masking tape, ruler, scissors, marker |
| Tools: | glue gun |
| Difficulty: | medium to advanced |
This cat scratcher lounge takes some time to put together, but once you're done, you'll be very proud! Your cat will be happy, too, because this lounge scratching board offers him lots of scratching opportunities.
This plan requires using a couple of pieces of heavy cardboard, a piece of sisal rug remnant, 100 feet of jute rope, and some cardboard mailing tubes.
As you'll see in the instructional video, there are many variations you can choose from. You can use a variety of different materials or varying sizes for the tubes and ropes. A great thing about using cardboard mailers is that it creates hiding places for small cat toys, so your feline friend always has something to play with.
Conclusion
You don't have to spend a lot of money on commercial cat scratch boards and pads. You can easily make your own cat scratcher to keep your furniture, doors, and walls intact.
All the items above are relatively easy to make, and most are very affordable. When you pick the plan you want to start on, don't neglect to gather all the materials and tools you need so your project goes along as planned without a hitch!
Related Reads:
---
Featured Image Credit: Daga_Roszkowska, Pixabay