18 DIY Elevated Dog Bowl Stands You Can Build Today (With Pictures)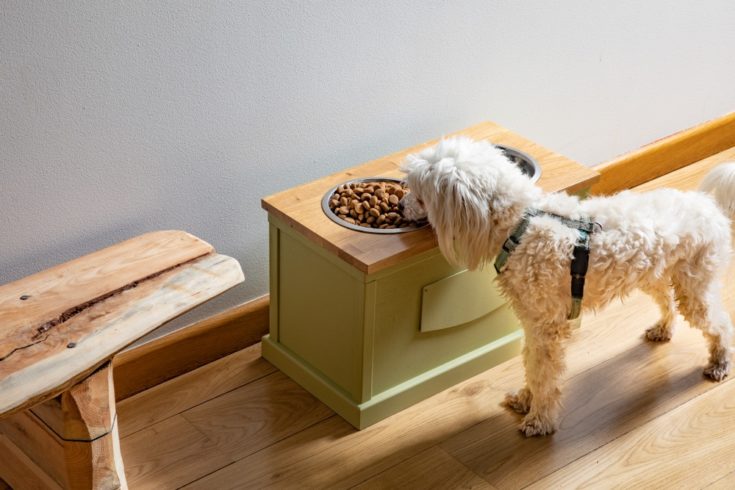 If you're tired of the same food and water bowls getting knocked over and scooted around your floor, having a raised bowl stand for your dog may eliminate those issues for good. Also, while bending to eat may not be a significant issue for smaller breeds, it can be quite a task for larger breeds. So, it may be beneficial to have a shoulder-level feeding stand to make this process easier.
Raised dog bowls and feeding stations can get pricy. Grabbing a few tools and materials can cut out hundreds of dollars in the process— literally. We've found 18 free DIY dog bowl stands that you can create yourself with a little expert guidance.

18 DIY Elevated Dog Bowl Stands You Can Build Today
1.

Practically Functional Elevated Dog Food Bowl
Skill level: Intermediate
This DIY raised dog food bowl by Practically Functional is a wonderful way to upcycle an old item. Alternatively, you can find a small dresser at a thrift store or possibly even online marketplaces. You will also need two rimmed dog bowls. They estimate that this design will take under five hours to complete in total.
You won't need too many tools with this DIY elevated dog bowl stand, though it will require experience with and access to things like a jigsaw, screwdriver, and drill.
---
2.

Jen Woodhouse Large Dog Feeding Station
Skill level: Intermediate
The large dog feeding station guided by Jen Woodhouse is ideal for larger breeds, as the name implies. Your big guy or gal won't be craning their necks to eat their floor-level food anymore. This design even has a drawer for storage.
There are printable PDF plans that will go over all the materials, tools, and measurements required. Jen added non-slip footpegs to the finished product, and DIY elevated dog bowl stand will be an optional feature depending on your preference.
---
3.

Happy Go Lucky Dog Food Feeding Station with Storage
Skill level: Intermediate
This dog feeding station with storage from Happy Go Lucky is an easy setup that will have your dog eating higher up in no time. It's a similar design to our other two selections, but it has a personalized nameplate and side handles for easy mobility. You can also store the food in a tote container beneath the food bowls.
The process is broken down for you with photos and straightforward explanations, so you won't have issues doing it at your own pace. They go over each item and measurement that you will need to get the finished product that you desire.
---
4.

Meg Allan Cole Dog Feeder
The dog feeder by Meg Allan Cole is designed with tiny dogs in mind. Meg has two small rescues that she used when creating this idea. This option would not be suitable for larger dogs, and it won't be sturdy enough for a destructive kind either.
However, if you have toy or small breeds, the supplies for this raised food dish are inexpensive, and it's effortless to produce. Meg's video provides a fantastic visual guide, making the creation process uncomplicated and speedy.
---
5.

Half Street Shop Pallet Wood Dog Bowl & Food Storage
Skill level: Intermediate
This pallet wood dog bowl and food storage DIY idea from Half Street Dog is another inexpensive choice. The creators of this pallet piece ended up using ideas from Pinterest, for ultimate pallet perfection. Not only is this one efficient for storage and feeding, but it also looks rustic and stylish as well.
There is a durable slide-out hinge to store the plastic food storage tote. While you will need tools, the pallets themselves will be low cost or even free!
---
6.

The Well-Rounded Momma Dog Bowl Stand (Less than $5)
This dog bowl stand by the Well-Rounded Momma is ideal for little dogs and other household pets. It doesn't sit too far off of the ground, working for small or toy breeds and cats alike. As far as the decorative nature goes, the setup looks lovely.
Not to mention, there is no need to use a jigsaw to try to make a perfect circle. The bowls sit nicely on a fitted square top. These instructions are formatted step by step in the post, with photos to confirm your progress.
---
7.

A Shade of Teal Raised Dog Feeder
You won't need many supplies to create this sleek raised dog feeder design from A Shade of Teal. The instructions show glass bowls, but you can use any rimmed dishes you desire. You'll simply cut down your boards, do a bit of woodworking, and be good to go.
This DIY elevated dog bowl stand does require the use of a nail gun, so if you don't have one handy, feel free to use a standard hammer and nails.
---
8.

DIY Huntress Dog Bowl Stand
The dog bowl stand from DIY huntress is easy to assemble and looks adorable as well. The cuts are standard, so there are no intricate steps needed to create this stand. You can even customize it with any paint or stain you prefer, but in the tutorial, they show a popping red color that stands out.
You won't need many tools to get started, as this requires the same basic ones as the others — like the miter saw, jigsaw, and drill. The instructions show you step by step how to build an elevated dog bowl stand, with written explanations and added photos so you can finish at your own pace.
---
9.

Anika's DIY Life Simple Dog Stand Plans
The simple dog food stand from Anika's DIY Life is a modern style design sure to fit in with any contemporary home. It is a simple wooden design with bowls fitted on separated square pieces. The bottom portion was painted in black for the tutorial, but you could paint it any color. This gives it a feeling as if it were dipped in paint.
There are minimal materials, so you won't have to pay much to get this look.
---
10.

Ugly Duckling House No-Slip Dog Feeder
This no-slip dog feeder design by Ugly Duckling House is ideal for the dogs who tend to "push" their food around. The legs will stay in place, making it hard to move around for your dog, so you don't find it halfway across the room. For forceful eaters, it also keeps it from tipping over because it tends to be somewhat top-heavy.
If you were looking at the options on the list with no storage compartments and are worried about the sturdiness, you may want to go for this DIY over the others.
---
11.

Workshop Addict Raised Dog Bowl Stand
This is a video tutorial from Workshop Addict to create a raised dog bowl stand. John walks through the whole process, teaching you how to build an elevated dog bowl stand including how to measure and exactly how everything fits together. It's beneficial, especially for someone who isn't too tool-savvy.
The result is a standard, well-made wooden piece that can be stained or painted to your liking.
---
12.

Jackal Woodworking Raised Dog Feeder
Jackal Woodworking guides you through a video tutorial on how to create your own raised dog feeder. This is a beautiful design using metal legs for a unique and stylish look. The metal piping for the legs is easy to assemble and leaves out most of the cutting and nailing that our other DIY feeders have.
The overall design fits décor from rustic to even steampunk. It may be a tad more expensive for materials than some others, but it will look terrific in any main space.
---
13.

Casual Builds Dog Bowl Stand with Storage
Skill level: Intermediate
This video made by Casual Builds shows you how to make an adorable wooden dog bowl stand with storage for your pooch. It has another slide-out drawer feature, providing a compact space to store the food. It makes things extremely simple when it comes to feeding time.
They even guide you through how to make the wooden bone to add to the front if you want to get extra creative.
---
14.

Maker Gray Concrete Dog Bowl Stand
The Maker Gray channel created this video to guide you through how to make an extremely durable concrete dog bowl stand. This will take a bit more effort over some of the others, but don't fret too much. She guides you through the concrete mixing steps flawlessly.
This is especially good for dogs who like to gnaw on wooden edges. If the tabletop is concrete, there will be no destruction of the main design. It looks terrific and is made to last.
---
15.

CNTHINGS Big Dog Bowl Stand
In this tutorial, CNTHINGS shows you how to make a large dog bowl stand for a big breed. He mentions in the beginning that he is creating this explicitly for his 200-pound mastiff — so this can be a good indication of whether this stand will work for you.
The ultimate design has a hinged top, so you can open and close the top portion, using the inside for storage. It's efficient and more natural to put together than you would assume at first glance.
---
16.

Steve Carmichael Raised Dog Food & Water Bowl Stand
Skill level: Intermediate
For another compact combination, Steve Carmichael walks you through a guided tutorial to create a wooden dog food and water bowl stand with bottom storage. There is an adorable paw print design on the side to give the lifted bowl character.
Steve mentions in the video that under the description link, there is a downloadable PDF plan that you can use to create this piece at your own pace.
---
17.

Sterling Davis Pet Water & Food Stand
Skill level: Intermediate
This pet water and food stand design by Sterling Davis is a bit more complicated than our other choices. Not only does it use a three-bowl top, but it also has a three-piece glued wood design for the top pieces. Then, he made it even more crafty by using a scroll saw to create intricate designs on the sides.
This type of DIY would only be suitable for an experienced woodworker if you plan to get a fraction as detailed as he does in this video. So, if you are a beginner, you may want to consider other raised bowls. Still, it's a beautiful design that's totally customizable for someone with the skills to create it.
---
18.

Animal Wised Homemade Dog Feeder
The homemade dog feeder design by Animal Wised is a cute and practical piece for your pet. It is made from a fruit crate that you can customize with your pet's name and paint it how you desire. Rather than using fancy tools like a jigsaw, the material used for the top is thin enough that you can cut it with a utility knife.
Fruit crates are inexpensive and potentially free if you look around. You won't need to cut wood or build this, as all the hard work is already done. Use your personal touches to tailor it to your sense of style.

Conclusion
As you can see, these appealing stands differ in skillset and appearance. You can customize the perfect elevated dog bowl to correspond with your décor while making meals more enjoyable for your dog. It's amazing what you can do with a little wood and a solid plan. Whether you choose a simplistic or intricate design, you are sure to come up with a unique DIY elevated dog bowl stand that adds character to your home. With a few simple cuts and general guidance, you can turn these hypotheticals into a reality.
Featured Image Credit: Peteris Zalitis, Shutterstock