15 DIY Indestructible Dog Toys for Heavy Chewers You Can Make Today (with Pictures)

Some dogs may be considered light chewers, but most dog lovers do not seem to own those animals. You probably have a graveyard of inadequate chew toys if you've owned your pet for several years. Most toys are inexpensive, but the costs can add up when your pup mutilates everything entering its mouth. Instead of buying your toys in bulk, you can save money by constructing some of these exceptional DIY projects for heavy chewers.

The 15 DIY Indestructible Dog Toys for Heavy Chewers
1.

Fake Ginger DIY Dog Toy
| | |
| --- | --- |
| Materials: | 3 T-shirts |
| Tools: | Scissors |
| Difficulty: | Easy |
Everyone has a few T-shirts that they're embarrassed to wear away from home. This simple DIY project will not cost you a dime unless your closet does not contain unwanted garments. The author's dogs played tug of war with this homemade toy and could not tear it to shreds like their other toys. Brightly colored shirts are best, so you can locate the toy easier when your pup plays outside. After laying the shirts on a solid surface, cut three strips from each shirt. Place the strips together and tie one end in a knot. After braiding the other strips together, you're done. This is the simplest and quickest toy on our list to construct.
---
2.

Happiest Camper DIY Dog Toy
| | |
| --- | --- |
| Materials: | Denim fabric, cotton filling, scissors, thread |
| Tools: | Pins, chalk, needle, sewing machine |
| Difficulty: | Moderate |
If your pet has been caught with a pair of jeans in its mouth, the dog will love this project from Happiest Camper. An old pair of jeans will make several of these toys, and if you have more than one canine in the house, it may be wise to construct several jean dog balls. The author includes a video and a free pattern you can print out, but if you do not have access to a sewing machine, the project will take a while to sew by hand. After sewing two pieces of denim together, you'll stuff the ball with cotton and sew up the last seam.
---
3.

Instructables DIY Dog Toy
| | |
| --- | --- |
| Materials: | Hemp or jute rope, 2–4 sweet potatoes, sheet pan, aluminum foil |
| Tools: | Sharp knife, round cookie cutter, vegetable peeler |
| Difficulty: | Moderate |
You're unlikely to find another DIY toy as creative as this one by Instructables. Unlike the other toys on our list, this one will make your kitchen smell like you're cooking a Thanksgiving dinner. After slicing the sweet potatoes into thick rings, you use a cookie cutter to remove the center to make room for the rope. The rings take 2 ½ hours or longer to bake and dry out, and you need to wait for them to cool completely before adding them to the rope. The author suggests braiding the jute if it's too thin, but all you have to do is add the rings and secure the pieces by tying knots.
---
4.

To Dog With Love DIY Dog Toy
| | |
| --- | --- |
| Materials: | Nylon rope, tape, KONG toy or tennis ball |
| Tools: | Scissors |
| Difficulty: | Easy |
This project from To Dog With Love will take you less than 15 minutes to complete, but if you have experience tying a monkey's fist knot, you can finish it in 5 minutes. The knot is not difficult for beginners to learn, and the author includes each step of tying the knot with photos. You can use a tennis ball or KONG toy to tuck into the knot to form the center. After wrapping the rope around the ball several times, you form a braided handle with the remaining pieces. Using heavy-duty nylon rope will keep your dog from chewing down to the bouncy core.
---
5.

Dalmatian DIY Dog Toy
| | |
| --- | --- |
| Materials: | Polar fleece |
| Tools: | Scissors |
| Difficulty: | Low |
It's challenging to find a dog that does not enjoy tug toys, and you can make this design from Dalmatian DIY in less than 30 minutes. You can buy three pieces of fleece to make the toy or cut up strips from an old fleece jacket or pullover. You use one piece that's doubled over to form the center, and then you tie the other pieces and weave the strips over the fleece core. The weave pattern resembles the ones on paracord bracelets, and it may take you longer if you're unaccustomed to tying a cobra knot. However, the author's step-by-step guide should help you tie the knot without issues.
---
6.

Wow Thumbs Up DIY Dog Toy
| | |
| --- | --- |
| Materials: | Seamless knit gloves, needle, thread, black doll buttons, one large button, poly fiber stuffing |
| Tools: | Scissors |
| Difficulty: | Moderate |
Dogs love to chew on fabric that has their owners' scent on it, and they're sure to love this design from Wow Thumbs Up. It uses two old knit gloves to create a durable stuffed dog for your pet. Although sewing is involved, you do not need a sewing machine to complete the project. After removing some of the fingers of the glove, you use one glove to form the body and the other one to shape the head. If you're afraid your pet will swallow the buttons, you can leave them off and let your pup play with a faceless toy.
---
7.

Heather Handmade DIY Dog Toy
| | |
| --- | --- |
| Materials: | Denim jeans, plastic water bottle, thread, stuffing (optional) |
| Tools: | Sewing machine, scissors |
| Difficulty: | Moderate |
This design from Heather Handmade uses items you probably have in your home. We examined several water bottle toys online, but this project impressed us because you can replace the bottle when it's damaged. The author includes a PDF pattern on the website and detailed instructions for constructing the toy. The denim toy is made by cutting bone-shaped pieces from jeans, sewing them, and stuffing a water bottle in the middle. One side of the bone has an opening to replace the bottle. Thick denim is probably best if you have a heavy chewer.
---
8.

Ammo the Dachshund DIY Dog Toy
| | |
| --- | --- |
| Materials: | Tennis ball, two used shirts, ribbon, water bottle |
| Tools: | Scissors |
| Difficulty: | Easy |
If you need two toys to keep your dogs entertained, you can try this project from Ammo the Dachshund. If you have old shirts, an empty water bottle, and a tennis ball lying around, you will not spend a penny on constructing these toys. One toy uses the tennis ball as the core, and the other uses a water bottle. You cut the remaining fabric into strips after tying the shirts over the objects. Using three pieces at a time, you braid the fabric into tentacle-like pieces. The author suggests making the braids as tight as possible to prevent canine teeth from ripping them open.
---
9.

Hometalk DIY Dog Toy
| | |
| --- | --- |
| Materials: | Denim, stuffing, dog squeakers, thread |
| Tools: | Scissors, sewing machine |
| Difficulty: | Moderate |
Dogs that prefer a squeak to their toys will love this dog toy from Hometalk. It uses an old pair of jeans to create a denim bone. You can draw a bone pattern on the jeans or use the author's design, and although the project was constructed with a sewing machine, you can sew it by hand. If you use the side of the jeans with a pocket, you can stuff a doggy treat in the opening to entice your pet. After sewing the two bone shapes, you add the stuffing and squeakers and close the seam. Squeak toys are not always popular with pet parents who work at home, but dogs seem to enjoy them.
---
10.

Darcy and Brian DIY "Ragrug" Style Homemade Dog Toy
| | |
| --- | --- |
| Materials: | Old pillowcase (cotton or cotton blend), tennis ball |
| Tools: | Scissors |
| Difficulty: | Easy |
This homemade dog toy by Darcy and Brian can be made with simple materials you probably already have at home, and if you don't, the materials needed are inexpensive. All you need is an old pillowcase (cotton or cotton blend), a tennis ball, and a pair of scissors. The instructions are easy to follow, and all that is needed is trimming the pillowcase accordingly, placing the tennis ball inside, and twisting the fabric to tie in a knot.
---
11.

Sylvia's Stitches DIY No-Sew Dog Toy
| | |
| --- | --- |
| Materials: | Fleece fabric (durable that does not fray) |
| Tools: | Large binder clip, scissors, ruler |
| Difficulty: | Easy |
This no-sew DIY dog toy by Sylvia's Stitches is sure to be a winner with your heavy chewer, and it doesn't get much easier in the way of making DIY dog toys. However, if you're not good at braiding, this project may be a little more advanced for you. Nonetheless, the instructions guide you through the braiding process in an easy-to-follow way. Ensure you use tough fabric that does not fray so it can hold up with your heavy chewer.
---
12.

The Tiptoe Fairy DIY Dog Toy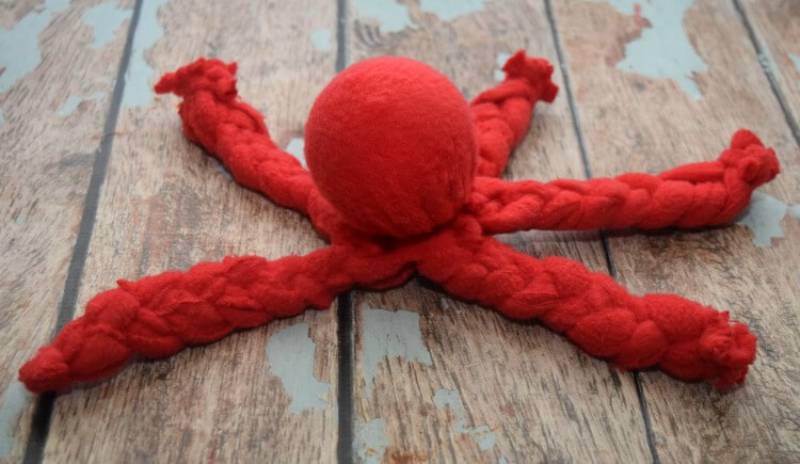 | | |
| --- | --- |
| Materials: | 18 x 18-inch piece of fleece, tennis ball |
| Tools: | Scissors |
| Difficulty: | Easy |
This DIY dog toy by The Tiptoe Fairy is another super easy dog toy to make with few materials. This one also involves a tennis ball, some fleece, and scissors—no sewing is required. Just follow the easy-to-follow instructions that are laid out nicely on the website, and you'll have a DIY dog toy in no time for your doggie to enjoy. With the ease of this project, you can make several at a time, and you can get created with different colors and patterns if so inclined.
---
13.

Instructables DIY Rope Bone Dog Toy
| | |
| --- | --- |
| Materials: | 60 feet of 3/8-inch soft cotton rope, two lacrosse balls (can use tennis balls), cardboard, duct tape or clear tape |
| Tools: | Threaded pins, scissors |
| Difficulty: | Moderate |
Rope makes an excellent material for a DIY dog toy for a heavy chewer. This particular woven rope bone dog toy requires a bit more material, and you can use tennis balls for this project if you don't have lacrosse balls lying around (although lacrosse balls will make the toy bigger, which is ideal for bigger dogs). You can also buy the rope by the spool for making more than just one if desired. You will be tying knots with thick rope, which may be a challenge for some, but the instructions show you how to do it rather easily.
---
14.

Dalmation DIY Squeaky Stuffed Snake Dog Toy
| | |
| --- | --- |
| Materials: | Sturdy fabric, stuffing, colored thread |
| Tools: | Sewing machine, sewing supplies, scissors, dowel |
| Difficulty: | Moderate |
This adorable DIY squeaky stuffed snake dog toy by Dalmatian DIY allows you to get creative. This toy will be sturdy, making it a perfect dog toy made to last. The instructions are to replicate snakes, but you can make the toy a caterpillar if you'd like. You will need a sewing machine for this project, and you can add embellishments to make it unique. The sturdy fabric used for this toy will ensure the toy is durable to hold up to your heavy-chewing doggie.
---
15.

Instructables DIY Colorful Rope Toy
| | |
| --- | --- |
| Materials: | Rope |
| Tools: | Zip ties, scissors, lighter |
| Difficulty: | Moderate |
This DIY colorful rope toy involves tying many knots, but you don't need much material to make this toy. You can get creative in colors, and they hold up well and last a long while. To make this toy, you'll need to follow the 25 steps and follow them closely. In the end, you'll have a tough and durable dog toy that will look like a pricey one from the pet store.

Final Thoughts
Whether you have a pet that chews or one that shreds, we're confident that your dog will be busy trying to bite through these indestructible toys. Although some designs take longer to make than others, you can complete several projects in 2–3 hours. You can give some away to your friends or family or donate them to a rescue shelter. Of course, your dog will also expect you to leave a few at home.
Related Reads:
---
Featured Image Credit by: mattycoulton, Pixabay