10 Best Dog Foods for Medium Dogs in 2023 – Reviews & Top Picks

Medium-sized breeds are some of the most popular dogs in North America. These include breeds such as the Bulldog, Border Collies, Basset Hounds, Beagles, the Brittany, Corgis, Cocker Spaniels, and Whippets, to name a few.
The standard definition of a medium dog is between 20 and 50 pounds as an adult.
One thing that you will notice about most medium dogs is that they are exceptionally active. These canines get their unusually high energy levels from their fast metabolism, which is slightly slower than that of small dogs, but much higher than that of large breeds.
Consequently, the nutritional needs of a medium dog are drastically different from those of other dogs. To sustain their fast-metabolic rate, these dogs require a diet that is high in good-quality fats and protein.
Considering that there are hundreds of dog food products out there, comparing them to find the ideal one for your dog can be a painstaking endeavor. Fortunately, we have done the leg work for you. The following are reviews of the best dog food for medium dogs on the market today.

A Quick Comparison of Our Favorites in 2023
Rating
Image
Product
Details

Best Overall

Taste of the Wild High Prairie Dog Food

High protein and fat content
Grain-free
Attractive price-point
Check Price

Budget Buy

Merrick Grain Free Dog Food

Uses deboned meat
Value for money
High-quality ingredients
Check Price

Premium Choice

Nom Nom Fresh Dog Food Chicken Recipe

Premium fresh ingredients
Customized recipe
Delivered to your door
Click to Save 50%

+ Get Free Shipping!

VICTOR Select Grain Free Dog Food

High-quality protein
Loaded with vitamins and minerals
Good for dogs with allergies
Check Price

Fromm Family Dog Food

High-calorie content per cup
Suits dogs across all life stages
High-quality protein
Check Price
The 10 Best Dog Foods for Medium Dogs
1.

Taste of the Wild High Prairie Grain-Free Dry Dog Food – Best Overall
Taste of the Wild is an exceptional formula whose primary sources of protein are venison and bison. As such, it mimics the diet that your dog's ancestors thrived on.
Consisting of 32% protein and 18% fat, it meets the very specific nutritional requirements for medium dogs. In addition to sustaining their high metabolic rate, a protein- and fat-rich diet supports the optimal development of muscles and bones and boosts the immune system.
To ensure that your pup's coat and skin stay in a good condition, this formula is packed with omega-3 and omega-6 fatty acids. Additionally, it has a high vitamin and mineral content to ensure that your furry friend is getting an all-around balanced diet.
Nonetheless, Taste of the Wild also contains plant-based protein from peas and potatoes. The problem with plant-based protein is that it can be difficult to digest. Fortunately, this should not be much of a problem if your pet does not have digestive issues. Moreover, it does not contain corn, grain, wheat, or artificial fillers.
Its ability to meet your medium-dogs dietary needs coupled with its high-quality ingredients plus an attractive price point is why we have the Taste of the Wild High Prairie Grain-Free Dry Dog Food as our best dog food for medium dogs.
High protein and fat content
High-quality ingredients
Rich in vitamins and minerals
Grain-free
Attractive price-point
Contains vegetable protein
---
2.

Merrick Grain Free Dry Dog Food – Budget Buy
This product from Merrick is one of the best dog foods that you can get for the money.
For starters, 70% of its composition consists of protein and fat sources, which is exactly what a high-energy dog requires to meet the calorie requirements of its fast metabolism. The other 30% consists of high-quality carbs and other vitamins and minerals.
The main protein in the Merrick dog food is deboned buffalo. It also contains turkey, chicken, and salmon, which are all high-quality sources of protein. Other ingredients in this meal include apples, blueberries, flaxseed oil, alfalfa, peas, and potatoes. It also contains probiotics for gut health.
A standard serving of this meal provides your pup with 364 calories, of which 38% is protein, and 16% is fat.
Merrick is one of the most reputable brands in the dog food industry, thanks to their consistency in providing quality offerings, and they don't disappoint with this product. This product is reasonably priced, making it one of the best dog foods for medium dogs for the money.
Uses deboned meat
High-quality ingredients
Grain-free
Contains probiotics to improve digestion
Value for money
---
3.

Nom Nom Chicken Recipe (Fresh Dog Food Subscription) – Premium Choice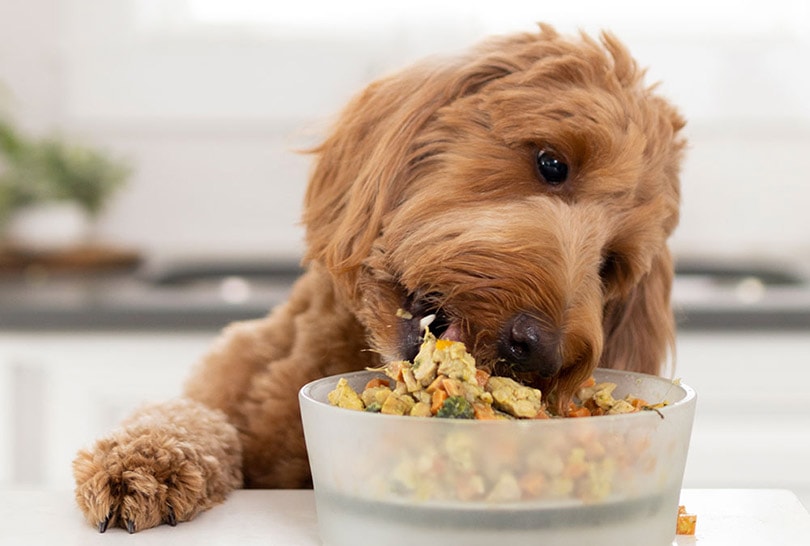 When it comes to top-of-the-line dog food, it is hard to beat what Nom Nom has to offer.
Nom Nom is a new company that is looking to revolutionize the dog food industry. Rather than sell you dog food the conventional way, this company prepares, cooks, and delivers the food to you. This means that the food is designed to meet the needs of your dog as an individual, not as a breed.
As such, when making your order, they will require information such as the dog's breed, weight, age, activity level, health conditions, and more. From that information, they are able to curate an individual recipe for your pup.
Moreover, those recipes are designed with the help of vets and utilize whole, fresh ingredients. As you can imagine, you will pay a premium cost for such a service.
High-quality ingredients
Customized recipe
Tasty
Delivered to your door
---
4.

VICTOR Grain-Free Yukon River Canine, Dry Dog Food
The Yukon River Canine formula from Victor Select is another great product for high-energy doggies. One standard cup of this food has 398 calories, 33% of which is protein, and 15% is fat.
The protein utilized in this formula comes from salmon, which is one of the best protein sources on the planet. Besides, few dogs have sensitivities to fish meat.
You will also love the fact that this product is grain-free, thus preventing your pup from accumulating unnecessary weight, especially if they live sedentary lifestyles.
The Victor Select Yukon River Canine Dog Food is also loaded with a host of minerals, vitamins, and fatty acids to promote the optimal development of a healthy canine through a balanced diet.
Moreover, this product is also hypoallergenic, thus making it a good choice for dogs with allergies.
Unfortunately, the manufacturer has since redesigned the formula, with the new product having a significant reduction in salmon protein.
High-quality protein
Optimal protein and fat levels for medium dogs
Grain-free
Loaded with vitamins and minerals
Good for dogs with allergies
The new formula has a lower amount of salmon protein
---
5.

Fromm Family Foods Gold Nutritionals
The Gold Nutritionals formula by Fromm Family Foods is one of the most energy-dense dog foods on the market today, making it a good choice for medium and small dogs.
The protein in this formula comes from quality sources such as duck meat, chicken, fish, lamb, and whole eggs. The other ingredients utilized in this formula are also renowned for their dietary worth. They include salmon oil, Wisconsin cheese, alfalfa, flaxseed, carrots, celery, potatoes, probiotics, and herbs.
A cup of the Gold Nutritionals formula contains at least 408 calories, 24% of which is protein, while 15% is fat. Due to the high number of calories that this formula has, you do not have to feed your pooch a lot for it to get what it requires to meet its metabolic, as well as growth needs. As a result, you get to spend significantly less on your pup's food.
High-calorie content per cup
Suits dogs across all life stages
High-quality protein
Contains probiotics for digestion
Some dogs might not like it
---
6.

ACANA Dog Protein Grain-Free Adult Dry Dog Food
With up to 242 calories per cup, this formula by Acana gives your pooch will give you a bang for your buck. Those calories comprise 35% protein and 15% fat.
This dog food derives its protein from turkey, chicken, trout, walleye, and eggs. 70% of the ingredients in the formula come from animal sources, while the remaining 30% consists of vegetables, herbs, fruits, and probiotics to ensure that your dog is getting a balanced diet.
This formula is also rich in omega-3 and -6 fatty acids, glucosamine, chondroitin, and antioxidants. The omegas help in promoting a healthy coat and skin, glucosamine and chondroitin promote healthier bone and joint development, while antioxidants alleviate damage from free radicals.
As such, in addition to meeting your dog's high-energy needs, this formula also helps to promote and maintain good health.
However, its ultra-high calorie content can be too much for some dogs, especially if they do not lead active lifestyles.
High-calorie content
High-quality ingredients
Contains minerals and vitamins for holistic health
Might not be suitable for less active dogs
---
7.

Royal Canin Size Health Nutrition Dog Food
This dog food formula by Royal Canin has been formulated to meet the needs of adult medium dogs. As such, you should only consider using it once the dog has attained its maximum skeletal size.
With a maximum of 334 calories per cup, this formula might not be the most energy-dense product on this list; however, it does not have to be since it is not trying to meet the extremely high-calorie requirements of developing puppies. As mentioned, it is designed to help your dog to maintain its ideal weight.
Its ingredients include chicken by-product meal, brewer's rice, fish oil, beet, corn, wheat, and herb extracts. It is also enriched with omega-3 and -6 fatty acids, as well as antioxidants to promote overall health. A serving of this dog food contains 23% protein and 12% fat.
This product has a few downsides. It contains several types of grains, which means that it can easily contribute to weight gain. Its protein content is also significantly low, and the source of its proteins is not a high-quality one.
Designed for adult medium dogs
Enriched with antioxidants and omega fatty acids
Has grains in its ingredients
Low protein content
---
8.

Avoderm Natural Weight Control Dry Dog Food
This natural weight control dog food by Avoderm is geared towards helping less active medium dogs from gaining weight.
A cup of this food contains 329 calories, of which protein is 20% and fat 8%. It does not contain any soy, wheat, or corn. This ensures that the dog's weight stays in check.
The main ingredients in this product are chicken meal, brown rice, and avocadoes. It also contains other ingredients to ensure that your pet is getting essential nutrients such as antioxidants, vitamins and minerals, fatty acids, and more.
What we do not like about this product is that it gets its protein from a low-quality source. The presence of rice is not a welcome addition either.
Helps in weight control
Has vitamins and minerals for better health
---
9.

Natural Balance Original Ultra Grain-Free Dry Dog Food
This formula from Natural Balance contains up to 410 calories per cup, thus ensuring that it meets your doggy's energy needs effectively. Its ingredients also work to improve your pup's overall health.
Some of the ingredients utilized in this formula include chicken, chicken meal, duck, duck meal, lamb meal, salmon meal and oil, cranberries, spinach, flaxseed, carrots, and other fruit and vegetables.
Every cup contains 23% protein and 13% fat. However, the manufacturer recently altered its formula.
High-calorie content
Lots of vitamins and minerals
New formula that is not as good as the previous one
---
10.

NUTRO ULTRA Adult Dry Dog Food
This dog food formula by Nutro consists of wholesome, high-quality ingredients. For starters, its protein comes from excellent sources, which include lamb, chicken, and salmon. It also consists of vegetables and fruits such as apples, blueberries, and chia seeds.
A cup of the Nutro Ultra contains 341 calories, of which protein makes up 31% and fat 14%, which is an excellent profile for a high-energy doggie. This formula also contains significant amounts of calcium and phosphorous to promote bone and coat health.
However, it comes in flimsy packaging, and that is something many people might not appreciate.
High-quality protein
Excellent vegetables and fruit selection
High-calorie content

Buyer's Guide: Finding the Best Dog Food for Medium Dogs
As mentioned, the first thing that you should look out for in a product when looking for food for your medium-sized pooch is the protein and fat content. Due to their high metabolism, these doggies require a diet that is rich in proteins and fats, but low in carbs.
Once you identify a potential dog food product, evaluate it using the following factors:
1.

AAFCO statement
This is a stamp of approval issued by the American Association of Feed Control Officials once they establish a dog food product meets the criteria of what is considered as "complete and balanced." Avoid products that do not have AAFCO's stamp.
2.

Look at the First Five Ingredients
The first five ingredients in a dog food product are usually the main ones, as their volumes are usually the highest. As such, if a dog food has filler ingredients in its top five, you should avoid it.
3.

Check out the Rest of the Ingredients
If you are satisfied with the first five, skim through the rest as well. Ideally, they should consist of supplemental proteins, fats, vegetables, and vitamins.
Ingredients to Avoid
Considering you will be making your judgment off the ingredient list, it is important that we discuss what you should be wary of so that you can avoid it. This will make the process of eliminating your choices much easier. Avoid products with the following ingredients:
Corn
Corn does not contain any nutritional value that could benefit a dog. Moreover, it is difficult to digest, and some dogs being allergic to it. Most low-quality dog foods use corn as a filler ingredient.
Wheat
Just like corn, wheat does not offer a dog any value. Moreover, it tends to trigger food sensitivities and allergies in dogs. It also does not help that it contains gluten.
By-Products
By-products are synonymous with low quality when it comes to dog foods. This is because by-products often do not tell where the ingredient is sourced from specifically. A chicken by-product, for example, could come from any part of the chicken, including its feet! Avoid products that have "by-products" in their ingredients.
Chemicals
You obviously do not want your dog to eat chemicals. Therefore, look for long words with hyphens in between, and then Google them for clarity.
Preservatives
These are used to lengthen the shelf life of a product. They can be either artificial or natural. Avoid products with artificial preservatives, such as BHT and BHA. Google the preservatives indicated on the label to ascertain their nature.
Fillers
Fillers are ingredients that add no value to a dog's diet and are just used to bulk up the product. Common fillers include rice bran, soybean hulls, cornstarch, and oat hulls.
Artificial Flavors
While they add to the taste of the product, it is best to avoid them, as they come from a chemical background.
Food Dyes
Food dyes are artificial colors that make a product more appealing. Reputable brands do not use food dyes, as they lower the overall quality of the product.

Conclusion
Your furry ball of energy is unique in that its metabolism fires at a more rapid rate than that of its larger cousins. Therefore, to quench that energy thirst, it is critical that you give them a high-quality diet that is rich in proteins and fats.
Every product on this list is worth presenting to your dog. However, if you are looking for the best dog food, you might want to consider the Taste of the Wild High Prairie Grain-Free Dry Dog Food. It comes from one of the most reputable manufacturers in the industry and contains high-quality ingredients.
---