250+ Egyptian Cat Names: Our Top Picks for Your Cat (with Meanings)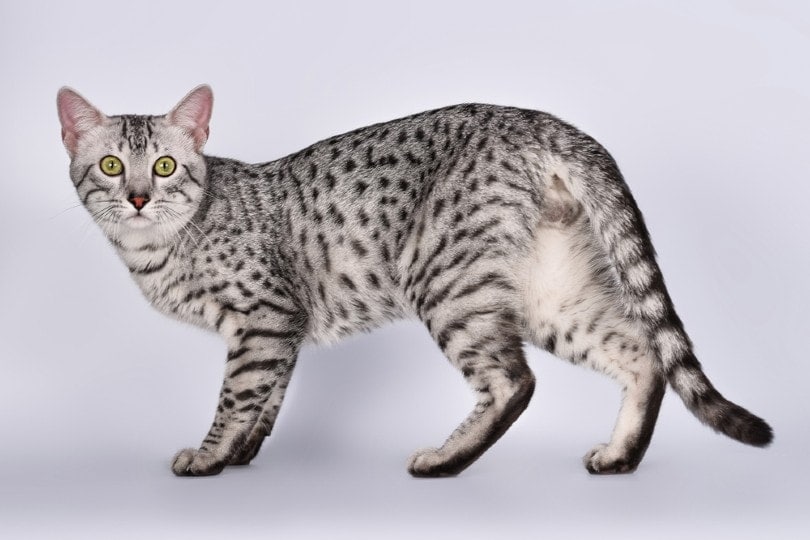 The Egyptians were religious people who celebrated life both here on Earth and in the spiritual world. Their deep and interesting culture is something that we like to carry on in today's world by doing things like giving our cats Egyptian names. There are many fantastic name options available to choose from, and many have meanings that we can translate into today's way of life. Here are our top 250+ picks for male, female, and unisex Egyptian names and their meanings:
Our Top 85 Male Egyptian Cat Name Picks
Male Egyptian cat names are strong, lustrous, and impressive. The names we have chosen have perfect meanings for the male cat in your life. Whether you are looking for something macho, debonaire, or elegant, here are many names that you might find to be the one that best represents your kitty:
Nebit – Leopard Like
Hebony – Black
Ankhsi – Shy
Esho – Hog
Kamil – Perfect
Nafre – Good
Djeserit – Holy Soul
Mau – Cat
Mie – Cat God
Nile – River
Ebio – Sweet
Amr – Lifetime Companion
Abanoub – King of Gold
Darius – Kingly
Adeben – Twelfth Born
Akins – Brave
Chigaru — Hound
Abukabar – Noble
Aharon – High Mountain
Donkor – Humble One
Ammit – Mythical Creature
Khufu – 4th Dynasty Egyptian Pharoah
Amon – The Hidden One
Manu – Born Second
Amun – God of Mystery
Adom – Helped by God
Jabare – Brave Man
Kek – God of Darkness
Huni – 3rd Dynasty Egyptian Pharoah
Ahmad – Much praised
Sayed – Master or Lord
Runihura – Destroyer
Seth – God of Chaos
Sphinx – Mythical Creature
Shakir – Grateful
Tariq – Man Who Knocks on the Door
Khons – God Who Walks on the Moon
Khalid – Eternal
Ashraf – Noble
Anubis – God of the Dead
Babu – Osiris' First Born Son
Karim – Generous
Jendayi – Thankful
Ishaq – Laughs a Lot
Qeb – Father of Earth
Quibilah – Peaceful
Ramesses – Son of Ra
Oni – Wanted
Omari – High Born
Pili – Second Born
Bahiti – Fortune
Chike – God's Power
Akil – Smart
Imhoptep – Peace
Anok Sabe – Wise
Horus – Sun God
Nomti – Strong
Buiku – Best
Menetnashte – Powerful
Shalam – Egyptian Greeting
Panahasi – Barbarian
Aten – Sun
Anubis – Afterlife
Mshai – Wanderer
Shushu – Boastful
Nebtawi – Lord
Uro – King
Kahotep – Peaceful
Benipe – Strong Like Iron
Bastet – God of Protection
Mekal – Devourer
Femi – Lover
Ammon – Mystery
Anasi – Serious
Mkhai – Fighter
Anubis – Afterlife
Nomti – Strong
Lucas – He Who Illuminates
Magna – Large
Xerxes – King of Persia
Mercury – God of Trade
Aten – White Light
Baraka – Blessing
Kufu – Pharoah
Alu – Childlike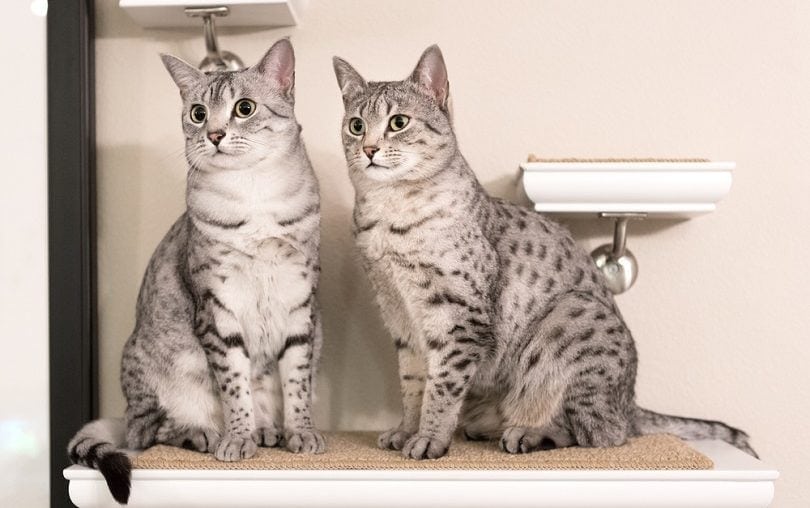 Our Top 85 Female Egyptian Cat Name Picks
Female Egyptian names are just as exotic and interesting as male names. They all have beautiful meanings, and most are fun to say. We have compiled a list of 85 female Egyptian cat names that we think will be a hit within your household. Check them out below and vote for your favorite name in our comments section at the end of this piece:
Annipe – Daughter of the Nile
Nafrini – Bringer of Beauty
Miu – Gentle
Isis – Mother
Banafrit – Lovely Soul
Aziza – Precious
Cleopatra – Queen of Egypt
Amisi – Beautiful Flower
Layla – Born at Night
Chione – Daughter of the Nile
Aisha – Peaceful
Neferfiti – Egyptian Goddess
Dalila – Sweet
Amenti – Goddess of the Land of the West
Aya – Wonderful
Berenice – Sister of Cleopatra
Dina – God is My Judge
Esraa – To Journey at Night
Fukanya – Intelligent
Echidna – Mythical Monster
Issa – God Saves
Hasina – Good
Kissa – Sister of Twins
Mesi – Water
Maye – Amun's Beloved One
Nailah – Successful
Monifa – Lucky
Naunet – Goddess of the Ocean
Nefret – Stunning
Rashida – Righteous
Sagira – Little One
Rehema – Compassionate
Nubia – Gold
Omorose – Beautiful
Moswen – White
Layla – Night
Mandisa – Sweet
Shani – Wonderful
Zahra – Bright Flower
Sudi – Narrator of Hadith
Siti – Lady
Sagira – Little One
Oseye – Happy
Nuit – Sky Goddess
Quibikah – Peaceful
Nenet – Divine
Basia – Serious
Sokkwi – Foolish
Seshafi – Ornery
Aisha – Peaceful
Harere – Flower
Merit – Much Loved
Esho – Hog
Annipe – Daughter of the Nile
Anukis – Goddess of the Nile
Nafrini – Bringer of Beauty
Menhit – Egyptian War Goddess
Bastet – Fertility
Pakhet – She Who Scratches
Mshai – Wanderer
Hebony – Black
Aten – Sun
Chione – Daughter of the Nile
Kahotep – Peaceful
Hasina – Good
Cara – Baby
Kamilah – Perfect
Abasi – Serious
Valeria – Vigorous
Madonna – My Lady
Balbina – Strong
Pearl – Jewel
Akil – Clever
Rosalind – Great Beauty
Beatrice – To Bring Joy
Precious – Darling
Gazelle – Graceful
Shalam – Egyptian Greeting
Aisha – Peaceful
Menna – Gift of God
Masika – Born During Rain
Nailah – Successful
Nanu – Pretty
Nourbese – Wonderful
Oni – Wanted
Our Top 85 Unisex Egyptian Cat Name Picks
Sometimes, people do not want to name their cats gendered names, and there is no exception when it comes to giving a cat an Egyptian name. There are plenty of unisex names to go around, and it just depends on what you like the most and what your cat best responds to as to which name you choose. Here are 85 of our most beloved unisex cat names that can be designated to either a male or female cat:
Kiwu – Obese
Emuishere – Kitten
Odjit – Naughty
Femi – Lover
Kepi – Tempestuous
Harere – Flower
Ebe – Wonderful
Merit – Much Loved
Apep – To Slither
Auset – Isis
Merit – Much Loved
Oba – King
Ode– From the Road
Osaze – Loved by God
Ottah – Third Born
Renenet – Fortune
Sayed – Master
Sadiki – Faithful
Re – God of the Sun
Nut – Sky God
Nephi – Sea Captain
Ptah – Patron of Craftsmen
Olabisi – Brings Joy
Moswen – White
Nashwa – Wonderful
Mert – Lover of Silence
Mosegi – Tailor
Manu – The Second Born
Montu – Egyptian God
Mesi – Water
Kanika – Black
Jumoke – Loved By All
Jendayi – Thankful
Khepri – Morning Sun
Haqikah – Honest
Hu – God of Authoritative Utterance
Hanbal – Pristine
Hanif – Believer
Essam – Safeguard
Eshe – Life
Edrice – Prosperous Ruler
Eman – Faith
Darwishi – Saint
Bastet – Egyptian God or Goddess
Balbine – Strong
Bahitit – Fortune
Kufu – One of the Pharaohs
Orson – Little Bear
Akil – Smart
Nebit – Leopard -Like
Djabenusiri – Venus
Ebio – Honey -Colored
Amisi – Beauty
Mkhai – Fighter
Menetnashte – Powerful
Buiki – The Best
Kemnebi – Panther
Kahotep – Peaceful
Nabtawi – Lord
Buikhu – The Best
Rasui – Dreamer
Wati – Rebellious
Abasi – Serious
Odji – Evil
Nomti – Strong
Panahasi – Barbarian
Anok Sabe – Wise
Akil – Smart
Mihos – Lion -Headed Son of Bastet
Karkra – Twin
Neema – Born of Wealthy Parents
Sagira – Little One
Zalika – Wellborn
Adofo – Fighter
Amenhotep – A Pharoah
Azibo – Earth
Haji – Born During Pilgrimage
Jabari – Brave
Nassor – Victor
Pepi – Egyptian Ruler
Sefu – Sword
Tau – Lion
Zoser – King/Queen
Musa – Of the Water
Hamadi – Praised
Choosing a Name for Your Cat
When it comes to choosing a name for your cat, it is all a matter of preference. The truth is that cats do not care what their names are. They just need to learn what their human companions choose to call them to understand that they are being called to come and to do other interactions. Therefore, it is a good idea to narrow down our list of names to a few that you like the most.
Try the names out on your cat to see which you like saying the most and which your household members enjoy saying. Then, figure out which name is best suited for your cat based on their personality and your family's preferences. After calling your cat by their new name for a while, they will start to respond to the name no matter what it happens to be.
Some Final Thoughts
Cats are interesting animals with unique personalities and traits, no matter their breed. Choosing a name for your new cat should be a well-thought-out process that involves everyone in the household. If you and your family like the name and continue to call your cat by the same name as time goes on, your pet is sure to accept their new name and learn to love it as time goes on.
---
Featured Image Credit: MDavidova, Shutterstock