18 Essential German Shepherd Supplies & Products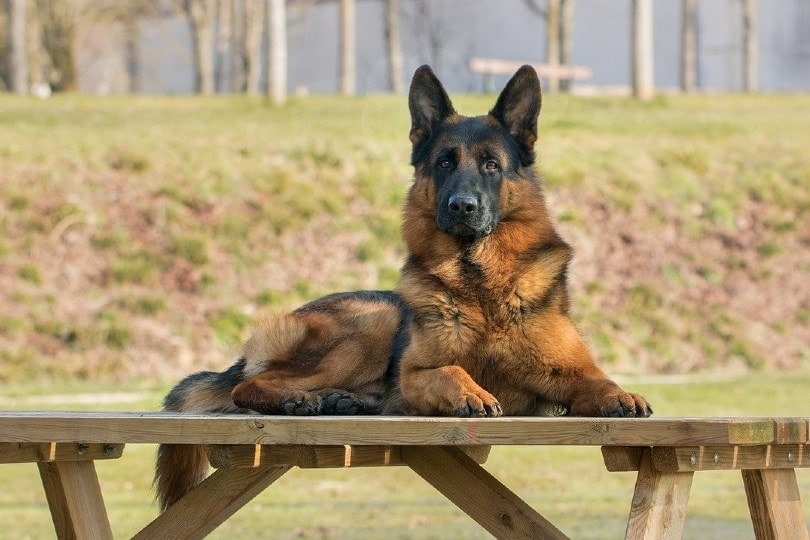 Welcoming a new puppy into your family is exciting for everyone, no matter the dog breed. It's not just the puppy that you'll need to welcome into your home, though. Taking care of them requires having a variety of supplies to make your puppy feel at home.
German Shepherds are well-known for their intelligence and loyalty. They're an adorable and loving addition to any family, but they can get bored easily if they're not kept active.
To help you figure out what you need for your new German Shepherd puppy, we put together this list of supplies, divided up into various categories.

The 18 Essential German Shepherd Supplies
Food and Water
1.

Bowls
To keep everything tidy, bowls for both your puppy's water and food are essential. For durability and an easy-to-clean construction, stainless steel is always a good option.
German Shepherds are also prone to developing bloat if they eat too fast. You can help slow them down by using slow feeders. While they aren't often made from stainless steel, some designs have unique bone-shaped ridges so everyone knows who owns the dish.
Try to find a bowl with a non-slip base that's heavy enough that your hungry pooch won't knock it around too much. You can also get non-slip mats to keep their eating area clean, tidy, and in one place.
---
2.

High-Quality Dog Food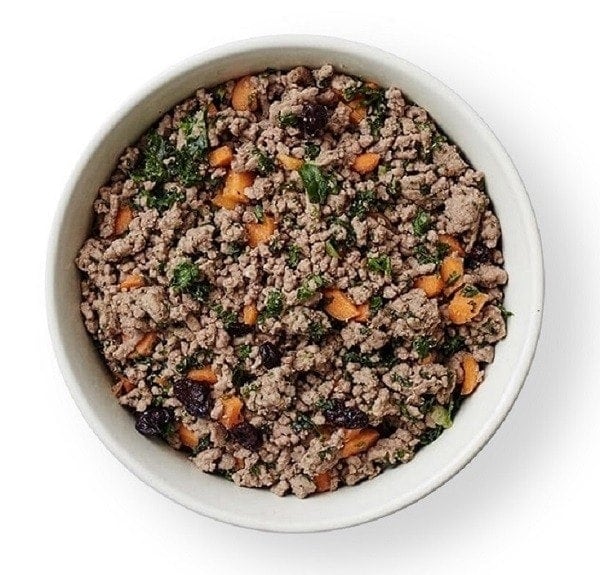 Dog food is one of the most important supplies when it comes to your pooch. Due to their size, German Shepherds tend to eat more than small dogs, and helping them maintain a healthy diet is essential to their well-being.
---
3.

Portable Water Dish
Going on long hikes with your canine best friend is one of the best ways to end a long week. Somewhere along the trail, though, you'll need to stop for a drink of water or a picnic lunch. Unfortunately, most dog bowls are too big and bulky to tuck into a rucksack.
This is where collapsible bowls like the Frisco Collapsible Travel Bowl come in handy. They're lightweight and squashable, so you can tuck them into your bag with ease. There's even a carabiner, so you can clip it to your German Shepherd's harness. You can also keep the bowls on hand for walks on sunny days or simple trips to the park.
---
General Supplies
4.

Bedding
No matter how small your new puppy is now, they won't stay that way for long, and a fully grown German Shepherd can take up a great deal of space, especially when you're trying to sleep comfortably or stretch out on the couch. While there's nothing better than cuddling up to your best friend, if you have guests over, your pooch can be an intimidating addition to your movie night.
A bed of their own gives your German Shepherd a spot to stay out of the way but still be nearby. If you don't like letting your dog on the furniture, their own bed gives them somewhere comfortable to doze.
The FurHaven Orthopedic Sofa Bed comes in a range of sizes for all types of dogs and is low enough that older dogs can easily settle in without having to hop onto a couch.
---
5.

Crate
Many dog owners dislike crate training because it can feel cruel, but it can help you housetrain your new puppy or keep them out of mischief when you're at work. While your dog should never be locked in their crate all day — and never as a punishment — a sturdy crate can be a sheltered bedroom for your pooch, somewhere they can curl up out of the way when the world gets a little too frightening.
Options like the Frisco Heavy Duty Collapsible Wire Dog Crate are ideal because the crate grows with your puppy. It comes with a divider, so you won't need to buy another crate when your German Shepherd reaches adulthood.
---
6.

Dog Tags
Any dog can get lost, whether it's because they got distracted at the park or somehow got out of your fenced yard. In these cases, it's important that they have some form of ID, even if it's just a tag on their collar announcing that they have a microchip. Both a tag and a microchip will help whoever finds your pooch — on the street or in a shelter — get your lost family member back home as quickly as possible.
Dog tags don't need to be anything extravagant. A simple bone-shaped tag with your details engraved on it will work fine. You can also purchase noiseless tags that fit snugly onto your dog's collar to avoid any obnoxious jingling.
---
7.

First-Aid Kit
Hopefully, you will never need it, but there are benefits to having a fully stocked first-aid kit on hand. Knowing how to treat basic injuries before you can get to a veterinarian will help in emergencies too, especially if you're on a long hike.
You can put together your own — just make sure the supplies are suitable for your pooch — but you can also buy ready-made options. The Kurgo First Aid Kit contains 50 essential first-aid supplies for both dogs and cats to get you started. You can also personalize it for your German Shepherd if they have any existing health conditions.
---
8.

Poop Bags & Dispenser
German Shepherds are always full of energy, and long walks or runs in the neighborhood dog park are the best ways to relieve boredom. All those trips out include potty breaks, though, and cleaning up after your pooch is an important responsibility as a dog owner.
A supply of doggy poop bags and a handy dispenser that you can attach to your dog's leash are necessary accessories. While you can buy dispensers and poop bags separately, the Frisco Refill Dog Poop Bag & Dispensers includes a supply of 900 poop bags and two dispensers, so you won't run out anytime soon.
---
9.

Toys and Chews
When it comes to keeping your German Shepherd entertained, toys and chews are the perfect solutions. Chews help keep your pooch occupied while you handle a few chores, and a durable tug-toy is a great way to bond with them during playtime.
For German Shepherds, puzzle toys are ideal for keeping their busy minds active and preventing them from getting bored. The Smarter Toys IQ Treat Ball Dog Toy is a puzzle ball that you can fill with treats, so your dog can figure out how to retrieve them. It can also be used as a slow feeder for mealtimes, however, please keep in mind that treat dispenser toys have a tendency to get chewed or break. Please do not let your dog play with this toy unsupervised.
---
Grooming
10.

Brush
Bred to be working dogs, German Shepherds have a thick double-coat to keep them warm or cool, no matter the weather. Therefore, they shed excessively. Regular grooming sessions will help reduce the amount of hair around your house. You'll never stop it entirely, but keeping their coat free of loose fur will save your couch and prevent tangled knots.
For double-coated dogs, pin brushes or de-matters are the best choices. They can reach through the top layer of fur to untangle the woolly undercoat beneath. Options like the Hertzko Self-Cleaning Slicker Brush make it easy to clean the gathered hair off the brush when you've finished.
---
11.

Nail Clipper
Along with keeping up with a regular brushing schedule, you need to check your dog's nails. They can cause discomfort if they're allowed to get too long, so they need to be trimmed regularly. If your German Shepherd isn't a fan of nail clippers, you can try a nail grinder. Remember to spend the first few days desensitizing your puppy to the noise that the grinder makes before you use it, though.
If you're not sure which method your dog will prefer, the Pet Republique Cordless Nail Grinder & Clippers has both options in one nifty set.
---
12.

Shampoo
Bathing your dog too often can dry out their skin, but a bath is the only solution when your inquisitive German Shepherd somehow finds the muddiest puddle around or ends up rolling in something stinky.
Using the right shampoo is essential. The pH value of human shampoo can dry out your dog's skin far more quickly than shampoo formulated for dogs can. When you are buying supplies, a specially formulated canine shampoo should be on your list.
For your German Shepherd, find a shampoo that will boost the health of their coat — like the Earthbath Oatmeal and Aloe shampoo — to help keep their fur in top shape.
---
13.

Toothbrush and Paste
The final grooming essential that you'll need is a toothbrush and toothpaste suitable for your canine. Dental chews can help fight off plaque, but they shouldn't be the only things that you rely on.
Make sure you get your puppy used to the routine of brushing their teeth early on so they'll be more likely to tolerate the cleaning when they're older. There are many toothbrushes available for dogs, from double-ended brushes to silicone finger covers. A toothpaste formulated for dogs — like Virbac C.E.T. Enzymatic Poultry Flavor Dog Toothpaste — is also necessary.
---
Leashes, Harnesses, and Collars
14.

Harness
A collar shows that your dog isn't a stray, but many models are easy for nervous dogs to slip out of. Harnesses give you a sturdier way to keep your dog close by if they get spooked during a walk. While your dog might still slip out of it, it's less likely than if you're relying on their collar alone. Plus, if your dog does escape, their collar — and ID tag — will still be on them.
If you don't need a bulky harness for hiking or your German Shepherd takes you on walks rather than the other way around, you can use no-pull harnesses to get a little more control over your pooch.
---
15.

Sturdy Collar
Dogs can get into all sorts of mischief, so to keep their ID secure, their collar must be sturdy and reliable. This is especially true if you don't use a harness when you walk your pooch.
Nylon is one of the most popular materials for dog collars, and you can even show off your dog's personality by getting a stylish choice. You can also get a hard-wearing leather option with a fashionable two-tone and padded design for pets that love attention.
---
16.

Traffic Leash
Many places where you walk your dog require that they always remain on a leash, especially if you're in town. While a regular 6-foot leash will work fine as long as it's sturdy enough, a traffic leash gives you an extra handle. This enables you to keep your dog at heel in busy areas without losing your grip on an otherwise smooth leash.
Traffic leashes also tend to be reflective to make walks during low-visibility hours or at night safer for you and your canine.
---
Training
17.

Long Leash
Training your puppy is essential, and recall commands are among the most important instructions that you can teach your dog. German Shepherds are highly intelligent, and with determination, consistency, and positive reinforcement, they can pick up on commands quickly.
To start, you should keep your wayward puppy on a leash to practice recalling them. This will help you reel them back in if they get distracted, until they get familiar with what you're asking of them. For this purpose, the leash that you use for walking is a no-go because it's too short to let your canine explore.
A long leash might seem daunting, but you can better control how far your dog can wander and still call them back. The Guardian Gear Cotton Web Training Lead has several lengths to choose from.
---
18.

Treats
Positive reinforcement works wonders, and figuring out what motivates your dog is the first step in teaching them commands and tricks. Some German Shepherds will be more than happy to play with you when they get a trick right, while others are more food oriented.
If your German Shepherd puppy prefers snacking instead of playing, it's best to have a supply of treats on hand whenever you want to have a training session. It might take a while to figure out what motivates your dog to succeed, but you can start with something simple, like Zuke's Chicken Flavored Training Treats.
As your dog gets better at following the commands, remember to wean them off the treats so they're not at risk of becoming overweight.

Conclusion
German Shepherds are loving, loyal, and above all, adorable. There are many supplies that you need to keep them healthy, though, whether it's to cater to their grooming requirements, to properly train them, or to keep them safe on walks around the neighborhood.
We hope that this list has helped you prepare for your new German Shepherd, no matter what age they are when you welcome them home.
---
Featured Image Credit: lancegfx, Pixabay