FreshPet Dog Food Review 2023: Recalls, Pros & Cons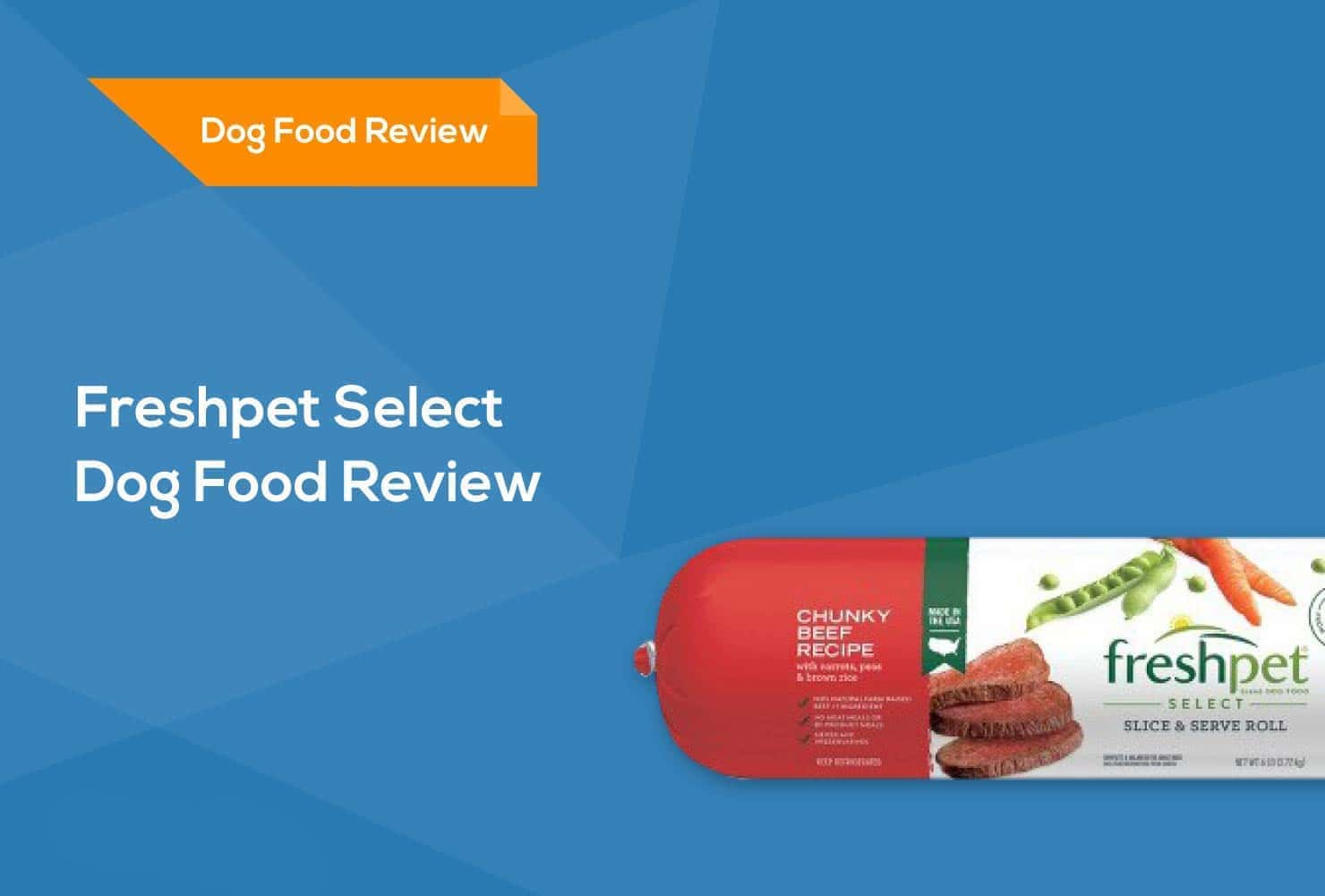 Our Final Verdict
We give Freshpet Select dog food a rating of 4.8 out of 5 stars.
One of the biggest trends in the dog food industry in recent years is the shift towards raw food diets, as well as the use of human-grade food. Founded in 2006, Freshpet Select came along just in time to capitalize on this movement, as they're made of high-end ingredients — and the food is so fresh, it must be refrigerated.
All the food used by Freshpet Select is locally sourced, and a new batch of ingredients is delivered to their processing plant in Bethlehem, Pennsylvania, every day. They use farm-raised meats, with no meals or by-products, and all-natural fruits and vegetables.
The food can be served as-is or used as a topper over kibble, but the bags and rolls aren't big enough to serve as a standalone pet food for larger dogs (unless money is truly no object). However, their pet food makes a great addition to a high-end kibble, and most dogs can't wait to gobble it down.

At a Glance: The Best Freshpet Select Dog Food Recipes:
Image
Product
Details

Our Favorite

Freshpet Nature's Fresh Beef Recipe

Made with a wide array of meats
Plenty of moisture from beef broth
Uses high-quality veggies
Check Price

Freshpet Nature's Fresh Grain-Free Chicken Recipe

Several high-quality veggies
Poultry is humanely raised
Includes the prebiotic inulin
Check Price

Freshpet Nature's Fresh Salmon & Ocean Whitefish Recipe

Packed with omega fatty acids
Includes superfoods like cranberries and blueberries
Sweet potatoes and lentils for fiber
Check Price

Freshpet Nature's Fresh Grain-Free Turkey Recipe

Made of humanely raised turkey
Has antioxidant-rich leafy greens and berries
Grain-Free
Check Price
Freshpet Dog Food Reviewed
Who makes Freshpet and Where is it Produced?
Freshpet is an independently owned pet food company based out of Secaucus, New Jersey. However, the pet food is all made at a single plant in Bethlehem, Pennsylvania.
Which Types of Dogs is Freshpet Select Best Suited For?
If served as a standalone food, Freshpet is best suited for smaller dogs, as the bags and rolls are relatively small and fairly expensive (we suppose they're also good for big dogs with deep pockets, though).
However, it can be used as a topper over regular kibble as well; in that case, just about any dogs should love it.
Which Types of Dogs Might Do Better with a Different Brand?
Freshpet uses high-quality ingredients, so we can't think of any reason why a dog wouldn't do well on it. It may be too expensive for some owners, but if that's the case, just about any comparable raw food-style brand would be as well.
The most budget-friendly raw-style food we can recommend is The Honest Kitchen Dehydrated Limited Ingredient. It's pricey up-front, but since you rehydrate it before serving, a little goes a long way.

Discussion of the Primary Ingredients
The primary ingredients are all meats, like beef, beef liver, and beef broth. This sets the food out on a firm foundation of protein that they can then layer fruits and veggies on top of.
After the meats, we find carrots and peas, both of which are extremely nutritious.
Eggs are the next ingredient, and the one we have the biggest issue with. While they're full of protein, many dogs have trouble digesting them, and we wish they'd swap them out for something gentler.
The last few foods are brown rice and rice bran, both of which are great for touchy stomachs.
All in all, it's nice to see an ingredients list and actually recognize all the foods on it.
Their Food Has to Be Refrigerated
If you see Freshpet for sale in a pet store, it will be in a refrigerated case. That's because all of the ingredients are extremely fresh and can spoil if left out at room temperature.
You're also supposed to use the entire product within a week or throw it out. That's not a huge issue, given how small the portions are, but throwing out a bag you bought two weeks ago is certainly frustrating.
While this may not be the most convenient thing in the world, it's refreshing to know that you're feeding your dog extremely fresh pet food.
There Are No Questionable Ingredients
As we mentioned above, their ingredients lists are full of foods, not chemicals or additives. Even better, they're foods you'll recognize and could buy in the grocery store if you were so inclined.
You can even see many of those foods in their rolls, so you know they're telling the truth about what's in there.
Even more impressive, is what's not in there: no cheap fillers, no animal by-products, no hormones or antibiotics. Just real food.
Their Food Only Comes in Small Quantities
Their rolls are available in 1.5- and 5-pound sizes, while their bags are one pound each.
That may be enough for some toy breeds, but unless you want to spend a fortune (and a lot of time at the pet food store), you'll need to find a primary kibble to accompany this.
A Quick Look at Freshpet Dog Food
Uses extremely fresh ingredients
Food is sourced and processed in the USA
No questionable foods or chemicals inside
Only available in small quantities
Expensive if used as a primary food
Has to be refrigerated
---
FreshPet Dog Food Recall History
As best we can tell, there's never been a recall of Freshpet foods. However, the company has only been around since 2006, so they haven't had as many opportunities to screw up as other brands have.
Also, there were reports in 2015 of mold problems in some of their bagged pet foods, but a recall was never issued.

Reviews of the 3 Best Freshpet Dog Food Recipes
To give you a little better idea of what you can expect from Freshpet dry dog foods, we looked at three of their most popular recipes in the reviews below:
1.

Freshpet Nature's Fresh Beef Recipe
This roll is filled with meat, as the first four ingredients are beef, chicken, beef liver, and beef broth. That gives your dog a wide array of vital amino acids, as well as a good shot of moisture from the broth.
The veggies are all good, as it uses carrots, peas, and brown rice. We suppose they could have added a few "superfoods" in there like blueberries or cranberries, but every food has room to improve.
Our biggest issue comes with the inclusion of eggs, which can cause digestive issues in some dogs. If your dog isn't bothered by them, though, they'll just add more protein.
Ingredient Breakdown:
Made with a wide array of meats
Plenty of moisture from beef broth
Uses high-quality veggies
Eggs can cause digestive issues
Could use a few more fruits and veggies
---
2.

Freshpet Nature's Fresh Grain-Free Chicken Recipe
This bagged food doesn't have as much meat as the roll above, but it makes up for it by adding in a few more high-quality veggies.
The only animal proteins come from chicken and eggs (and you know our issues with eggs), so this isn't as meat-packed as other foods. They add some pea protein, but that doesn't have all the essential amino acids that meats offer.
The poultry is humanely raised, so that should put your conscience at ease.
The veggies include carrots, spinach, and peas, so we have nothing to quibble over there. We like the addition of inulin, which is a prebiotic that aids digestion.
We would reduce the salt content if possible, though.
Ingredient Breakdown:
Several high-quality veggies
Poultry is humanely raised
Includes the prebiotic inulin
Some of the protein is plant-based
Lots of salt
---
3.

Freshpet Nature's Fresh Salmon & Ocean Whitefish Recipe
If you're worried that your dog isn't getting enough omega fatty acids, this roll can put your mind at ease.
It has salmon, fish broth, and ocean whitefish, all of which are packed with antioxidants. You'll also find spinach, cranberries, blueberries, and sunflower oil, so your dog's immune system should be ready to fight off all intruders.
We like the fact that it has sweet potatoes for fiber, and the lentils help in that regard as well.
If they asked us how to improve this roll, we'd say to ditch the pea protein, but other than that there's not much we can see that needs changing.
Ingredient Breakdown:
Includes superfoods like cranberries and blueberries
Sweet potatoes and lentils for fiber
---
What Other Users Are Saying About FreshPet Dog Food
Dog Food Advisor – "Enthusiastically recommended."
Pet Life Today — "They don't use additives, preservatives, powders, or other unnatural ingredients, and they partner with shelters to help homeless pets get the nutrition they need."
Amazon – As pet owners, we always double-check with Amazon reviews from buyers before we buy something. You can read these by clicking .

Conclusion
While it may be difficult to feed your dog Freshpet as a standalone food, the company's rolls and bagged products are filled to the brim with healthy ingredients. All their food is made from fresh, locally sourced materials, and it's all processed in the USA.
It's nice to be able to recognize every ingredient on a dog food label (even though some of them make us tempted to try Freshpet ourselves).
However, just know that if you switch to Freshpet Dog Food, your food costs will probably go up quite a bit, and you'll have to make space in your fridge for Fido's food.
If your only concern is your dog's nutrition, though, it's hard to go wrong with Freshpet.