Irish setters are a breed with breathtaking beauty. Their long, glossy coats make them look elegant as they move, yet they are fierce dogs with incredible speed and stamina for hunting. Their enthusiastic nature doesn't only draw hunting hobbyists to them. Irish Setters are pleasant companions for families as well. They are excellent with children and love joining their pack on all sorts of outdoor activities. Regardless of the reasons that drew you to this specific breed, the cost of owning one is going to be a significant influence on your decision to buy one. With vet bills, food, and many other miscellaneous things to buy, you may or may not be able to bring one of these beautiful dogs home with you.

Bringing Home a New Irish Setter: One-Time Costs
There are a lot more one-time costs to owning an Irish Setter than the upfront price. You first have to pay for the dog, and then you have to set your home up so they have everything they need to be comfortable. Don't forget about all of the different vet costs that come with a new furry friend, too. Let's discuss some of the initial costs that you'll have to consider when buying an Irish Setter.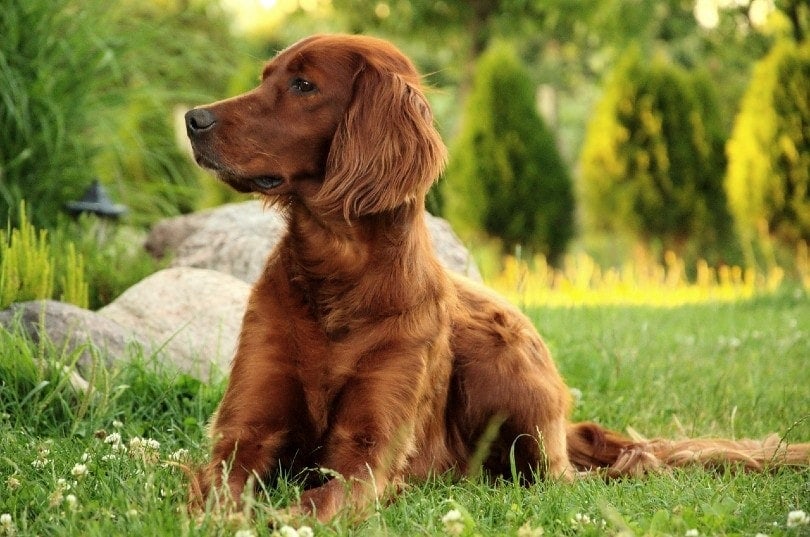 Free
You might be lucky enough to find yourself in a position where someone is giving away a free dog. Even though this can be exciting, and some people genuinely give away healthy dogs for good reasons, always be wary if it's coming from a stranger. Some people abandon their Irish Setters because they have health or behavioral issues. Always ask for a medical history if possible and speak to whoever the initial owner was about the reasons for getting rid of them and any problems that they've faced. Knowing the issues upfront could be a deciding factor that saves you a lot of money in the future.
Adoption
Adoption is an affordable alternative to buying directly from a breeder. Rehoming fees for Irish Setters might be a tad pricier than mixed breeds, but you'll save several hundred dollars if you venture down this path. Adoption fees for Irish Setters are typically between 250 dollars and 300 dollars. Most shelters strive to keep their dogs in good health. Plus, they'll be caught up on vaccines, so you don't have to worry about them.
Breeder
Buying an Irish Setter from a breeder is going to cost several hundred dollars or more. There are a lot of components that cause these prices to go up or down. Mixed breeds are always going to cost more than purebred dogs. The bloodline could also change the price. Purebred, show-quality dogs from reputable breeders are going to be on the higher end because they invest more money and care into their dogs. If the breeder is a member of a kennel club and their puppies are registered, this adds to the fees. Serious breeders usually include the price of health screenings into their price as well. Buying from top-of-the-line breeders isn't always necessary, but better breeders usually indicate healthier dogs in the future.
Initial Setup and Supplies
Setting up your home to welcome a new puppy is going to cost a good chunk of money. Some of your top priorities should be getting the setter spayed or neutered with a microchip. Have your home stocked with a bed and cage, some training pads for when they have accidents, food and water bowls, a handful of toys, and a collar with their name and your contact information on it. The sooner you get these supplies ready, the easier the transition will be.

List of Irish Setter Care Supplies and Costs
| | |
| --- | --- |
| ID Tag and Collar | $20 |
| Spay/Neuter | $150 |
| Microchip | $45-$55 |
| Teeth Cleaning | $20 |
| Bed/Cage | $50-$100 |
| Nail Clipper | $10 |
| Brush | $10 |
| Plastic Poo Bags | $20 |
| Toys | $50 |
| House Training Pads | $10 |
| Food and Water Bowls | $20 |
How Much Does an Irish Setter Cost Per Month?
Dogs aren't as cheap to care for as many people believe. With health bills, medications, food, grooming, and insurance, there is a lot to account for. Of course, all of these prices could vary greatly, and you might find that you're only paying a couple hundred bucks per months, but it's best to plan ahead so that you have a good idea of where you stand.
Health Care
Keeping your Irish Setter in good health is crucial to keeping your monthly costs low. The better you take care of them, the less likely you'll have to spend on expensive mediations and frequent vet trips. Feeding them high-quality food, proper grooming, and giving them the right amount of exercise are all ways to keep prices down.
Food
What does it matter if you pay cheaper prices for a lower-quality dog food. After all, kibble is kibble, right? Wrong. Recent studies show that many dog food brands that are labeled as "grain-free" are causing canine dilated cardiomyopathy and other serious health issues in dogs. Always ask your vet which brands they recommend. Although these brands might be more expensive, it is worth it to know your dogs are only eating clean ingredients.
Grooming
Grooming isn't a big deal for some dog breeds, but an Irish Setter has long, strawberry locks on their tail, ears, and underbelly that you must brush at least two times per week. Most people rely on trained groomers to keep their dogs' coats from matting. They also perform tooth or ear cleanings and nail trimmings for an additional cost.
Medications and Vet Visits
The price of medications changes based on your setter's health and whatever types of issues their experiencing. All dogs require a monthly heart wormer and flea and tick medicine that is fairly cheap. Buying from a trusted breeder is also going to help you avoid genetic diseases that might make the medication prices go up.
Pet Insurance
Pet insurance isn't for everyone. A lot of people find it unnecessary to pay a monthly fee when they don't need to take their Irish Setter to the vet that much. However, pet insurance can help in many different situations and it's always nice to have a backup plan in case anything goes wrong.
Environment Maintenance
Irish Setters aren't too demanding about things they need for a clean and healthy environment. Keep their dog beds clean and plush, and buy them a new one whenever they start to get worn. Try to keep the yard picked up with a plastic bag or poop scoop for a mess-free yard. These products are especially useful if you have a dog that enjoys rolling around in stinky items.
| | |
| --- | --- |
| Poo Bags or Pooper Scoop | $20/month |
| Dog Bed | $5/month |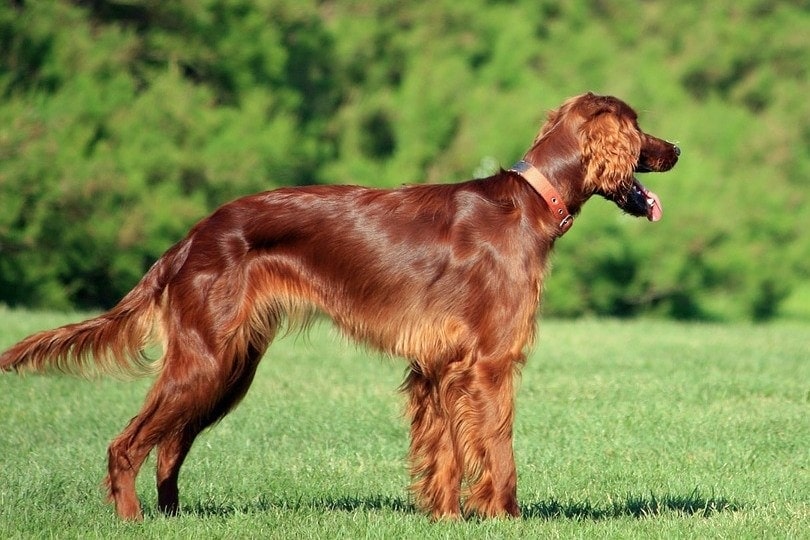 Total Monthly Cost of Owning an Irish Setter
Overall, you might expect to pay as low as $200 per month to take care of your Irish Setter. However, don't assume that this price is set in stone. Each dog is unique and requires different things that could alter the monthly price.
Additional Costs to Factor In
Aside from the necessities, it's always a smart idea to factor in some extra cash for unforeseen events. This could include a pet sitter or kennel while you're away or a special diet or training for any sort of issue your dog is having. The more prepared you are, the less likely the price is to shock you when problems come up.

Conclusion
We hope that this price guide has helped you get a better understanding of what it truly costs to own a dog. Even though the initial cost of buying an Irish Setter puppy could be as low as $250 for adoption or $700 from a breeder, the highest costs arise as you move through life. Monthly costs for food, vet trips, and medications could be as low as $200 or as high as $700. Don't let the higher prices scare you away from bringing home a new puppy. Irish Setters are loyal and hard-working dogs that are worth every single penny.
Related Reads:
---
Featured Image Credit: Kseniia Kolesnikova, Shutterstock