100+ Lhasa Apso Dog Names: Fluffy, Tibetan & Cute Ideas

Great things come in small packages, and the Lhasa Apso is no exception. Their keen sense of hearing and intuitive nature has molded them into excellent watchdogs, alerting their owners of any incoming danger. Although it may take a bit of encouragement for you to gain the trust of this dog, once they are familiar with you, they are loyal for life. The Lhasa Apso is an intelligent and independent breed who can appreciate the guidance of the firm but loving owner.  Distinguishable by their long and luxurious coat, this dog originated in Tibet and is recognized as one of the oldest breeds. 
Now that your new fur baby is home and settled, it's time to find them their name. There are so many great takes on how to pick the perfect name so we've divided them into the following categories: top rated male and female ideas, names inspired by Tibet, adorably cute suggestions, options specific to the Lhasa Poo cross bread, and finally a few names for their inner guard dog! 
Although Lhasa and Apso double as great names, don't count out these next hundred gems!

Female Lhasa Apso Dog Names
Monroe

Sadie 

Lucy 

Nilla 

Luna 

Baby 

Goldie 

Honey 

Foxy 

Kashi 

Minnie 

Blanca

Heidi 

Maggie 

Pita 

Molly 

Marge 

Dove 

Cutie 

Nini

Angel 
Male Lhasa Apso  Dog Names 
Brulee 

Arwen 

Nugget 

Jack 

Milo 

Mushu 

Romeo 

Bones 

Finnegan 

Jumbo

Tango 

Sonnet 

Neo 

Albus 

Smudge 

Pluto 

Frodo 

Bravo 

Frank 
Tibetan Lhasa Apso Dog Names
The monks of Tibet adopted the Lhasa Apso to roam their temples to warn them of intruders and ward off any danger. Such a big responsibility for such a tiny dog! That alert nature is carried with them even to this day. You might be interested in a name rich in this breed's heritage. After all, the name Lhasa is a city in Tibet, and Apso derived from the Tibetan language. Choose one of these unique names to keep it all relative! 
Dorjee – Thunderbolt 

Ketu – Shooting star 

Cunu – Baby 

Dawa – Moon 

Pema – Lotus 

Jampo – Gentle 

Kasa – Deer 

Karma – Action 

Mida – Pistol 

Norbu – Jewel 

Goba – Eagle 

Kabo – White 

Bumo – Daughter 

Kalsang – Good Fortune 

Marpo – Red 

Jetsan – King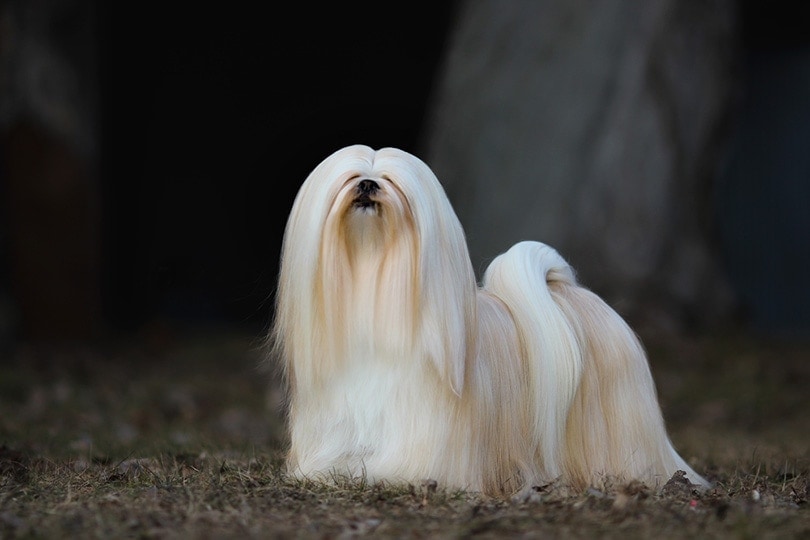 Cute Lhasa Apso Dog Names
If you were to take only how they look into consideration, most will find this compact yet fierce breed adorable! How could you not? They could have floor-length hair resembling that of royalty, or trimmed short so their curious little faces look like teddy bears. There is no way around it, and no matter the hairstyle you choose for them, your Lhasa Apso will always be a sweet one to look at! 
Twiggy

Penny 

Boo

Alfie 

Turk 

Pogo 

Nacho 

Elle 

Gus 

Peanut 

Poe 

Bonsai 

Weenie 

Clover 

Cheeto

Pip 

Winston 

Olive

Chewy 

Chip 

Sassy 

Ezra 
Lhasa Poo Dog Names
A Lhasa Poo is an adorable designer dog that crossbreeds the Lhasa Apso with the Poodle. Surely, with the long locks of the Apso, and the curls found on the Poodle, the type of mop this pup is sure to have will be magnificent. Trips to the groomers are likely going to be a regular thing if you have one of these beauts! Here are the top names for the Lhasa Poo.
Curly 

Bear 

Eski / Eskimo

Teddy 

Poof

Charmin 

Rover 

Cotton 

Pompom

Shaggy 

Wookie 

Fleecey

Puff 

Chewbacca 

Scruffy 

Lush 

Fox 

Puffin 

Downy 

Sauve 

Cozy 

Furby 

Velvet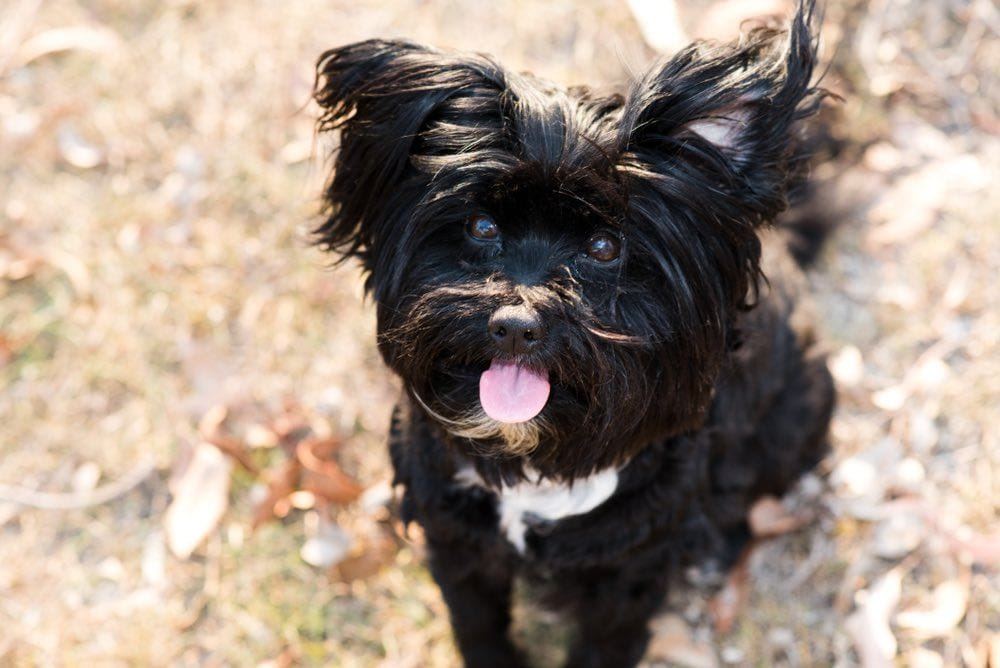 Guard Dog Names for Lhasa Apso
As we noted earlier, this breed, although quite little, is incredibly robust! Their mighty demeanor makes them ideal guard dogs. Lhasa Apsos are wary of strangers and are not afraid to show them who's boss when it comes down to it. In honor of their dedication and commitment to keeping their loved ones safe, you might be interested in a name that represents the strong independent guard dog they are!
Rogue 

Brutus 

Axel 

Gamora 

Diablo 

Danger 

Athena 

Rebel 

Boss

Mystique 

Wrath 

Huntress

Nitro 

Jinx

Vixen 

Khan 

Xena 

Beast 

Ursula 

Goliath 

Ammo 

Electra 

Empress

Hades 

Finding the Right Name for Your Lhasa Apso 
Figuring out where to start looking is a tedious task in itself. Once you've started your search it might seem impossible to narrow your favorites down to just one. Below we have noted a few helpful tips that should help keep you on track and ultimately find the name your new Lhasa Apso is meant to have! 
Say your favorites aloud. This will give you an idea of how these names would sound if you were to choose them. Say them in stern, happy and excited voices to get a true feeling for them. You might even say them to your new pup to see how they react. 
Simple is best. One or two-syllable names are the easiest for your pup to remember. Typically names that end in a vowel are also much easier for your dog to distinguish. 
Seek a few opinions. Asking a few trusted family members or close friends can also give you some clarity. Be careful not to ask too many people as their different opinions may muddy your overall decision and make it more difficult. 
At the end of the day, you should love the name as you will be the one using it most frequently. Keep in mind that your dog will love anything you give them, so have fun with the process. Hopefully you were able to find the right inspiration among our list of 100+ Lhasa Apso names. With cute, traditional, and fierce names, there is sure to be one fitting for every type of dog. 
If not, that's ok too! You can also get a few more ideas from one of our other popular dog name posts linked below: 
---
Feature Image Credit: Pixabay