180 Amazing Names for Brussels Griffons – Great Games for Your Adorable Pooch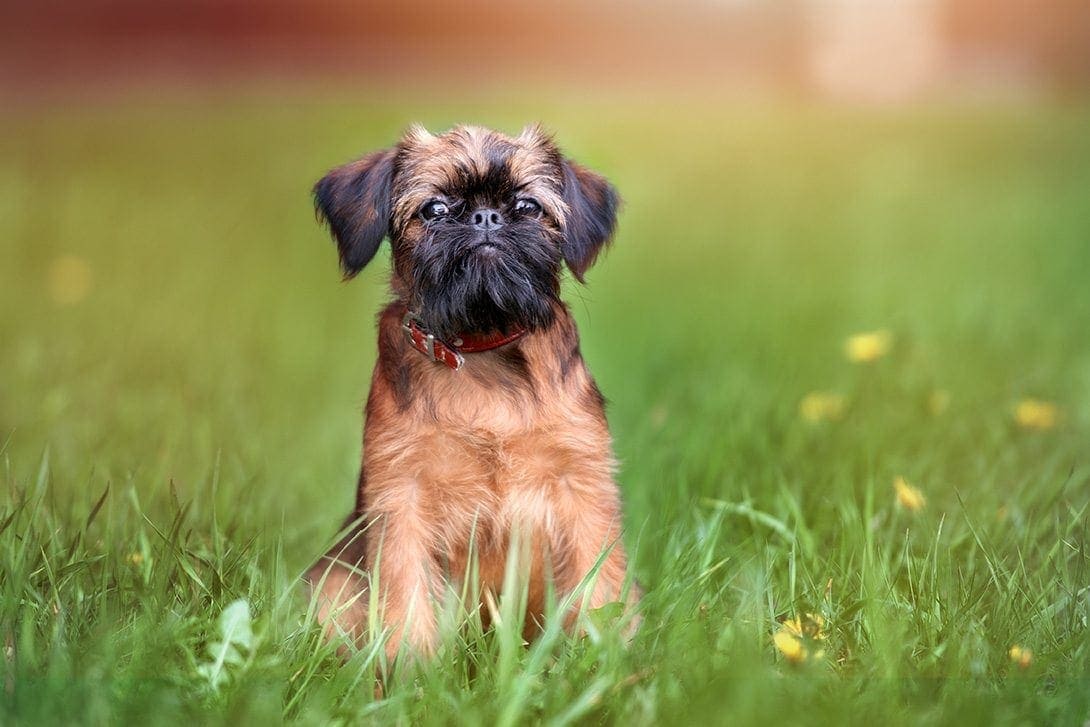 As the famous saying goes, "great things come in small packages." In the case of the Brussels Griffon, this is very fitting. These little dogs only stand between 7 and 10 inches tall, but they're simply fit to burst with character, which makes thinking about names for Brussels Griffon a lot of fun but the final decision quite tricky. How do you define a dog so bold, so entertaining, so smart, and so adorable in just one word?!
We know how hard it can be to settle on a name, so we've compiled our favorite Brussels Griffon name ideas into this post for those in need of inspiration.

How To Name Your Brussels Griffon
Brussels Griffons are very distinctive in both appearance and personality, and it's always a good idea to look to these things to get inspiration for a name. For example, the American Kennel Club describes these dogs as "comically self-important", so you might want to go for a classy or even pompous-sounding name like "Montgomery".
On the other hand, Brussels Griffons aren't the most "polished" dogs appearance-wise, so you might pick something like, for example, "Scruff" or "Shaggy". Finally, the Brussels Griffon originated in Belgium, so another idea is to choose a name that's popular in Belgium.
Our best advice is to take your time choosing a name and be sure to select a name you enjoy the sound of, as you're going to be saying it out loud an awful lot!
40 Brussels Griffon Names Popular in Belgium
If you'd like to take inspiration from your Brussels Griffon's country of origin, here are some names popular in Belgium.
Male Brussels Griffon Names Popular in Belgium
Victor
Noah
Hugo
Felix
Leo
Cyriel/Cyril
Owen
Lars
Arthur
Jules
Oscar
Liam
Louis
Gabriel
Léon
Luca
Jan
Patrick
Théo
Robin
Female Brussels Griffon Names Popular in Belgium
Lily
Olivia
Fleur
Mila
Ella
Mia
Anna
Camille
Sofia
Maria
Chloé
Lucie
Inaya
Lara
Emilia
Emma
Rosie
Esmée
Millie
Maya

40 Posh Brussels Griffon Names
Given that Brussels Griffons are said to have a great deal of self-confidence, a traditional, elegant name, or a name with a touch of class might be just what they need.
Male Posh Brussels Griffon Names
Humphrey
Quentin
Sheridan
Winston
Montgomery
Digby
Clarence
Rupert
Sheldon
Hugh
Maximilian
Jasper
Sebastian
Hector
Barnaby
Rafe
Atticus
Donovan
Kensington
Whitaker
Female Posh Brussels Griffon Names
Charlotte
Beatrice
Rosemary
Imogen
Francesca
Cordelia
Chanel
Letty
Zara
Tiffany
Hilary
Delilah
Margaret
Effie
Flora
Hazel
Amelia
Isabella
Vienna
Delphine
30 Funny Brussels Griffon Names
If you'd like a name for your Brussels Griffon that makes you smile from ear to ear every time you hear it, here are some suggestions.
Scruff
Ewok
Shaggy
Twiglet
Pudding
Chip
Pickle
Mugsy
Bean
Chewbacca
Pip
Elmo
Cookie
Goofy
Skip
Ninja
Diva
Buttons
Toots
Tootsie
Elvis
Gizmo
Nibbles
Gremlin
Jabba

70 Cute & Simple Brussels Griffon Names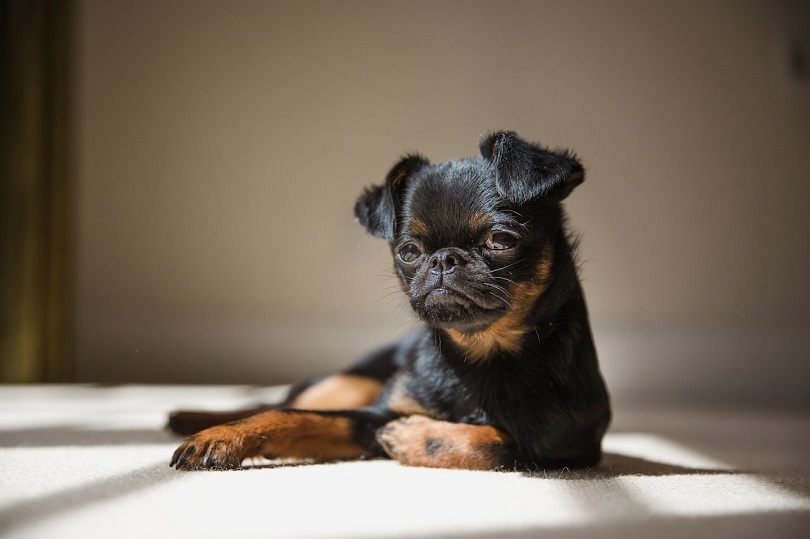 If you're looking for something cute, short, and simple, here are some of our favorites.
Male Cute & Simple Brussels Griffon Names
Ollie
Alfie
Bob
Artie
Charlie
Sonny
Mac
Loki
Wally
Archie
Buck
Buddy
Benji
Bo
Dude
Gordy
Hooch
Joey
Chester
Toto
Levi
Nico
Taz
Teddy
Iggy
Female Cute & Simple Brussels Griffon Names
Abbie
Luna
Holly
Pixie
Billie
Apple
Josie
Daisy
Sadie
Zoe
Maggie
Ellie
Bella
Ava
Bonnie
Coco
Chica
Dottie
Foxy
Isla
Tilly
Katie
Lexi
Mimi
Tara
Unisex Cute & Simple Brussels Griffon Names
Frankie
Ash
Bear
Echo
Kit
Blue
River
Taylor
Alex
Aspen
Dallas
Ocean
Jamie
Mocha
Coffee
Sky
Bailey
Casey
Devon
Drew

Final Thoughts
Brussels Griffons are true characters—it's understandable if you're having trouble choosing a name as there are so many that would suit this spunky, bold little canine. Don't worry—as you get to know your dog better, it will become easier to find a name that feels just right. If you've been struggling to cook up the perfect name for your Brussels Griffon, we hope our suggestions have helped.
---
Featured Image Credit: otsphoto, Shutterstock