New Kitten Checklist: Essentials for Your New Kitty (2023 Update)

There are approximately 3.2 million adoptable cats in animal shelters in the US. Sadly, about 530,000 cats are euthanized annually in a bid to reduce the number of cats in the shelters. So Kudos to bringing one of these adoptable furry babies into a safe haven – your home!
Bringing a new kitten into your home means excitement, learning, and fun. Kittens are playful little furballs and demand full attention and care.
To buy your fur baby their essentials, you don't have to feel flustered. Here is some vital information about handling your new kitten and their essentials as they settle in your home.
New Kitten Checklist: At a Glance
Discuss With Your Vet
Overall health check
Ideal diet
Vaccinations
Tooth brushing
New Kitten Essentials Checklist
To easily and effectively settle your new kitten into their new home, these are the things you need;
1.

Food and Water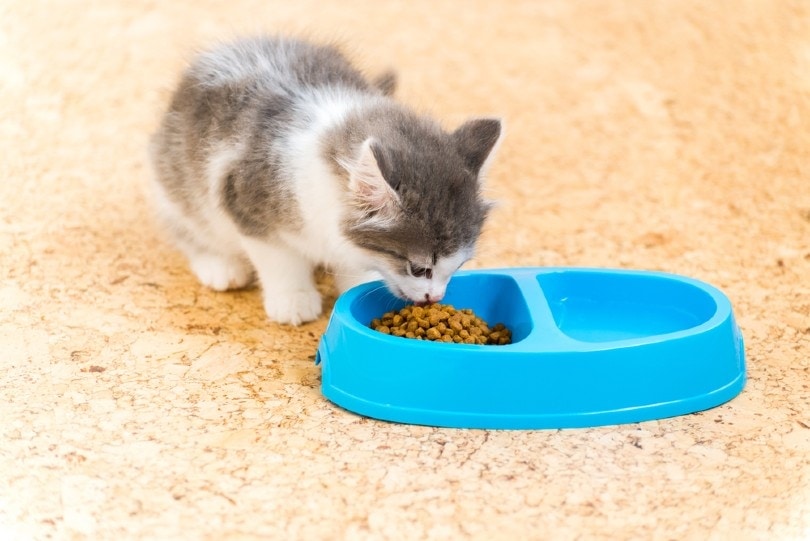 These two may seem obvious, but there are some crucial factors you need to look at before placing Kitty's food and water in their first room. First, because kittens are playful, avoid bowls that could tip over easily.
Also, some kittens are allergic to plastic; try to avoid plastic until you are sure your kitten is not allergic to it. Finally, always ensure that the bowls are clean and fresh. Plenty of fresh and clean water is an essential need for a kitten.
Examples of food you can give your kitten include Purina ONE Healthy Kitten Formula, Blue Buffalo Wilderness Kitten Food, and Wellness Complete Health Kitten Formula.
---
2.

Litter Box
Kitty's litter box needs to be big enough to avoid scattering litter all over the room. Along with the litter box, buy a scoop to pick up the soiled bits from the floor.
Clean the litter box regularly because the kitten may avoid using a dirty and smelly one. If using detergents, avoid using ones with strong scents and also avoid disinfectants with ammonia.
Some of the best litter boxes for kittens include Frisco High Sided Cat Litter Box and Nature's Miracle Just For Cats.
---
3.

Toys
As mentioned, kittens are playful little furballs. They spend most of their time playing whether they have toys or not. However, because you want to make your new addition more comfortable, occupied, and happy, you should fill up their room with toys they can play with.
You can get your kitten toys such as Frisco Cat Tracks Butterfly Cat Toy, Frisco Colorful Springs Cat Toy, and Frisco Basic Plush Mice Cat Toy.
---
4.

Scratching Post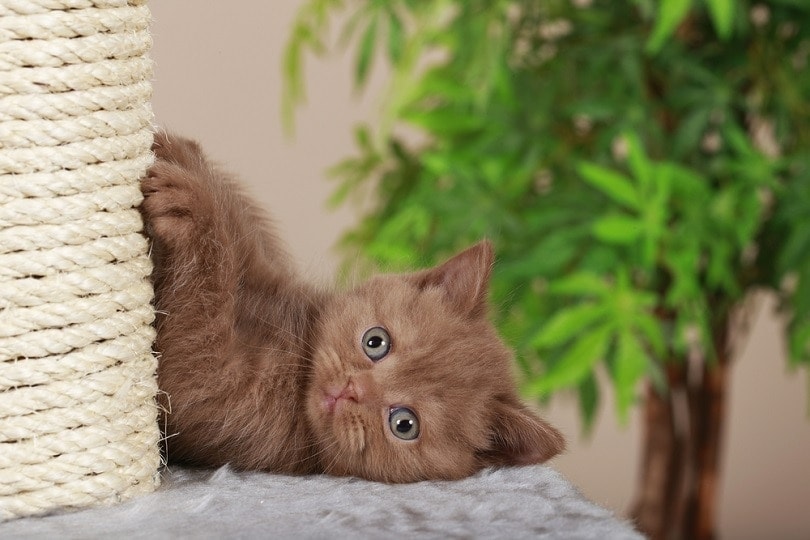 Scratching items is a typical feline behavior, so consider providing your new kitten with scratching posts such as Frisco Cactus Cat Scratching Post and Frisco Sisal Cat Scratching Post. But it doesn't have to be expensive; a piece of rag can replace a costly scratching tree.
---
5.

Carrier
You will need to carry your new kitten to and from the vet or any other place. A carrier will be of great help to you when you want to carry them comfortably.
Cats hate carriers but a helpful tip – try to keep the carrier around them where they can get used to the carrier. Seeing the carrier around them will help the new kitten see it as part of their environment.
Examples of carriers you can use include Necoichi Ultra Light Collapsible Cat Carrier Bag, Sherpa Delta Airline-Approved Cat Carrier Bag, and EliteField Soft-Sided Airline-Approved Cat Carrier Bag.
---
6.

Grooming Tools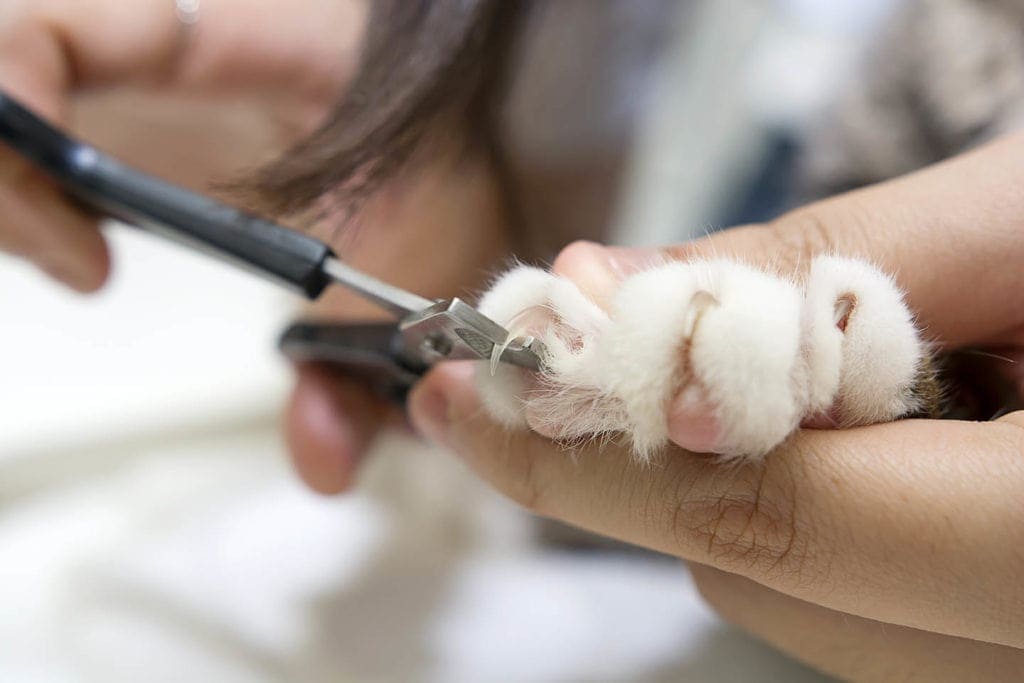 Your kitten's claws need regular trimming, so look for good claw clippers to regularly trim your cat's claws. Also, consider adding a brush to brush their fur regularly.
---
7.

Enzyme Cleaner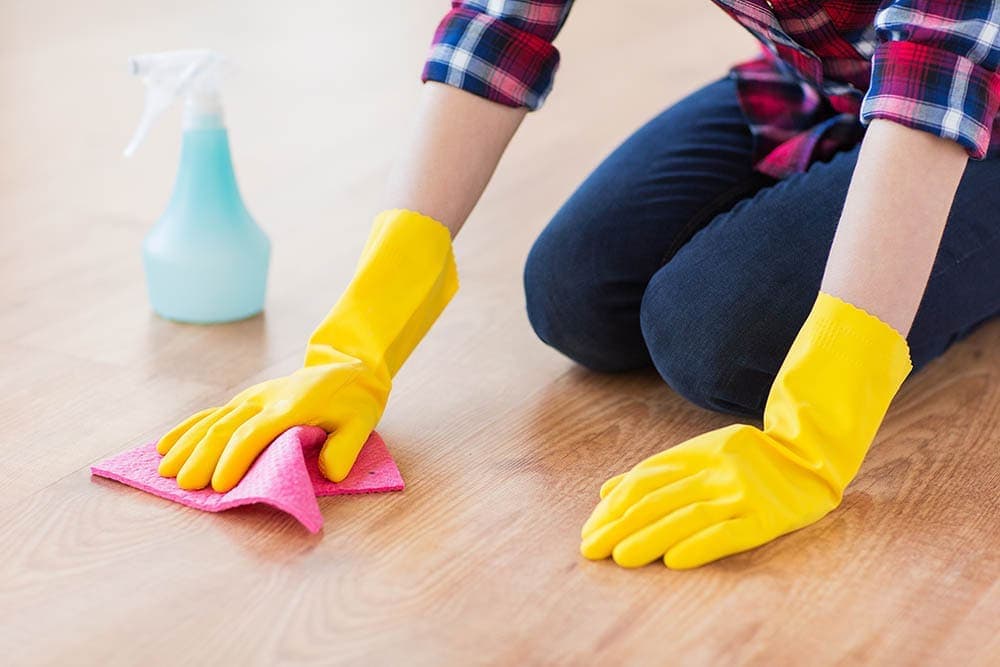 Having an enzyme cleaner on hand will mean you are prepared to combat any messes your new kitty may make. This type of cleaner is safe for your fur baby and considered all-purpose in the pet world, since it's excellent for cleaning cat products such as the litter box and scoop, to cleaning up accidents.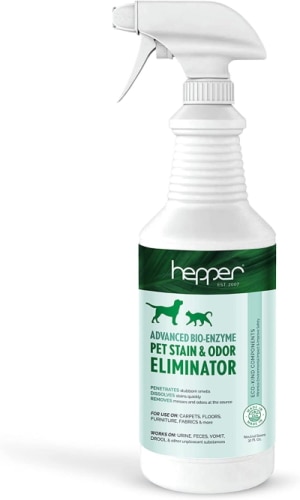 Having a pet means cleaning up smells, stains, hair, vomit, and more...and you can add to your pet clean-up routine with the Hepper Advanced Bio-Enzyme Pet Stain & Odor Eliminator Spray. It's our product, and we love it so much, we just have to share! It permanently removes the very worst smells and stains, and we offer a 100% satisfaction guarantee! Click here to get yourself a bottle!
New Kitten Vet Checklist
If you are looking forward to a lifetime of good health with your kitten, you need to ensure that their health is cared for when they are still very young. Below is a kitten vet checklist for your tiny fur friend:
1.

First Vet Visit
When you get your new kitten, the first thing you need to do is get them to a vet. The vet will run a comprehensive medical exam to check the kitten's overall health, including checking their eyes, teeth, heart, lungs, etc. The vet will also discuss with you about spaying or neutering your kitten when they are of age.
---
2.

Kitten Diet
Consult the vet about how soon you can change the kitten's diet and which diet is good for the kitten. Getting the right information about the kitten's diet is wise before introducing new food to them.
---
3.

Vaccinations
A vet checklist should also include vaccines that will enhance your kitten's health. Vaccines may include rabies vaccine and Herpesvirus vaccine.
---
4.

A Toothbrush
Most kittens may develop dental issues when they are approximately three years. The dental issues can be so fatal which can lead to their death.
Get them a toothbrush and place treats on the toothbrush, have them lick the treats on the toothbrush, and then work your way in their mouth to brush their teeth. Cats and kittens need daily brushing but once a week is reasonable.
What to Do with a New Kitten Overnight
Before bringing your new kitten in, do some thorough prepping – it's a secret to a smooth first 24 hours. First, you need to prepare their first new home or their 'starter home.' Make it as safe and comfortable as possible.
The earliest a fur baby can leave their mom is eight weeks. This age is equivalent to a four-year-old human child leaving home. By this time, the kitten knows where their essentials are; their toys, toilet, food, water, etc.
A new home may make her uncomfortable, and she may result in hiding as a coping strategy. Some kittens are bold, and they may not hide, but if the kitten is shy, give them the option of hiding.
To make things easier for your new kitten, try to make things recognizable for them. For example, you can talk to the shelter or the breeder and request to arrange a blanket that smells of their mom.
Alternatively, you can arrange for you to give your T-shirt for the mother and her litter to sleep on days before you pick up the new kitten. You can then use the T-shirt to make up a kitten bed for the kitten.
Also, avoid changing your new kitty's diet immediately. Instead, you can stock up their favorite food with a recommendation from the shelter you pick the kitten from.
The kitten's favorite food is not only a recognizable item, but it also helps to avoid stomach upsets. In addition, it makes the kitten's life a little scary.
Now is not the time to have neighbors come and see the little new family member. If you have overexcited children, have them check out the kitten one by one while they sit calmly.
Where Should a Kitten Sleep on the First Night?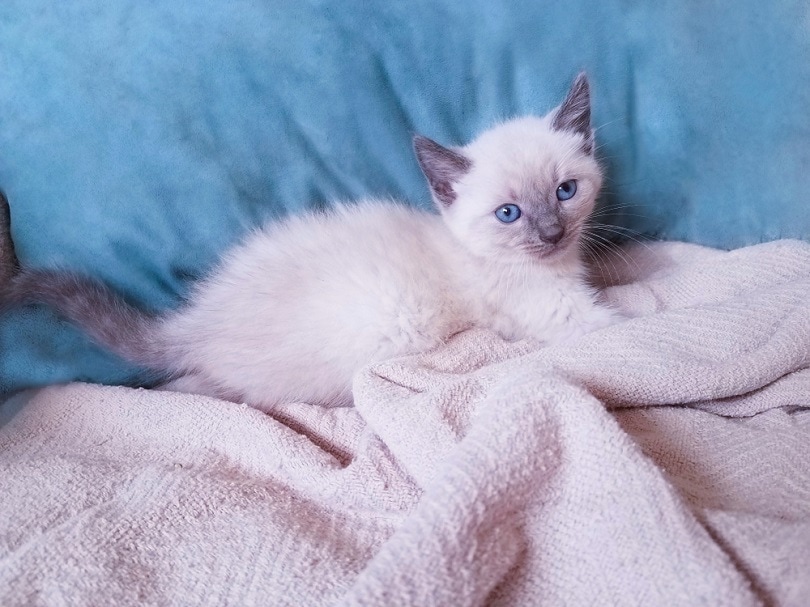 Try to confine the new kitten in one room to get them accustomed to their new surroundings gradually. As days go by, you can introduce them to the rest of the house, but it should also be gradual. Confining kitty in one room makes it easier for them to transition from their old home to their new home.
If you are adopting a kitty from a shelter, prep their new home before she comes in.
To make the first new home bearable for the first night for both of you, here are some tips:
Get rid of electric cords
Put away any house plants
Secure any breakable items
Close up any potential run-away holes
Make sure that windows and doors can close completely
Set up a litter box in one corner
Set up food and water bowls in the other corner
Some people may prefer laundry rooms or bathrooms because they are easy to clean and small enough. You can stack up the room with different toys and maybe a catnip toy for distraction when you are not around.
You can also consider having them sleep in your bedroom if it is big enough for you two. Remember, some kittens might not have spent a night alone, so having you close to them might ease their first night fright.
How to Get a Kitten Get Used to a New Home
New sounds, new smells, new sights; all of these can be terrifying for a new kitten. Unfortunately, the new kitten may have also left behind a loving mom and littermates. Your total understanding, care, and patience are all they need to help them settle into their new surroundings.
There are also practical things that you can do to get the kitten used to their new home. For instance, you can try as much as possible to avoid scaring them away. Like for example, avoid bringing people into her new home until you ultimately settle her in.
Also, you can add some recognizable items from her old home into her new room. For example, as we mentioned, try to incorporate their mom's scent into the room.
You can do this by talking to the breeder or the shelter beforehand. Give them an old T-shirt for the mother and the litter to sleep on, and then you can take the T-shirt with you when picking the kitten.
In addition, try to introduce new foods later when they settle in. Introducing a new kitten to new foods abruptly could result in a tummy problem. Also, try to spend time with your new addition as much as possible, so they get to know you better.
Spending more time with them will help them replace the old scents with your new scent, thus making you their source of security. In addition, your scent will serve them well when you are away.
Conclusion
If you have checked everything on this list, you are ready to be a little cat parent. If not, try to get the remaining essentials, and you too will be ready to be a cat parent.
You can also add other essentials that you see fit. The goal here is to ensure the kitty is comfortable and ready to settle in their new home. Above all, practice a lot of patience when settling the little guy at your home!
---
Featured Image Credit: OlenaPalaguta, Shutterstock