100+ Spanish Dog Names: Top Lively, Vibrant & Romantic Ideas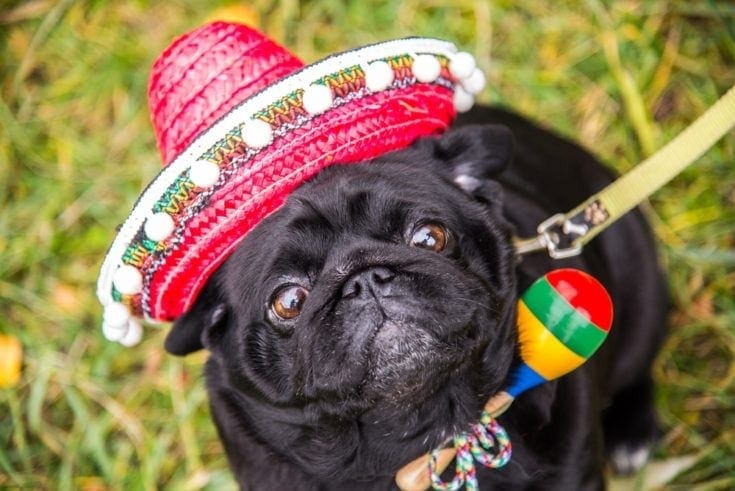 There are so many fun reasons to choose a Spanish name for your dog. If you are of Latin descent, an obvious tribute to your heritage would be a cool option. Maybe you just can't seem to get enough of the music, food, or culture. Regardless, we have gathered the best Spanish dog names for girl and boy pups, funny and cute suggestions, as well as some names with meanings.

Female Spanish Dog Names
Valentina
Luciana
Renata
Camila
Isa
Lucia
Emilia
Mia
Elena
Rafaella
Fabiana
Atonia
Alma
Noa
Josefina
Alessandra
Isodora
Magdelena
Fiorella
Maite
Juana
Male Spanish Dog Names
Santo
Elonso
Carlito
Alberto
Tadeo
Celso
Pablo
Jose
Rafael
Gustavo
Domingo
Bartolo
Salazar
Sergio
Hector
Paco
Delmar
Fabio
Ignacio
Carlos
Benito
Emilio
Alejandro
Alonzo
Funny Spanish Dog Names
The first thing we think of when imagining a funny Spanish dog is a chihuahua in a sombrero. The possibilities of funny Spanish names are truly endless. For the owners and pups with a good sense of humor, we think you'll get a kick out of this next list, and hopefully find a name suitable for your hilarious pooch.
Gordo (Fat)
Torpe (Clumsy)
Loco (Crazy)
Chamo (Dude)
Tonto (Dumb)
El Antro (Bad)
Bruja (Witch)
Friolero (Always Cold)
Lampino (Hairless)
Chido (Cool)
Enchilar (Annoy)
Caliente (Hot)
Tu Mama (Your Mom)
Cute Spanish Dog Names
Your sweet pup could also benefit from having a name that honors how incredibly adorable they. Affection and passion are major players in Spanish culture – so why not choose one the names below to show your pooch how passionate you are about them and in return, they will give you all the love and affection they can!
Amigo
Ciela
Chico
Patia
Drina
Neva
Julio
Luna
Mona
Vita
Eldora
Jade
Vito
Socorro
Pedro
Corazon
Flor
Consuelo
Lola
Dahlia
Brisa
Rio
Guido
Diego
Donato
Zorro
Vito
Bella
Spanish Dog Names with Meanings
Looking for something a little more authentic? No problem! Spanish is a beautiful language and happens to be one of the most common aside from English. We are sure that you've heard a few of the words below and if you fall in love with one, it might just be a perfect name for your pup.
Besos (Kisses)
Uno (One)
Arco (Rainbow)
Trueno (Thunder)
Grande (Big)
Tonta (Silly)
Pequeno (Little)
Dulce (Sweet)
Lindo (Cute)
Oscura (Dark)
Estrella (Star)
Amorosa (Loving)
Bueno (Good)
Madrugar (Early Riser)
Blanca (White)
Diez (Ten)
Picotear (Eats alot in small quanitieis)
Rioo (River)
Gracioso (Funny)
Tormenta (Strom)
Achuchar (Hug)
Toro (Bull)

Finding the Right Spanish Name for Your Dog
There are so many factors to consider when choosing your pup's name, so we know that it's not always going to be an easy feat. But with determination and a little research, we are sure that your dog will end up with a great name. We hope that you were able to find a few winning ideas among our list of Spanish names, or at the very least were left inspired to create your own. In the end, we know your dog will love it because you chose it just for them!
Still unable to find the one? We have included a few helpful tips to guide you in the right direction.
Say it out loud to your dog. You might be surprised by their reaction. A tail wag could mean they approve, a little whine could mean this name is not for them! 
Keep it simple. This will benefit both you and your puppy! These names are much easier for your pup to learn, and are less likely to get them confused. Your training will be simpler and maybe even be a breeze!
Get to know your dog first. A name sticks with your pup forever, so don't rush into it! If you are unsure, spend some time getting to know their personality and base their name off of that.
Remember these are the only guidelines. Above all, have fun and don't overthink it!
If you want to test out a few more names on your pup before deciding, check out one of our name posts linked below:
---
Featured Image Credit: Liukov, Shutterstock