100+ Chow Chow Names: Ideas for Fluffy & Comforting Dogs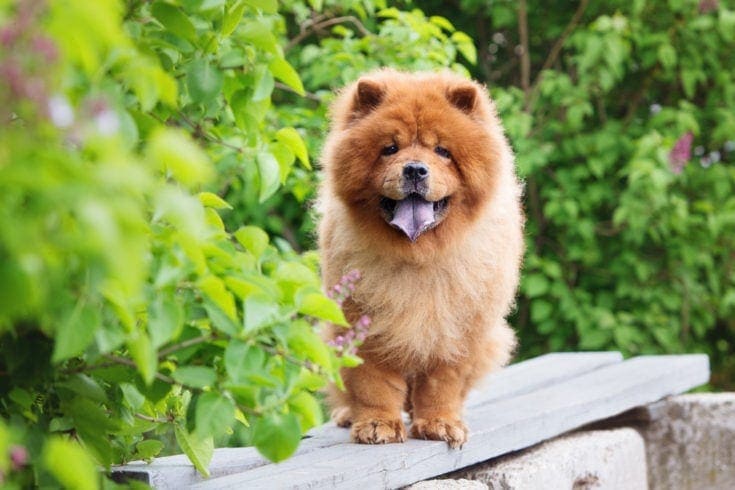 The Chow Chow dog is a very distinct breed – fluffier than most, regal beyond belief and simply striking. With faces resembling that of a teddy bear, this breed originated in China and official name Songshi-Quan translates to fluffy lion dog. How fitting! They come in a few different colors and are described as a fairly aloof and independent dog. They are devoted to their families but don't always play well with other pups. 
So when it comes time to name your fuzzy friend, you might be overwhelmed with all of the choices available. Here we have noted the most popular names for females and males, Chinese names if you want to honor their heritage, ideas generated from their large stature, fluffy suggestions to pay homage to their cuddly exterior, and finally a few cute options because they're truly adorable!

Female Chow Chow Dog Names
Pearl 

Nori

Siera

Winnie 

Asia

Stella 

Suki 

Zola 

Penny

Juno

Ivy

Gemma

Iris

Pandora

Pip 

Nell

Kanga

Willow 

Tess 

Nettie
Male Chow Chow Dog Names
Pogo

Watson 

Mojo

Ziggy 

Gizmo

Roo

Octane 

Lane 

Moki

Toby

Meta 

Rover 

Groot 

Alfalfa

Mowgli

Qunicy 

Rufus

Cain

Mack

Percy 

Jax

Zane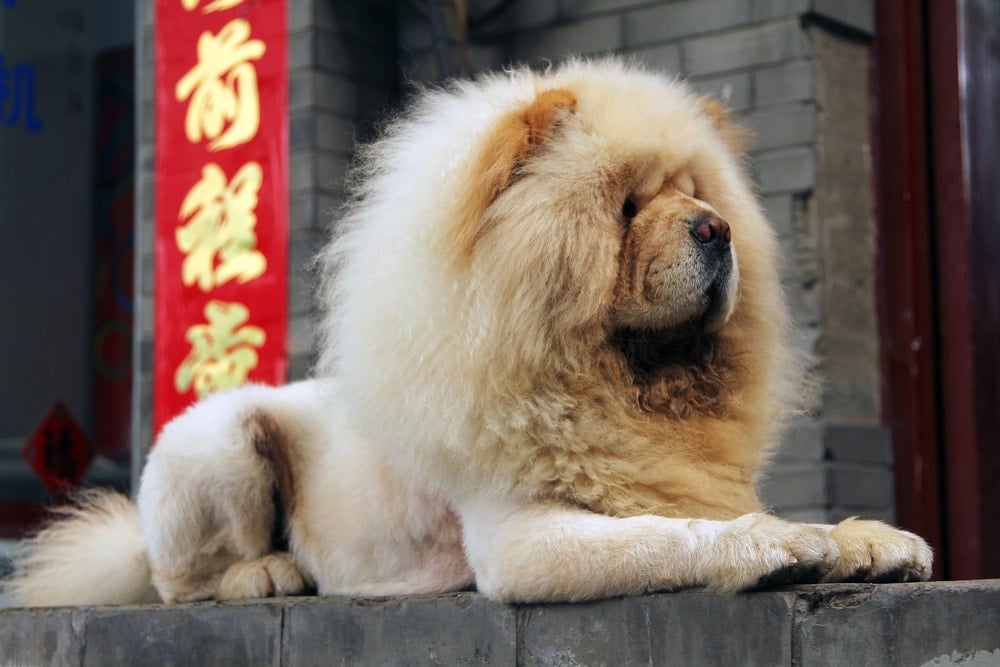 Chinese Chow Chow Dog Names
Choosing a name based on this breed heritage is a unique and fun idea! below we have noted a few Chinese names and paired them with their meanings – you might be inspired by this list of you find your puppy has some of these qualities. You can choose to share the meaning with others or keep it as a cute little secret you share only with your Chow Chow. 
Jia (Beautiful)

Lian (Dainty)

Bing (Solider)

Fang (Fragrant)

Ping (Stable)

Tao (Peach)

Tofu (Food)

Zhong (Loyal)

Lan (Elegant)

Gang (Strength)

Dao (Sword)

Shu (Warm Hearted)

Fushi (God of Happiness)

Ying (Clever)

Zhen (Chaste)

Boba (Tea)

Wenyan (Virtuous)

Liko (Buddha)

Wei (Robust)

Chen (Great)

Ming-Tun (Heavy)

Bai (White)

Manchu (Pure)

Cong (Intelligent)

Nuwa (Mother Goddess)

Chao (Leap)

Jiao (Charming)

Jun (Obedient)

Chun Hua (Spring Flower)

Desi (Man of Virtue)
Big Chow Chow Dog Names
Although this breed is considered medium-sized, the Chow Chow is a larger than life dog. With fur standing tall and a poised disposition, they appear larger than they truly are. One of the names from our large list might just be the perfect match you've been searching for. 
Yogi

Dozer

Tank

Herk

Cairo

Omega

Darth

Nitro

Denali

Vixen

Axle

Moose

Titan

Acadia

Hades

Rogue

Magnum

Apollo

Boss

Olympia

Calista

Aero

Yeti
Fluffy Chow Chow Dog Names
Sometimes we wonder if there really even is a dog under all of that fur! How big are they? What ratio of their body is actually made of tufts of long and luxurious hair? These exotic giants are beyond fluffy and a name from this next list would be nothing short of amazing. Here are our picks for the fizziest names fitting for any Chow Chow:
Noodle 

Ewok 

Charmin

Wooly 

Marsh 

Cloudy 

Floof

Cozy 

Teddy 

Bear 

Lush 

Parka

Furby

Ruffles 

Chewbacca 

Shaggy 

Velvet

Frizz

Wookie 

Curly 
Cute Chow Chow Dog Names
It's hard to imagine your puppy without a name that's just as cute as they are. These adorable fluffy balls are basically what cuteness is made of. Pairing your sweet Chow Chow with a name from our next list is extremely complementary to their appearance. 
Archie 

Beau 

Lexi 

Milo

Fiesta 

Gigi 

Dash 

Ollie

Ezra 

Lincoln 

Aero 

Cleo 

Mabel 

Buttons 

Clover 

Atlas 

Gus 

Jewel 

Knox 

Baja 

Finding the Right Name for Your Chow Chow
There are many things to consider when selecting a Chow Chow name, but you don't need to be overwhelmed about it. We are sure that your lovely new Chow Chow will adore whatever name you decide to give them. However, if you are having trouble settling on just one, check out our helpful tips for some clarity: 
Love the name you choose

. You shouldn't have to settle! If that means you search for an extra day or two, it will be worth it once you find the name your pup was truly mean to have. 

One to two syllable names are easier to say.

Keeping your pups name short and to the point is beneficial in a few ways – calling, disciplining, and mainly training, as your dog will become familiar with their name much quicker.

See how your pet reacts when you say it out loud.

This may be a clear indication that they love or hate a name. If an option provokes an alarming bark, we know that's not the name for your pup! If you get a curious head tilt or a few puppy kisses, we can bet you have found a winner!

Think of the personality your puppy has (or is likely to have).

Although breeds generally have traits that are common among them, your dog will have its very own personality. Waiting a week or two, so they can settle in and let their true self shine may be the only help you need in finding the perfect name!

Have fun

! 
Keep in mind, these aren't hard rules, just tips to help guide you and help make this exciting decision as easy and fun as can be for you.
If the names from our list of 100+ Chow Chow names weren't quite right for your new pup, you might be inspired by one of our other dog names posts: 
---
Feature Image Credit: otsphoto, Shutterstock