Corgi & Pug Mix: Breed Info, Pictures, Facts, Characteristics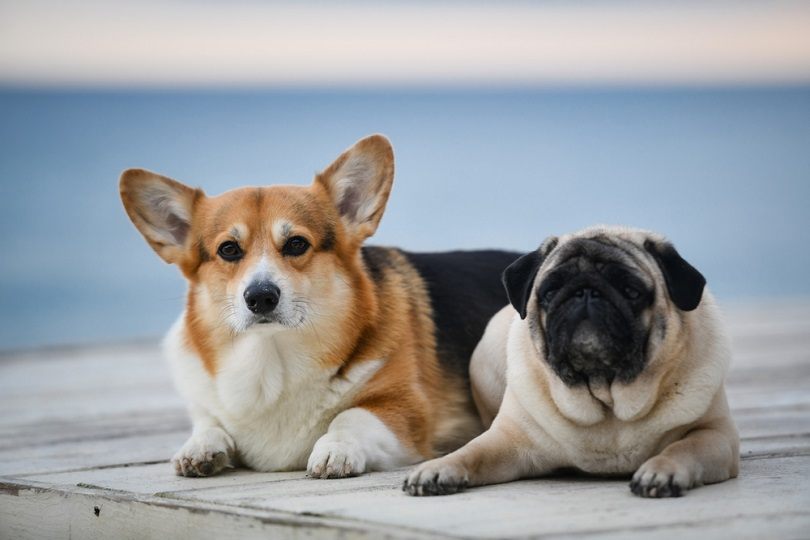 | | |
| --- | --- |
| Height: | 10-13 inches |
| Weight: | 18-30 pounds |
| Lifespan: | 12-14 years |
| Colors: | Fawn, red, black, sable, and tan; may have white markings or a black face mask |
| Suitable for: | Families with older children looking for a loyal and affectionate small dog |
| Temperament: | Affectionate and loyal, can be wary of strangers, playful and fun-loving |
The sweet Corgi Pug mix is also known as the Porgi. This mixed breed might be small but they have plenty of personality. Crossing the affectionate and entertaining Pug with the cheerful and hardworking Corgi creates a sweet new breed that might just charm you and your entire family.
Corgi Pug mixes are incredibly adorable, but they do need quite a great deal of attention from their owners. Corgis have a reputation for wanting to herd everything in sight, so if your pup inherits this trait, you might find them trying to herd anything that moves!
This hybrid isn't as well-known as some other breeds, so if you've been considering them as an option for your next dog, you're in the right place. We'll tell you everything you need to know about the adorable Corgi Pug mix.
Corgi Pug Puppies — Before You Welcome One Into Your Family..
We'll warn you now that if you meet a litter of Corgi Pug puppies in person you might not be able to leave without taking one home. These tiny puppies are seriously adorable, but they do need a home where they can get all their needs met.
Corgi Pug mixes can be a little challenging when it comes to training, and in this respect, they take after their cheeky Pug parent. By making sure your puppy is well trained, you'll be setting yourself up for an easier life. Corgi Pugs can be destructive and quite cheeky if they're allowed to get away with making their own rules.
3 Little-Known Facts About Corgi Pug
1.

You never know quite what you're going to get.
As with any hybrid breed, the puppies within a litter of Corgi Pug puppies may be quite different from each other. Some may have the personality of a Pug with the appearance of a Corgi, and other pups will be the complete opposite!
Other puppies may blend the looks and personality of both parent dogs equally. The only way to be sure this is the right breed for you is to familiarize yourself with the characteristics of both the parent breeds, as well as the resulting puppies. That way, however your puppy ends up, you'll have a better idea of what you could be dealing with.
2.

Some Corgi Pugs need special care in summer.
If your Corgi Pug mix puppy ends up resembling their Pug parent in terms of their short muzzle, then you'll need to take care when it comes to exercising them in the summer. Pugs can have trouble breathing when the weather is hot and humid and when they over-exert themselves.
3.

The Corgi Pug is a relatively new mixed breed.
Some mixed breeds, like the Labradoodle, have been around for years and years. Others, like the Corgi Pug mix, are a much newer addition. While none of these hybrid breeds are accepted for registration with the American Kennel Club, there are plenty of registries available for mixed breeds. At the moment, the only one to accept the Corgi Pug mix on their registry is the Dog Registry of America, Inc.

Temperament & Intelligence of Corgi Pugs

🧠
Corgi Pugs are intelligent and affectionate but they can be a little stubborn! You'll need to be one step ahead when it comes to training sessions, as these dogs can quickly switch off if they become bored by your commands.
Are These Dogs Good for Families?

🏡
Corgi Pugs are generally better suited to families with older children. Their strong herding instinct can mean they can't help but to try and herd up anything that moves, including kids!
If they think that a child is trying to "escape the herd," even when they're just running off steam, Corgi Pugs can take it upon themselves to herd a child back to the main group of people, sometimes blocking their path and barking at them. This can be a little unnerving, to say the least!
Training will help reduce this issue to some degree, but you'll never be able to completely override that instinct to round things up! Some Corgi Pug puppies may not inherit this trait to such a strong degree, but you won't know until they start to grow up, and by that point, you're already committed.
Does This Breed Get Along With Other Pets?

🐶

😽
Corgi Pugs generally get along well with other pets. As long as they're introduced to them carefully and slowly, you should be fine.
They can have a strong herding instinct, so if you have cats, then your Corgi Pug may decide to try and herd them up, which doesn't always go down that well with the cats!
Things to Know When Owning a Corgi Pug
Adding a Corgi Pug mix dog to your family will require a fair amount of time and money, not to mention daily dedication for walks whatever the weather. Here's what else you need to know about these characterful pups.
Food & Diet Requirements

🦴
Corgi Pug will do well on a good-quality food designed for small to medium-sized breeds. Whether you choose to feed them dry kibble, wet food, raw food, or even homemade food will depend on your preferences and budget. Your dog will likely let you know what they prefer!
These pups can have a tendency to overeat, so make sure you keep an eye on their weight and reduce their rations if it seems like they're gaining too much weight. You can also get slow feeder bowls to help their food last longer.
Exercise

🐕
Corgi Pug dogs have moderate exercise requirements and will need a daily walk of at least half an hour to keep them happy. As a small breed, they don't need much space to run around in, so they can be a good choice for apartments or for homes without their own backyard.
If your dog ends up with a shorter muzzle like their Pug parent, then you'll need to take care not to over-exercise them when the weather is hot and humid. At these times, spending time indoors under the air conditioning is going to be a better choice for your pup!
Remember to mix in training sessions as well, so your dog is physically and mentally exercised.
Training

🦮
Corgi Pugs are smart dogs and can easily pick up new commands when they're in the right mood. But they can have an independent and slightly stubborn streak which means they may just switch off if they find a training session boring or think that there might be something more interesting happening somewhere else.
They usually have a strong herding instinct due to their Corgi parent, so you need to train them to have a good recall. Anything that moves, including small children, may end up getting rounded up!
Socialization from a young age helps Corgi Pugs become well-mannered in a range of situations. Puppy training classes are a great way to help your puppy learn commands, as well as how to interact with other dogs. Working with a trainer will also help you find the training techniques that suit your puppy the best.
Grooming ✂️
Corgi Pugs shed heavily all year round, so you'll need to brush them every day to remove shedding hairs. They may shed even more twice a year with the change of seasons, depending on where you live.
It's best to check their nails, ears, and teeth once a week.
Health and Conditions

❤️
Both the Pug and the Corgi can suffer from an above-average number of health conditions. Any of these may or may not be passed onto a Corgi Pug puppy. We've listed the main conditions below, and while it seems like a long list, bear in mind that not every one of these will affect every puppy.
The best thing to do is to speak to your puppy's breeder and ask for more information about each condition. They will be able to talk you through the health tests that they carry out on the parent dogs.
Minor Conditions
Skin irritation
Patellar luxation
Cataracts
Glaucoma
Bladder stones
Von Willebrand's disease
Serious Conditions
Brachycephalic airway syndrome
Eye problems
Birthing problems
Spinal issues
Eye problems
Hip dysplasia
Elbow dysplasia
Dwarfism
Intervertebral disc disease
Legg-Calve Perthes disease
Male vs. Female
You might already have been discussing if the members of your family would prefer a female or male puppy. We suggest waiting to meet any litter of puppies that you're interested in before making your final decision.
The personality of each puppy isn't going to be affected by their sex, so while you might have been imagining a shy male puppy, you might find that the females of the litter are less forward than the males.
Remember that any hormonal behaviors you might be worried about will be eliminated when you get your puppy neutered or spayed. So, it's always best to pick the puppy whose personality appeals to you the most, and then find out what sex they are!
Final Thoughts
The Corgi Pug mix is an adorable breed, both in terms of their personality and their appearance. They're small and sweet with plenty of attitude. They need socialization from a young age, as well as regular training sessions to make sure they can follow commands.
When the weather is hot, it's best to keep these dogs cool inside, as they can overheat easily. If you've got what it takes to own a sassy Corgi Pug mix, there will never be a dull moment with one of these dogs around!
---
Featured image credit: MDavidova, Shutterstock