9 Essential Corgi Supplies & Products for Your New Pup (2023 Update)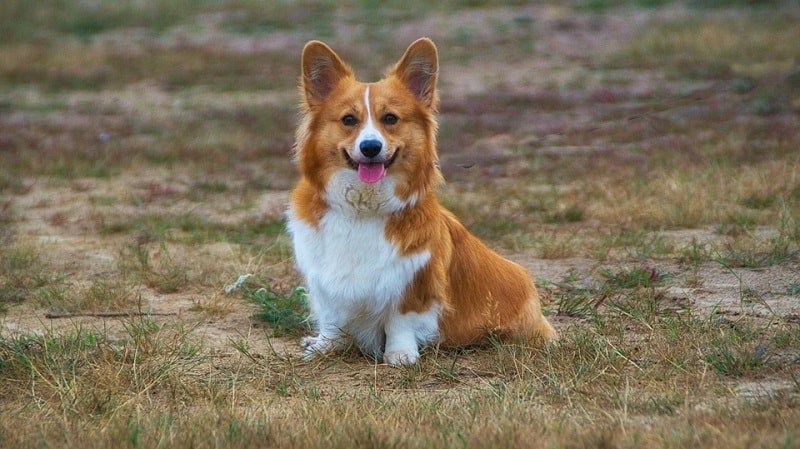 Thanks to the Queen of England and a few charismatic social media personalities, Corgis have gone from a lesser-known farm dog to a popular family pet in recent years. If you have a Corgi puppy of your own, you'll need supplies to ensure your pup has everything it needs to thrive.
From leashes and food to grooming supplies to tackle their notorious shedding, here are the nine essential Corgi supplies and products for your new pup.

The 9 Essential Corgi Supplies & Products
1.

Leather Collar
Our Pick: Soft Touch Collars Leather Two-Tone Padded Dog Collar
| | |
| --- | --- |
| Price | $$ |
| Options | 5 colors |
| Features | Adjustable, leather breakaway |
When it comes to a collar for your puppy, you have virtually limitless options to choose from. Leather is a good choice because it will break if your pup gets stuck to a fence or furniture. This two-tone leather collar offers a range of colors and stylish, heavy-duty hardware with luxurious sheepskin leather. Plus, it's adjustable so that it can grow with your pup.
---
2.

Leather Leash
Our Pick: Soft Touch Collars Leather Braided Two-Tone Handle Dog Leash
| | |
| --- | --- |
| Price | $$ |
| Options | 6 colors, 2 lengths |
| Features | Braided accents |
The perfect addition to the two-tone collar, this leash comes in a range of colors and features full-grain leather with brass hardware and braided accents. The leash is available in 4-foot or 6-foot lengths and 1/2-inch and 3/4-inch widths, so you can choose the best option for your needs. Like the collar, this leash has luxurious sheepskin leather for style and durability.
---
3.

Dog Kennel
Our Pick: Frisco Plastic Dog & Cat Kennel, Almond & Black
| | |
| --- | --- |
| Price | $$ |
| Dimensions | 27.25"L x 20"W x 21.5"H |
| Features | Airline-approved |
Crate training is a must for your Corgi puppy. Corgis are intelligent dogs and can get into trouble if they're not entertained, but a crate keeps them safe when you're not able to watch them. This Frisco crate comes in medium, which is perfect for your Corgi as both a pup and an adult. It's easy to take apart for storage or cleaning, complete with snap-shut latches and wing nuts and bolts. The door is wire mesh and uses a spring-loaded latch with ventilation holes to keep the air moving.
---
4.

Dog Mat
Our Pick: American Kennel Club AKC Orthopedic Dog Crate Mat
| | |
| --- | --- |
| Price | $ |
| Dimensions | 30"L x 22"W x 3"H |
| Features | Orthopedic, machine-washable |
Once your puppy is housetrained, you'll want a dog bed or mat to keep it comfortable inside the crate. This orthopedic dog mat is an ultra-plush option that uses supportive, orthopedic material for the ultimate comfort. The underside has a non-skid surface to prevent sliding on hardwood or tile floors, and it's made of eco-friendly materials. If your dog does have an accident in the crate, the mat is completely machine washable and dryable. You can choose from a variety of colors. If your puppy is still chewing, it may be best to wait to avoid the bed getting destroyed.
---
5.

Puppy Food
Our Pick: The Honest Kitchen Food Puppy Blend Dog Food
| | |
| --- | --- |
| Price | $$$ |
| Formula | Whole grain chicken and oat |
| Size options | 4 lb, 20 lb |
Corgis need good nutrition to support their high energy needs as a puppy. This breed is also prone to overeating and obesity, which can lead to a few health problems. It's important to start them off right with nutrient-dense food like Honest Kitchen Whole Food Clusters Chicken and Oat formula. This food uses dehydrated meat, liver, oats, fats, and probiotics cold-pressed into bite-sized clusters and is free of artificial flavors or preservatives, gums, GMOs, carrageenan, and fillers. Once your puppy reaches one year, you can switch to an adult food.
---
6.

Food and Water Bowls
Our Pick: PetRageous Designs Capri Stainless-Steel Dog Bowl, Gray
| | |
| --- | --- |
| Price | $ |
| Material | Stainless steel, plastic |
| Capacity | 1.75 cups |
Your puppy will need its own food and water bowls. The PetRageous Designs stainless-steel dog bowls are non-skid and sturdy to prevent messes and spills. With the sturdy steel and plastic design, this bowl is suitable for your outdoor adventures as well. The bowls are dishwasher safe, so you can ensure that they're washed properly after meals.
---
7.

Puppy Treats
Our Pick: Wellness Soft Puppy Bites Grain-Free Dog Treats
| | |
| --- | --- |
| Price | $ |
| Formula | Lamb and salmon |
| Features | Grain-free |
Like most dogs, Corgis learn best with positive reinforcement and rewards-based training using delicious treats. Wellness Soft Puppy Bites are small bites that are ideal for training and offer an added dose of nutrition with protein, fruits, and vegetables. The treats have natural sources of DHA and omega 3, as well as no wheat, soy, or grain.
---
8.

Grooming Supplies
Our Pick: H&H Pets 2-Sided Dog & Cat Grooming Brush
| | |
| --- | --- |
| Price | $ |
| Options | N/A |
| Features | N/A |
Corgis have somewhat high-maintenance grooming needs, due to their double coat. Like most dogs with a double coat, they shed heavily and are prone to mats, but shaving them disrupts the natural cooling and waterproofing abilities of their coats. You'll need plenty of grooming supplies to teach your puppy good manners for grooming, such as a shedding brush, a grooming rake, nail clippers, and shampoo. You could also get a toothbrush and toothpaste to teach your pup to tolerate brushing.
---
9.

Puzzle Toy
Our Pick: Planet Dog Orbee-Tuff Mazee Puzzle Dog Toy
| | |
| --- | --- |
| Price | $ |
| Dimensions | 5"L x 5"W x 5"H |
| Features | Interactive |
Your puppy will do well with a mix of different types of toys, especially if you're out of the house for long periods during the day. It's important to choose toys that are strong and durable so that your pup doesn't destroy them. Puzzle toys are a good choice for Corgis and help them exercise their brains, such as this maze ball puzzle toy. The toy holds and dispenses treats as your dog moves it around, helping with engagement and stimulation.

What Else Do I Need for My Puppy?
Getting a puppy is an exciting time, and you could really go crazy buying supplies, toys, treats, and other goodies for your dog. This list covers a lot of the essentials, but some other supplies to consider include:
A pet tag with your dog's name and your contact information
An inflatable harness for outdoor adventures
A seat protector or hammock for your vehicle
Baby gates for your home
Additional dog beds
More toys, such as Kong toys and rope toys
Poop bags for public walks
Puppy training classes with a behaviorist
Fortunately, if you have the essentials, you can build up your stockpile of both fun and practical puppy supplies over time.

Conclusion
Puppies don't stay puppies forever, so it's natural you want to spoil your new Corgi pup and make the most of this special time. It's easy to go overboard, but these essential supplies ensure that you have the things you really need to bring your puppy home for the first time.
---
Featured Image Credit: Michel van der Vegt, Pixabay