100+ Italian Dog Names: Fantastico & Bellisimo Ideas (with Meanings)
When it's time to choose a dog name, why not consider sunny Italy? All kinds of classic names come from the boot-shaped country, along with plenty of funny names and Italian words with appropriate meanings. Plus, several breeds of dogs also have Italian roots, like the Cane Corso.
To help you find the perfect Italian dog name for your fluffy boy or girl, we've put together this list of over 100 options. Keep reading to find your best friend's new Italian name!

Female Italian Dog Names
Verona
Giovanna
Roma
Anna
Lunetta
Cara
Antoinetta
Carmela
Elena
Trista
Margherita
Gianna
Venice
Belinda
Virginia
Rita
Bianca
Gemma
Natala
Rosa
Pippa
Roma
Beatrice
Paola
Liliana
Anita
Maria
Gabriela
Male Italian Dog Names
Davide
Bruno
Sergio
Rocco
Naples
Enzo
Leonardo
Brando
Lugo
Carlo
Romano
Marco
Renzo
Aldo
Alfredo
Faust
Ernesto
Lorenzo
Stefano
Remo
Matteo
Paulo
Flavio
Fabio
Angelo
Lucca
Primo
Vinny
Funny Italian Dog Names
There's something about the Italian language that's pretty hilarious. From foods like Salami and Pizza to words like Presto and Tempo, there's a funny Italian dog name for any pup. Here's our list of the best options:
Piccolo
JWoww
Calzone
Presto
Mamma Mia
Carbonara
Scampi
Snooki
The Situation
Pizza
Valentino
Jersey
Tempo
Orzo
Versace
Michelangelo
Pesto
Guido
Ravioli
Latte
Martini
Biscuit
Linguine
Italian Dog Names for Cane Corsos
Do you have a Cane Corso? These affectionate Italian dogs have been serving as bodyguards since the Roman Empire. Here are some of our favorite Italian names for Cane Corso dogs:
Brutus
Vito
Felix
Tito
Juno
Albus
Orso
Alessandra
Dino
Cesar
Bestia
Nero
Mimi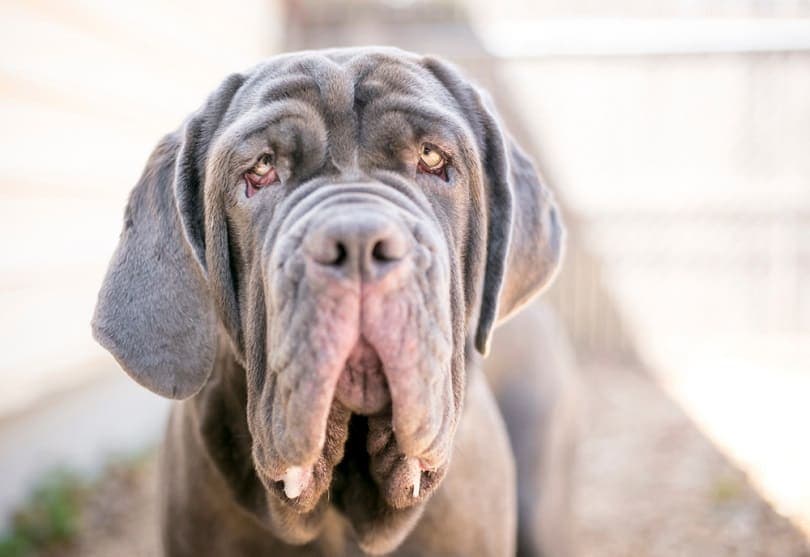 Italian Dog Names with Meanings
Instead of a regular name, why not consider an Italian word with a fun meaning? Here are the best Italian dog names with meanings.
Baffi — Moustache
Pane — Bread
Nero — Black
Pazzo — Crazy
Gigante — Giant
Bianca — White
Bambino — Baby
Grazie — Thank You
Osso — Bone
Misto — Mixed
Dolce — Sweet
Cane — Dog
Pelo — Fur
Volante — Flying
Pozza — Puddle
Caos — Chaos
Cielo — Sky
Tino — Tiny
Finding the Right Italian Name for Your Dog
No matter what breed your dog is, there are tons of fun Italian dog names. From classics like Anita and Lorenzo to funny options like Linguine and Piccolo, you shouldn't have any trouble finding your dog's new name.
Need some tips? We suggest you choose a name that's easy to say (and yell). If you need to shout it at the dog park, will it be recognizable and distinctive? Too much of a tongue twister could have you and your puppy confused. Beyond that, think about what makes your dog unique – you'll want a name that's just as goofy or serious as your pup.
Tips for Naming Your Puppy
There are plenty of things to consider when selecting a name for your new puppy, but you don't need to feel overwhelmed! We've put together this easy "how to name your dog" guide to keep it fun and simple and to help you make a selection that you're more likely to love forever, the same way you'll love your dog. 
Love the name you choose

. Don't settle for anything you aren't in love with. 
Names that end with vowels are easier for dogs to learn.

Dogs can distinguish frequencies ranges higher (and better) than we can, so having the vowel ending adds an intonation that makes it very easy to hear and understand for your pup.
One to two-syllable names are way easier to say.

Really long names are a pain, especially during training, so just keep that in mind if you find one you love. 
Avoid offensive or negatively connotated words for names. Would you be comfortable telling your vet or your neighbor your dog's name? If not, it might not be the best choice.
Do your best to avoid names that may be confused with commands. 
Test out the name. Say it loud, say it soft, say it grumpy, and say it sweet. 
Think of the personality your puppy has (or is likely to have).

Most dog breeds have specific qualities, so even before your puppy comes home, it is may be easy to pick a name based on personality.
Pick a name and stick with it. Once you have the name, don't change your mind. And don't bring out the nicknames until your puppy feels confident with the official name (you don't want a confused little furball). 
We hope you've already found a great name, but if not, we've got plenty of other great options:
---
Featured Image Credit: Tsezarina, Shutterstock