100+ St. Bernard Names: Ideas for Giant & Lovable Dogs

Your teddy bear with a heartbeat St. Bernard puppy has arrived and now you need to find a name that will do his lovable nature, large physique, and even larger levels of affection justice. The breed is known for their immense love and ability to care for their family, so when your pup grows up, you may even have a permanent baby sitter for your kids!
We've created a list of our favorite names for St. Bernard dogs to help you pick the perfect one for your pup. Male names, female names, and of course, the famous ones that are probably already on your mind. What are you waiting for? Let's dig into the best St. Bernard names!

Female St. Bernard Dog Names
Bunny
Eva
Elsa
Indie
Miko
Dakota
Elektra
Vesta
Jupiter
Sparkles
Sheba
Hera
Onyx
Heidi
Sally
Angel
Echo
Daisy
Liberty
Venus
Roo
Casey
Dahlia
Lily
Zoe
Bella
Harley
Serena
Xena
Abby
Bonnie
Cub
Lucy
Sasha
Sophie
Malu
Tess
Snowball
Ripley
Raja
Ginger
Athena
Sassy
Sasha
Velvet
Tina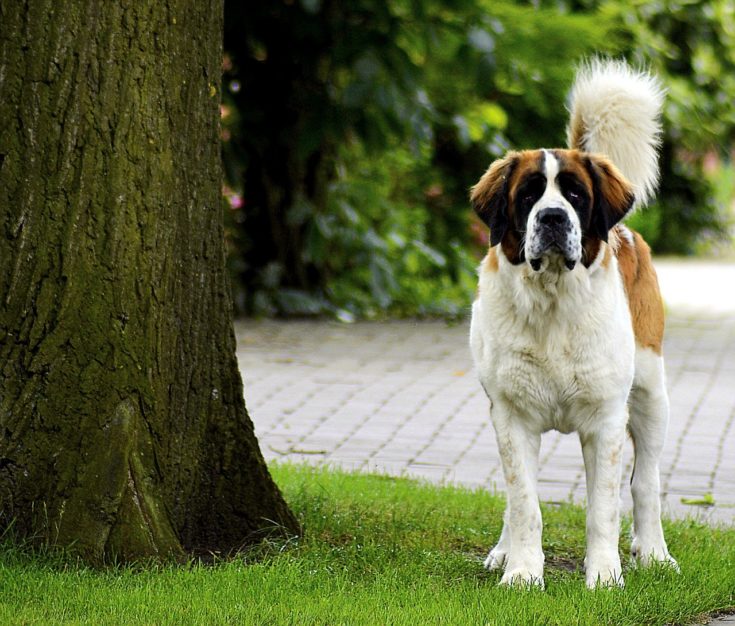 Male St. Bernard Dog Names
Colonel
Archie
Baxter
Duncan
Mozart
Rex
Rogue
Moose
Booster
Charlie
Jumbo
Sargeant
Marshall
Alexander
Pepper
Bear
Caesar
Shrek
Samson
Ballu
Bubba
Teddy
Burly
Rocky
Goliath
Barney
Leo
Othello
Captain
Rover
Billy
Mack
Duke
Brutus
Thunder
Bruno
Jack
Colossus
Gallagher
Maximus
Avalanche
Thor
Tracker
Fang
Zeus
Wolf
Macho
Antony
Bernard
Tank
Famous St. Bernard Dog Names
Now, we know what you're thinking, but Beethoven isn't the only famous St. Bernard! Since these big pups are so kind and easy to train, they have been the stars of multiple movies. One of the meanest dogs around, Cujo, was played by a St. Bernard too, but in the scariest scenes, he was actually played by a man in a dog suit! So, no matter what famous name you select, your pup will be able to wear it with pride.
Beethoven
Nana
Bernie
Mo
Tchaikovsky
Dolly
Chubby
Gumbo
Buck
George
Barry
Bolivar
Missy
Cujo
Bonus: A Famous Real-Life St. Bernard
Barry
Did you know that St. Bernards were originally bred by monks living in the French Alps? They needed strong dogs for mountain rescues, particularly from avalanches. One of the most famous early St. Bernards was called Barry and is credited with rescuing between 40 and 100 people.
Barry has a monument at Paris's Cemètier des Chiens (dog cemetery) that reads "HE SAVED THE LIVES OF 40 PEOPLE. HE WAS KILLED BY THE 41ST."
You probably wouldn't recognize Barry as a St. Bernard, though—the modern breed doesn't look much like the earliest St. Bernards. In the 1820s, the breed was dying out due to a series of mountain accidents. Thinking to make it stronger, a monk bred his St. Bernards with Newfoundlands. The result? St. Bernards as we'd recognize them, though they now had long, heavy fur and outsized bodies. They lost their ability to perform mountain rescues but gained a place in our hearts and homes. Lucky us!

Finding the Right Name for Your St. Bernard
Before you settle on a name for your St. Bernard you need to consider a couple of things. Sometimes it's easier when you meet him or her first to get a better sense of their personality. It's better to wait and pick a name you love than rush into something you may regret later. You also want to be sure the name is easy enough to say during training. While being unique and funny can be an important factor in your decision-making, you don't want to be embarrassed about the name in a couple of months or years. If you're embarrassed, your pup will be too.
It's certainly not easy finding a name but don't put so much pressure on yourself. Whatever you do end up picking, your St. Bernard will love it. There are an endless amount of suitable names out there for your giant and lovable dog, and we hope our list has at least helped you narrow down the options to a few.
If you're still unsure and want to look over a few more names before making your final decision, have a look at one of our other extensive lists. We've got plenty!
---