19 Surprising Pet Sitting Statistics & Trends (2023 Update)

Note: This article's statistics come from third-party sources and do not represent the opinions of this website.
Pet sitting is a booming business. Across the world, pet sitters spend their time looking after cats, dogs, birds, and other pets for their loving owners when they're away. Pet sitters in the US mostly look after dogs and cats, but some care for exotic pets. So, just how big is the pet-sitting trade? In this article, we look at 19 interesting pet-sitting statistics and delve into the total amounts spent on pet sitting, who owns pet-sitting services and uses them, and the pets that are looked after.
Top 19 Pet Sitting Statistics & Trends
Total Values and Spending on Pet Sitting
1.

Each year, around $9.5 billion is spent on dog boarding and grooming services.
(APPA)
Over $123.6 billion was spent in the US pet industry in 2021. This figure was broken down into several categories. Pet food and treats were estimated at $50 billion, supplies, live animals, and medicines accounted for $29.8 billion, veterinary care and product sales took in $34.3 billion, and $9.5 billion was spent on pet sitting and boarding services.
---
2.

Dog owners spent, on average, $228 a year on boarding kennels, and cat owners spent $78.
(APPA)
The total amount spent on pets in the US was further broken down to include the money spent a year on dogs and cats for services such as pet sitting and doggy daycare. The amount spent on dogs was almost triple what was spent on cats! This helps to highlight the difference in service price for dog owners and hints at dog owners being more inclined to use pet sitting services than cat owners are.
---
3.

The "drop-in" care segment of pet sitting dominates the industry, accounting for 57.25% of all pet-sitting revenue.
(Grandview Research)
Grandview Research investigated service-type insights within the pet-sitting industry. These figures stated that pet owners in the US prefer their dogs to be cared for in their own homes on a "drop in drop out" basis, which accounted for over half of all pet-sitting revenue in the sector.
---
4.

Pet owners spent $123.6 billion on their pets in the US in 2021.
(Grandview Research)
Grandview revealed that the total spent by pet owners in the US was a staggering $123.6 billion in 2021. This figure is a huge increase from the 2020 figure, which saw owners spending $20 billion less ($103.6 billion.) This money was notably spent on services like pet sitting and boarding, potentially due to owners returning to work after the lockdowns and isolation of covid-19.
---
5.

The annual gross revenue for pet care business owners in the US was $68,699 in 2021.
(Petsit)
Pet Sitters International (Petsit) published statistics in 2022 that focused on pet care business owners in the US. The gross revenue for these businesses hovered just under the $70,000 mark in 2021, meaning that this was the amount of money made before any deductions were taken out. And deductions in the pet care business can be hefty, including the costs of the day-to-day running of doggy daycare or the money for transportation when dog sitting in the client's home.
---
6.

In the coming years, the global pet care market is predicted to reach $550 billion (by 2032).
(GM Insights)
Global Market Insights collects data on the pet care market, including its growth potential. A report published in 2022 values the pet care market on a global scale at over $550 billion, citing the increase as being due to more zoonotic diseases transmitted from humans to pets and rising income levels.
Pet Sitting Services Statistics
7.

There are over 160,000 pet care and doggy daycare businesses in the US.
(IBIS World)
Research into the pet-sitting services industry concluded that there were 162,814 pet care and doggy daycare businesses across the US in 2023. This is a jump of 5.8% since 2022, showing an upward trend of new pet-sitting businesses (including walking, boarding, and at-home pet sitting) that have been steadily growing since 2013.
---
8.

40% of people interacting with pet daycare facilities are between the ages of 30 and 49.
(INC)
INC also provided insight into the pet care and pet sitting market. When looking at why the pet care and pet sitting industry is worth so much, INC state that 40% of all customers in the pet care industry are aged between 30 and 49, meaning that millennials who are aging into this bracket will boost it further.
---
9.

In Colorado, dog daycare laws state that there should be one supervisor for every 15 dogs.
(SOS)
Each state has different rules and regulations regarding pet care and doggy daycare. In Colorado, pet-sitting regulations state that there should be one supervisor for every 15 dogs in daycare. This means that one person could run a small daycare center or pet-sitting business on their own if they limited themselves to 15 dogs.
---
10.

99% of all pet-sitting businesses are independently owned.
(Petsit)
Independent business owners are branching out to keep themselves in the top spots, expanding their offerings to hold back competition. Medication administration and overnight drop-ins are some of the services introduced by independent pet owners trying to keep up with pet service platforms.
---
11.

66% of registered pet sitters have been in business for more than 5 years.
(Petsit)
The pet-sitting business is one that people love to use and love to work within. Over half of all registered pet sitters in the US have been in business for more than 5 years, meaning that starting a pet-sitting business is seemingly long-lasting and that more businesses are coming out of the "start-up" phase.
---
12.

Registered pet sitters performed more than 12 million home visits in 2021.
(Petsit)
In 2021, more than 12 million individual visits were made by pet sitters to their client's homes, equating to a million visits a month! Each pet care visit usually lasts between 30 and 60 minutes, so let's say each visit was half an hour long. That's half a million hours per year spent checking up on pets, equating to nearly 21,000 full days!
---
13.

78% of cat owners pay for care for their cats while they're away.
(Cat in a flat)
A 2021 user report (collated from surveys of their users) revealed that almost 80% of cat owners are willing to shell out for professional care for their cats while they're away. The price of pet sitting services is worth it for these owners; the professional status of pet sitters and their businesses can help owners feel more comfortable leaving their pets with them, as well as many being insured and undertaking extra voluntary training (like training in dealing with difficult behavior).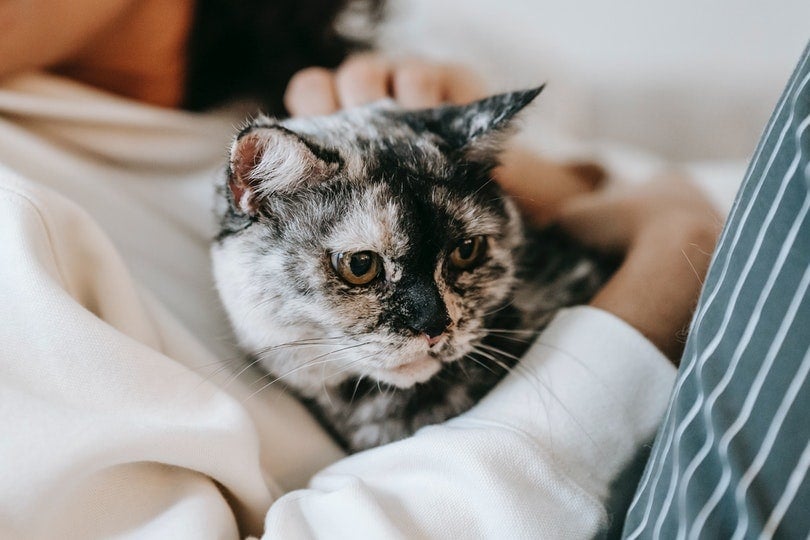 ---
14.

22% of these owners had the option of asking friends and family to watch their cat.
(Cat in a flat)
The same report states that even though some owners could ask friends or family to look after their cat, they said they'd prefer to leave their cat with a professional pet sitter. This is likely because of the trust a professional can instill. Pet owners may feel better about leaving their cat with a professional sitter because they're paying for a service, expecting to receive the "goods" in the form of reliable care for their feline friend.
---
15.

70% of American households own a pet.
(APPA, III)
According to an APPA survey in 2022, 70% of all US households own a pet, equating to around 90.5 million homes. The numbers of individual pet types owned are interesting. Most pet parents in the US owned dogs (69 million homes). Cats weren't far behind them, living in 45 million homes around the US. The number of pets owned is increasing steadily; in 1988, only 56% of American homes housed a pet.
---
16.

The average time of a basic pet care visit in the US is 29.6 minutes.
(Petsit)
In the US, a basic pet care visit (consisting of a drop-in feed) takes, on average, 29.6 minutes. While it's less than half an hour at a time, the visit could include cleaning out and refilling a litter tray, cleaning bowls and refilling them, giving any medication, or checking on the pet's well-being.
The Pets That Are Looked After
17.

95% of registered pet sitters in the US look after dogs.
(Petsit)
Petsit reveals that dogs are one of the most popular pets looked after in the US. Almost all pet sitters regularly look after dogs during their business hours, which isn't a surprise considering that dogs are the most popular pet owned in the country. Other animals were mentioned in the report; pet sitters surveyed said they looked after cats, fish, exotic pets, small furries, and even horses in their care rounds.
---
18.

73% of pet owners who use a camera to monitor their pets check it when on vacation
(Comcast)
Comcast conducted a nationwide survey regarding their pet cameras. They revealed that 72% percent of pet owners who have a camera would use it while away from home on vacation to check in on their pets. Almost half of the owners surveyed (44%) checked in on their pets four times a day or more, and 94% said that checking on their pets was one of the best parts of the day.
---
19.

6% of total pet care revenue is spent on dogs
(Grandview Research)
According to Grandview Research, dogs dominate the pet care sector. Most of the money spent on pet care is paid out on dogs for services, including boarding, pet sitting in-house, grooming, and walking.
Frequently Asked Questions About Pet Sitting in the US
Are There Any Regulations Pet Sitters Must Follow in the US?
The regulations and laws surrounding pet sitting in the US are defined by the states, with even individual cities having the power to implement rules. As a result, there are many differences between them; most locations define certain aspects of pet care in their own ways (such as what justifies a dog crate, for example), leading to sometimes confusing rules.
Regulations widely state that basic animal welfare laws and acts must be followed. Everyone should keep animals from harm, but those who look after them as their occupation have extra responsibilities. Insurance for nearly all pet businesses is usually defined as essential, including for those who perform in-home pet-sitting services. Insurance in this sector can cover anything from accidental damage to a client's or pet sitter's home by an animal to an animal under their care getting harmed in some way.  (Protectivity)
How Long Can You Leave a Pet With a Pet Sitter?
Sometimes, pet owners need to leave their pets for a longer amount of time. Pet sitters usually look after pets for a couple of days to a week or two at most. However, sometimes (whether for work or personal reasons), owners will need to leave their pets at home or in a facility such as a boarding kennel.
In these cases, there are long-term pet-sitting options available by special arrangement. These can sometimes last for months at a time, and often the pets will stay in their own home. Pet sitters come to "live" with the pet and look after the home at the same time, usually if an owner is away for an extended period of time.
The American Kennel Club recommends not leaving your dog at home with a sitter (if they're only dropping in from time to time) if you're going away for long periods. This can cause separation anxiety and loneliness in many dogs, causing destructive behavior and leading to a miserable pet. (AKC)
What's the Average Cost of a Pet Sitter in the US?
The average cost for a pet sitter in the US can vary by location. The duration that a sitter will need to stay with your pet, the pet themselves, and their needs can also affect the price.
For example, a pet sitter in California could charge $42 per hour to visit a dog with no health problems, whereas a dog in Utah would only cost $36 per hour. However, if a dog has medication or health conditions like separation anxiety, it may need a longer drop-in session. Some sitters will charge extra for giving medication. The national average for pet-sitting services across the US is between $36 and $42 per hour. (PetKeen)
Can You Use a Pet Sitter if You Have a Dangerous or Banned Breed?
Most pet-sitting services will still serve banned breeds, including boarding kennels and dog walkers. Many operate a "deed not breed" policy; they will consider each pet on a case-by-case basis. However, if you're considering using a sitter for your pet, ensuring the sitter is insured and knowledgeable about your pet's breed is a good idea.
On the other hand, many pet sitters may not wish to sit for your animal if they're banned or deemed dangerous. It may seem unfair, but it's their choice to decide whether to offer their services to you. Many pet-sitting services require pets to pass a temper test for dogs considered dangerous due to breed-specific legislation. An American Kennel Club "good citizen certificate" can prove that your pup is well-behaved and has all of its manners in place. (South Paws)
Conclusion
Pet sitting is a massive industry that looks to be set for tremendous growth over the next few years. People are back at work, and life is just as hectic as it always was, so it makes sense that we all want to ease our minds and keep our pets as comfortable as possible when we're not there. We hope you found some fascinating facts in this article that can provide comfort if you need to leave your pet with a sitter. We all know just how hard that can be!
You might also like:
---