Top 25 Dog Blogs You Should Know About in 2023

Are you looking for a great dog blog? There are loads of puppy-related websites on the internet, but they're not equally helpful, accurate, or funny.
But don't worry: you won't have to waste your time searching for a great blog! We've done the work for you and gathered the 25 best dog blogs of this year. Funny, heartwarming, informative: whatever you're looking for, these blogs have it all! Scroll down to find some great reading material for you and your pup.

The Top 25 Dog Blogs You Should Know About
1.

The Bark
The Bark is a popular lifestyle magazine offering a wealth of doggy information. Wondering how to make homemade dog food, choose the right puppy, or take your pup on a sailing adventure? This blog has you covered! We particularly love their tagline: "Dog is my co-pilot."
---
2.

iHeartDogs
iHeartDogs offers training tips, dog product reviews, and funny, inspiring, and "pawsitive" stories about puppies all over the world. And if you're looking for a gift for the dog lover in your life, they also sell dog-themed garden decor, jewelry, and kitchen goods.
train
---
3.

Adopt A Pet
Adopt a Pet is a non-profit pet adoption organization that aims to connect pet lovers with rescued dogs available for adoption. They offer expert informative articles, plus a YouTube channel focused on dog training tips.
---
4.

Hepper
You caught us: we're recommending our own blog! Look to Hepper for extensive, expert information on everything you need to know about dogs. The best food, toys, beds, plus health, training, and care tips!
---
5.

Whole Dog Journal
Looking for dog advice? We recommend Whole Dog Journal, a well-written blog that can advise you on fostering, dealing with dog food shortages, and protecting your pup from threats like heatstroke and ticks. And if you want more, you can sign up for the free newsletter or check out their training tips!
---
6.

The Happy Puppy Site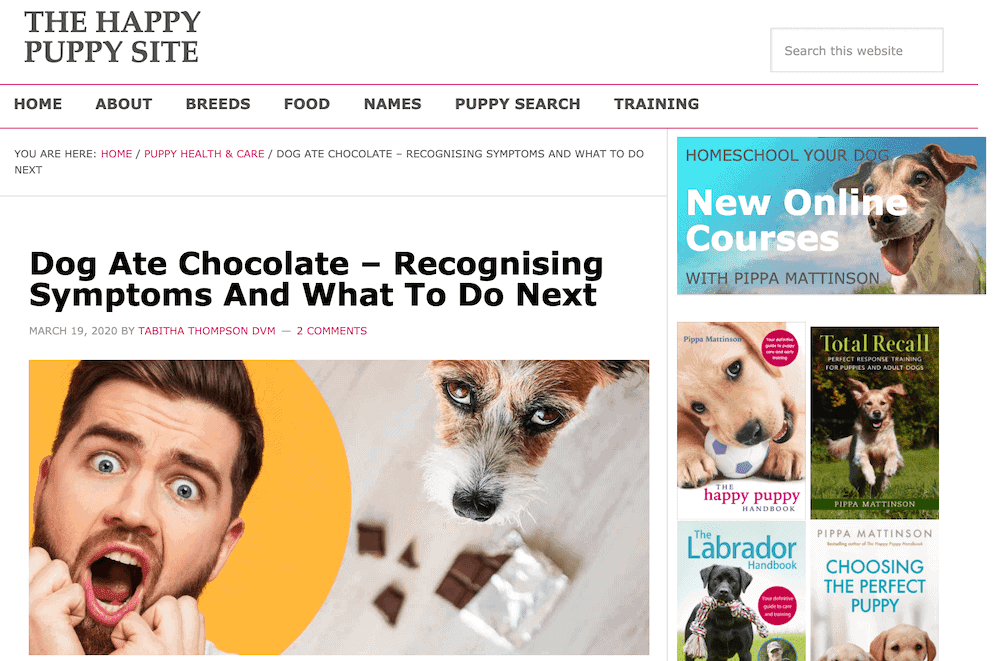 Zoology expert Pippa Mattinson runs The Happy Puppy Site along with a team of dog experts. Here you can find information on food, breeds, choosing a puppy, and the best dog names for every breed. And if you're looking for more, sign up for Pippa's weekly newsletter of training tips!
---
7.

Greenfield Puppies
Greenfield Puppies is a puppy adoption site that can help you find the perfect new dog. Beyond that, they offer extensive breed guides, complete with fun facts, reviews, and information on everything from activity level and grooming to owner experience.
---
8.

Love Your Dog
Want to know how to socialize your dog, which pups are best for families, or which breeds come from Africa? Check out Love Your Dog, a blog that answers any dog-related question you might have — and quite a few you haven't thought of!
---
9.

The Daily Wag!
Wag! is an on-demand dog walking service, and they also run a fun, informative blog. We especially love their dog activity guides, which include ideas for rainy days, birthday parties, the Fourth of July. You can also learn about dog breeds, senses, training, and behaviors.
---
10.

Modern Dog Magazine
Modern Dog Magazine is another lifestyle blog for you and your dog. They offer informative articles about how you can benefit from rescuing a pup, the best dog books of the year, and whether you should consider CBD for your anxious dog.
---
11.

Bark Post
Have you ever ordered a collection from Bark Box, the subscription toys, treats, and chews service? You'll want to take a look at their blog, Bark Post! Learn how to make frozen dog treats, enjoy roundups of goofy dogs, and find handy puppy travel advice.
---
12.

LovetoKnow Dogs
LovetoKnow Dogs is a great resource for any dog owner, offering expert advice on everything from raw food diets to dealing with aggression and housebreaking. And if you're looking for fun, why not learn about the world's tallest dog or enjoy a roundup of hilarious dog costumes?
---
13.

Puppy Leaks
Have a puppy? Check out Puppy Leaks, a blog offering tips on how to entertain, train, and feed your pup! This blog includes tons of puzzles and games to keep your pooch engaged, plus unusual recipes like frozen watermelon dog treats.
---
14.

Life With Dogs
Life With Dogs offers hilarious dog videos, inspiring and funny stories about real pups, and plenty of tips on what to feed and how to train your dog. The blog covers tons of breeds, including some you may not have heard of, like Puerto Rican Satos.
---
15.

The Labrador Site
Do you have a Labrador Retriever? If so, you'll want to check out The Labrador Site, a lab-specific blog that offers plenty of specific training and care tips. Wondering why dogs like squeaky toys or how to take care of a new puppy? You'll find the answers here.
---
16.

Here Pup!
Here Pup! offers plenty of useful dog information, but it's also a little more fun. Read about dog IQ tests, the best puppy tech gadgets, and how to interpret your pooch's sleeping positions. You can also find inspirational shelter stories, funny puppy videos, and interviews with dog experts.
---
17.

Dogtopia
Dogtopia offers daycare, boarding, and spa services for pups — but they also run a blog with tips on everything from keeping dogs happy in apartments to puppy socialization and fending off separation anxiety. Come for the doggie daycare, stick around for the tips!
---
18.

Puppy in Training
You've probably guessed this from the name, but the Puppy in Training blog focuses on offering training tips for puppies and service dogs. If you're adopting your first puppy, this blog is a great place to start! Take a look at the new puppy checklist and tips on managing your puppy's first night at home.
---
19.

You Did What With Your Weiner?
Whether or not you have a Dachshund, you have to admit that they're adorable! Founded by a major Dachshund fan named Jessica, You Did What With Your Weiner? is all about hiking and camping with small dogs. It aims to bust the stereotype that small dogs can't be adventurous. Take one look at this wild blog and you'll be convinced!
---
20.

Go Pet Friendly
Ready to take your dog on the road? We recommend you start with Go Pet Friendly's Take Paws, a blog that specializes in travel tips for pet owners. Here you can find road trip planning guides, lists of pet-friendly parks, campgrounds, and hotels, and pet travel photo challenges.
---
21.

Dog Time
Dog Time offers breed guides, breaking news, and hilarious dog videos and corny dog jokes, plus more serious content to help you care for your furball. You can even take a quiz to find your ideal dog breed! And if you have questions about your pup, try writing in to their advice column, "Dear Labby."
---
22.

Daily Dog Stuff
Do you have behavioral, health, or food questions about your dog? Look no further than Daily Dog Stuff, a blog offering answers to all of your burning questions. Learn how to treat a snake bite, train your pup to use a doorbell, or bake puppy treats!
---
23.

Bodie on the Road
Bodie on the Road is a dog-themed travel blog, focusing on the adventures of a rescue named Bodie. Writer Belinda offers dog lover guides to cities like Santa Fe and San Luis Obispo, along with pet safety tips and a lot of cute dog pictures.
---
24.

Rover

Rover is a major pet service company, and in addition to offering dog daycare, walking, and boarding, they run a great blog called The Dog People. Learn how to make dog toothpaste, enjoy a collection of cute dog pictures, or find your new favorite dog beach accessories!
---
25.

PuppyWire
PuppyWire offers a good set of dog resources. Their informative blog can help you find anything you need for your puppy, including beds, grooming tools, travel products, and dog food. And check out their dog breed articles!
You May Also Like: Best Dog Magazines

Conclusion
Were you able to find a new favorite dog blog (or 10)? All of the dog blogs on our list will help you stay informed, take the best possible care of your beloved pooch, and have fun with your furry best friend. And may we recommend taking a peek at the best dog YouTube channels of this year?
We hope you enjoy these helpful blogs. Looking for something else to read?
---
Featured Image Credit: Ayla Verschueren, Unsplash