250+ Witchy Dog Names: Fun Ideas For Your Spooky Pet

Our canine friends are fascinating creatures—no doubt about that. They have witty minds, enhanced hearing/smell, and can sense when we're happy or feeling sad. It's only fair to call them magical! And if you want to find a special, witchy name for your pup, we have just the right picks. Some are a bit spooky, while others are inspired by famous witches and pop culture characters.
And then, we have names specifically tailored to boys, girls, pups of different colors, and more. Overall, the following list includes 250+ hand-picked monikers for your fluffy bud. So, if the doggo looks the part and has a mesmerizing look in its eyes, these names will be perfect for it!

Picking the Right Witchy Name for a Pup: A Quick Guide
There's a common misbelief that all witches are bad, but that's not actually true. There are quite a few good witches out there as well. They help maintain (or restore) the balance, fend off vampires, werewolves, and other monsters, and protect us (humans) from disasters and misfortune. If that's exactly how you feel about your doggo, you came to the right place!
Tiny pooches bring joy and happiness into our lives, while giant breeds safeguard us from outside threats. Use that when picking a name for the dog. Also, there are no rights or wrongs here, and choosing a name like Asher or Nebula won't get you or the pet in any trouble. And here's what you can do to find the perfect name for the pet:
Keep it nice and short. This rule is often overlooked by first-time dog owners, but it won't be easy for the pup to remember a long name. To the dog, it will sound like gibberish, not a name that it can respond to. You'll learn this quickly when trying to make the dog memorize the name during training or exercises. So, use something short like Dixie, Mila, or Heks.
Pick a name that ends on a vowel. We're talking about names that end with an "a", "ie" or "y". It can be Bella, Smokie, or Ziggy. This doesn't mean all the other names are worthless, of course. When picking the witchy names for today's list, we took extra care to make sure they're all easy on the ears for the four-legged champs. Still, do keep this tip in mind.
Choose something rare. Lucy, Rocky, and Wolf are all great names, but they're a bit overused. And if you have lots of dog parent friends, chances are, your pets will have the same or similar names. Thus, it might be a good idea to give the dog an uncommon name. Think Dahlia, Vixen, Magnus, or Orwen to make the pup's name unique.
Consider the pup's character. If you just adopted a new pup, don't rush it with the name-picking. Instead, keep your eye on the little guy. Some boys and girls are standoffish and a bit "moody", while others are curious, open-hearted, and flamboyant. Does the furry champ's behavior remind you of a comic book hero or a villain? Even better!
What's your favorite witch? You probably already had a name in mind before adopting the doggo. Maybe it was a Harry Potter character like Hermione or the Scarlet Witch from the Marvel Universe. If so, it will be much easier to pick the name that resonates with you and the folks in your circle. Ideally, it should also be short and end with a vowel.
The name should be timeless. Names like Tiny, Pooch, or Fuzzy are not that great. The dog will eventually grow, and its old name will sound a bit ridiculous. Also, please remember that once the pup gets used to its name, it will, most likely, be for life. You will, of course, be able to change it later, but that will take time, effort, and consistency.

Popular Dog Names Based on Coat Colors
Do you have a black-coated doggo? Then Blackie and Coal will be a fitting witchy name for it. Or maybe your fluffy companion rocks brown fur? Then go with Hazel or Dusky. If it's a white-colored girl, White Witch will be the perfect one for it. And then we have names like Ash, Bruno, Ginger, Freckles, and Smokie that are well-suited for pups with exotic coats. Here's a closer look at our favorites:
Ash
Asher
Aspen
Blackie
Bruno
Camo
Cinder
Coal
Darth
Dusky
Ember
Emerald
Freckles
Ginger
Ghosty
Hazel
Onyx
Patchy
Pearl
Phantom
Rain
Rainbow
Rusty
Shade
Shady
Shadow
Silver
Smokie
Snowball
Spot
Storm
Sun
Umber
White Witch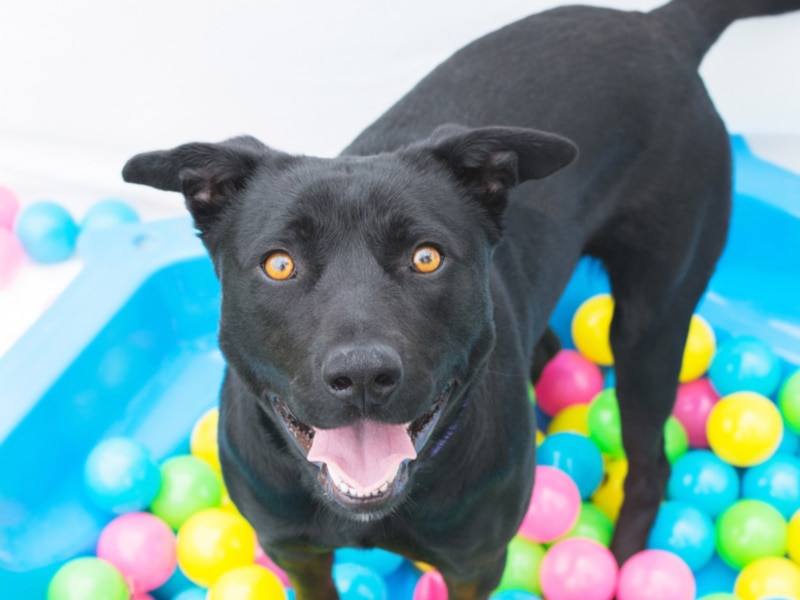 Dog Names From Books and Pop Culture
We're living in a world where movies, TV series, shows, and video games are an inseparable part of our lives. So, it's only natural to want to name our precious fur babies after a favorite hero or bad guy. As luck would have it, there are more than enough witches in modern-day pop culture that we can get inspired by. You can go with something menacing like Dracula, Krueger, or Saruman.
Or pick a cute nickname like Emma, Queen Candy, or Hannah. A quick note before we get to the names: don't name your doggo after a character that's trending right now, yet you're not really "feeling" it. The hype will go away, but the pup will have enough time to get used to that name for good. And now to the list:
Aja
Amara
Amelia Bones
Amy Madison
Baba Yaga
Bayonetta
Bellatrix
Broom-Hilda
Cassandra
Cassie Blake
Craven
Dahlia
Della
Dexter
Diana Bishop
Dixie
Dracula
Edwina
Emma
Fiona Goode
Frankenstein
Freddy
Galiena
Geralt
Glinda
Griselda
Hela
Helen
Hermione
Hannah
Jadis
Krueger
Madam Mim
Madame Xanadu
Magik
Maleficent
Melisandre
Nico Minoru
Ms. Mystic
Palpatine
Piper Halliwell
Queen Beryl
Queen Candy
Ravenna
Rosalind
Ruby
Sabrina
Saruman
Sauron
Scarlet
Scarlet Witch
Shaula
Silas
Succuba
Tabitha
Theo Hag
Topaz
Ursula
Viv
Witchfire

Best Witchy Names for a Female Dog
Female dogs are mostly cute and friendly, but they can also be big, strong, independent, and ready to rumble. Aurora, Cruela, and Electra are all great choices for an average-sized, well-tempered girl. At the same time, if you've got a feisty, fearless lady with a spell-binding look in her eyes, Esmeralda, Jezebel, and Seraphina might be better picks. Take a look at our top picks and see which name "clicks":
Abra
Agate
Agnes
Alexia
Alexandra
Alice
Alita
Aloe
Amabel
Anastasia
Aurora
Beldam
Bella
Blair
Briana
Celeste
Cruela
Davina
Deborah
Donna
Electra
Enchantra
Endora
Esmeralda
Eucalypta
Faye
Genie
Helga
Hilda
Iris
Jaenelle
Jasminka
Jennifer Kale
Jezebel
Kadabra
Karmilla
Lucinda
Lulu
Luna
Lydia
Maple
Medea
Mila
Minerva
Morgana
Nebula
Nyx
Persephone
Phoebe
Riley
River
Roberta
Romilda
Rose
Rowena
Sarafine
Seraphina
Sindella
Sigma
Star
Sybil
Tarot
Thais
Traci
Vizen
Wanda
Willow
Yuki
Yuria

Best Witchy Names for a Male Dog
Planning on adopting a male? We have a few dozens of names for you to choose from. If it's a baby boy with an adorable personality, go for Chance, Healer, or Milo. And if it's a big, strong, and rough-tough protector that can scare intruders away, Adonis, Duke, or Rocko will suit him better. Mysterious gents, in turn, could use a name like Mage, Charmer, or Oracle. Take your pick:
Adonis
Alatar
Axel
Bale
Brew
Briggs
Cabot
Chance
Charmer
Cromwell
Crow
Damien
Duke
Edgar
Gandalf
Gideon
Grander
Harry
Healer
Houdini
Hubble
Jaxter
Lazarus
Lenox
Mage
Marley
Merlin
Milo
Moody
Newt
Nick Armstrong
Oracle
Orion
Orwen
Oscar
Oz
Pluto
Rasputin
Raven
Remus
Riddle
Rocko
Salazar
Shaman
Spark
Spellman
Theo
Tonic
Warlock
Wizard
Zephyr
Ziggy

Magical/Spooky Names for a Witchy Doggo
If you don't want to pick the name for your pooch based on its size, coat color, sex, or any other factors, we made a list of magical names that can fit both boys and girls (big or small). Some of these names might be a bit hard to pronounce or unfitting for the pet. So, spend an extra minute or two when scrolling through these names until you're really sure it's the right one for your dog:
Amulet
Blaze
Brujo
Buster
Cadabra
Casper
Chalice
Cloud
Danger
Draco
Drawcia
Druid
Enigma
Fang
Flash
Goblin
Goth
Hades
Heks
Hexe
Hocus
Indigo
Jinx
Magic
Magnus
Menace
Minax
Mizrabel
Mystery
Mystique
Necro
October
Oichi
Omen
Pumpkin
Reaper
Sage
Salem
Scylla
Skar
Slayer
Sola
Sorceress
Spell
Spirit
Strega
Tituba
Trick
Trixie
Ultimecia
Vixen
Voodoo
Wiccan
Wind
Wolf

Conclusion
Do you feel like your doggo had witches for ancestors? If so, you're probably looking for a name to match its captivating, bewildering nature. Now, there are quite a few options on the table, each with its own story. Some of the names are rather simple (like Witch or Bella), but you can always go for something exquisite like Scylla or Griselda.
How do you make the right pick? As always, follow your heart and let the pup's personality guide you. Also, consider the sex, behavior, temperament, and coat color and that should help find a suitable name for your witchy doggo. Terry Pratchett wrote that cats are like witches. Well, dogs can be just as magical!
---