7 Best Cat Pod Beds – 2023 Reviews & Top Picks

You're in the market for a brand new bed for your cat and have decided to investigate the comfy and rather fashionable cat pod. Cats actually spend at least 15 hours sleeping every day (and some as much as 20!). Many prefer to sleep in quiet, cozy spots that are not only comfortable but make them feel safe. This makes the cat pod the perfect bed for your cat!
However, finding the right pod bed can be a rather daunting task, so we've taken on the hard work and have reviewed the seven best pod beds available today. Our reviews should help you to determine which of these pod beds might suit your cat, and consequently, you best.

A Quick Glance at Our Favorites in 2023
Rating
Image
Product
Details

Best Overall

Hepper Pod Cat Bed

Attractive cat bed
Raised off the floor
Lid can be removed
Check Price

Best Value

K&H EZ Mount Window Pod Cat Bed

Inexpensive
Easy to install
Holds up to 60 pounds
Check Price

Premium Choice

Bessie + Barnie Pod Cat Bed

Reversible
Machine washable
Beige in color and a cozy shag material
Check Price

Twin Critters Pod Cave Cat Bed

Made in Nepal using felting technique
Comes in different sizes, colors, and styles
No added chemicals, dyes, or synthetic fibers
Check Price

K&H Pet Thermo Pod Cat Bed

Machine washable
Includes electric heating pad
Large opening for easy access
Check Price
The 7 Best Cat Pod Beds
1.

Hepper Pod Cat Bed – Best Overall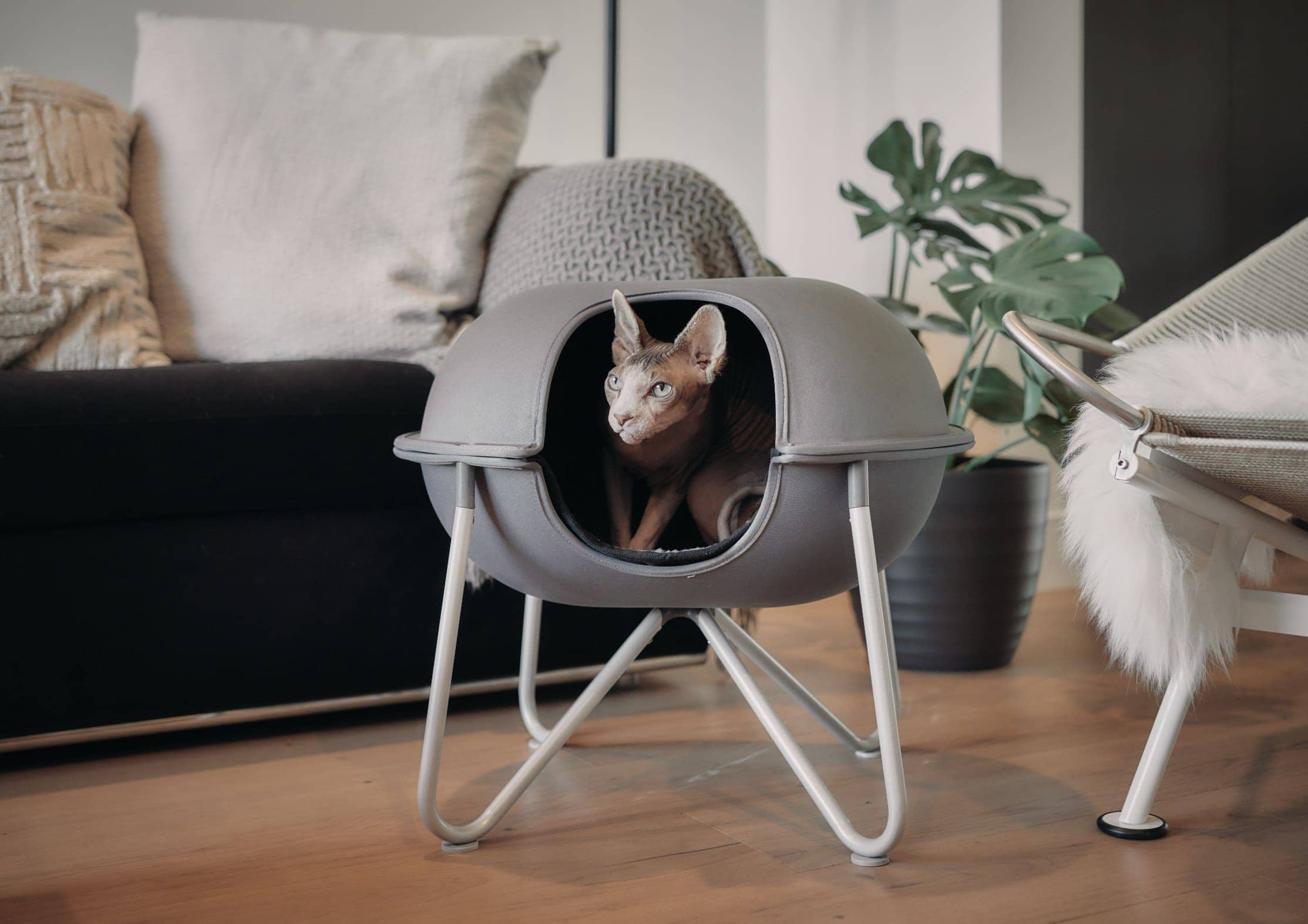 The Hepper Pod Cat Bed is our pick for the best overall in the pod bed category. While it is slightly more expensive compared to some of the other cat beds on this list, many of its features more than make up for this. This bed is a very modern-looking piece of furniture that will look very attractive anywhere you choose to place it. It is made of a grey knit fabric that is quite sturdy and is placed on a silver steel frame, raising your cat up off the ground. The lid of the pod is detachable, so it gives your cat some time to adjust if she isn't too sure about this new piece of furniture. The inside has a removable and machine washable blanket liner that is microfiber and sherpa fleece, making it very cozy and soft.
On the downside, large cats might not fit inside, but that might not stop them from trying! It does require some assembly and would suit cats that prefer to curl up in snug places best.
All in all, we think the Hepper pod cat bed is the overall best cat pod bed of the year.
Attractive cat bed
Provides a safe, cozy, and private place for cats to sleep
Raised off the floor
Interior liner is machine washable
Lid can be removed
Designed for smaller cats
Needs some assembly
---
2.

K&H Products EZ Mount Window Cat Pod Bed – Best Value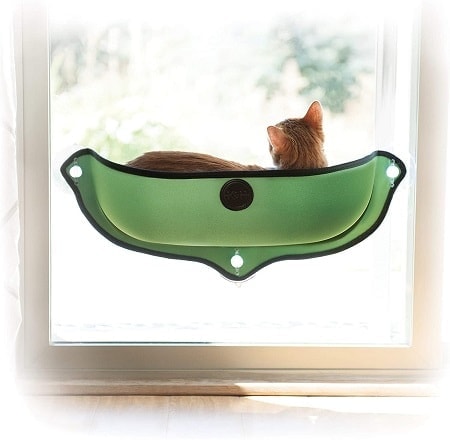 One of the best cat pod beds for the money is the K&H EZ Mount Window Bed. It's the least expensive cat bed on this list, but it's the only one designed to be attached to a window. This provides your moggie with a cozy sleeping spot combined with her own entertainment. This pod bed is green and made with a strong polyester material that acts almost like a hammock. It is held up on your window with suction cups and includes an Amazon Kitty Pad that acts as an insulator and can trap excess cat hair and dander.
It's able to hold up to 60 pounds, but it is a relatively small bed, so larger cats might find it a little squishy. It's easy to install but be sure to check the suction cups as well as the pins that attach the suction cups to the bed on occasion as they are prone to separating from the bed.
Inexpensive
Easy to install
Attaches to window for entertainment and sun
Holds up to 60 pounds
Comes with Kitty Pad for extra warmth and traps cat fur and dander
Larger cats might not fit
The pins that attach to the suction cups might fail
---
3.

Bessie + Barnie Cat Pod Bed – Premium Choice
The Bessie + Barnie Cat Bed is a suitably plushy and squishy pod bed that your cat will love slipping into for a nap and is our choice for a premium pod bed. It is actually adjustable with the ability to convert from a flatter sleeping surface to a round and cozy pod bed. This is accomplished with a drawstring, which can be tucked into a hidden pocket when not in use. It comes in a beige color and is a soft and thick shag material that is machine washable and is also reversible.
On the downside, like most of the beds on this list, larger cats might not fit in the pod version of this bed. It is also somewhat on the expensive side and not made with natural materials.
Adjustable bed can be flat or pod-shaped
Includes a pocket to tuck away the drawstring
Beige in color and a cozy shag material
Machine washable
Reversible
Works best for small to medium-sized  cats
Expensive
---
4.

Twin Critters Pod Cave Cat Bed
The Twin Critter Cat Cave Bed is a handcrafted and adorable pod bed that will make for a cozy spot for your cat. It is made from 100% all-natural merino wool from New Zealand and handcrafted (using the felting technique) in Nepal. There are no added chemicals, synthetic fibers, or dyes. If your cat doesn't seem to appreciate the cave-like environment, this pod can be flattened and used as a regular but thick sleeping mat. The wool in this best cat cave naturally repels dirt, odor, and stains and can keep your cat warm in the winter and cool in the summer. These caves come in a few different sizes, colors, and styles, including the shark cave.
And again, one of the downfalls is the size, as larger cats might not be able to fit inside this pod bed. It is rather expensive, plus the wool can act as a magnet for cat hair.
Made with 100% all-natural merino wool
Made in Nepal using felting technique
Comes in different sizes, colors, and styles
No added chemicals, dyes, or synthetic fibers
Can be flattened and used as a cat pad
Might not fit large cats
Wool attracts cat hair
Expensive
---
5.

K&H Pet Products Thermo Pod Cat Bed
The K&H Thermo-Mod Dream Pod is a unique bed as it provides extra warmth for your cat on those cold winter days. It has a large opening which makes it easy for your cat to get in and out of, and the top is attached to the bottom with a zipper. It has a pad that can be plugged in for extra heat and has a sturdy exterior in a tan color with a soft fleece interior, and the whole thing is machine washable.
On the negative side, we found that this cat sleeping pod did not heat up quite as much as we would have liked. Plus, it seemed to have a strong chemical smell that some cats might not appreciate. Additionally, this is another expensive cat pod bed.
Top can be removed and is attached with a zipper
Includes electric heating pad
Large opening for easy access
Machine washable
Expensive
Strong chemical smell
Heating pad did not heat up enough
---
6.

iPrimio Pod Cat Cave Bed
The iPrimio Cat Cave is another cat pod made from all-natural wool from New Zealand and is handmade. One of the least expensive choices on this list, this cat cave is made from boiled wool and is non-toxic and completely natural. As previously mentioned, wool is excellent for keeping your cat cool in the summer and warm in the winter and can keep odors and stains at bay.
However, because it is made of wool, it is not machine washable, and we found that even handwashing it in cold water and allowing it to air dry caused it to completely lose its shape. And to keep up with the common theme of the cat pods on this list, only small to medium-sized cats will fit inside.
Made with all-natural wool from New Zealand
Inexpensive
Non-toxic
Washing will cause it to lose its shape
Only big enough for small to medium cats
---
7.

PawHut Hooded Rattan Pod Cat Bed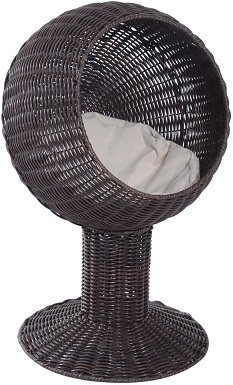 The PawHut Pod Bed is a very attractive plastic rattan cat bed with an inner wire base. While it is plastic, we find that it is quite realistic looking. The base and round pod bed can be separated, which allows you to also angle the opening of the bed in any direction. The base elevates the bed and can hold up to 22 pounds, and it also comes with a cushion that is machine washable.
You will need a tool to tighten the bolt that secures the pod to the base as PawHut does not send any kind of equipment to help with this. We found that with larger cats, the entire thing is a little less stable, and some heavier cats might knock it over when jumping inside. And, of course, they might have a more challenging time fitting inside. The pillow that comes with it was relatively flat, and the pod is fairly expensive.
Attractive
Elevated which cats will enjoy
Cushion is machine washable
Doesn't include any tool to tighten the bolt that holds the bed and base together
Expensive
Might wobble when larger cats jump in
The cushion was flat and not terribly comfy

Buyer's Guide: Selecting the Best Cat Pod Beds
If you don't own any kind of cat bed and you find your cat sleeping in strange places, it's quite possible that this is because your cat doesn't actually have a bed or preferred sleeping spot. This could indicate that she's ready for her own bed, so why not a pod bed?
However, not every cat will appreciate the pod bed. You should start by looking at your cat's sleeping habits, which should help inform you of your purchasing decisions. If your cat tends to curl up in small, enclosed spaces, the pod bed might just be perfect for your cat. However, if your cat seems to prefer stretching out in open places, she might not take to the pod bed at all.
If you're feeling confident that your cat might enjoy a pod bed, there are some aspects of these beds that you should take into consideration.
Size
Many of these cat pods are designed for small to medium-sized cats, and not so much the larger cats. Always check the measurements before you purchase one, particularly if you have a larger or heavier cat. Typically, a bed that is about 15 inches in diameter is a good size for most cats, but you should look for something bigger if you have a Maine Coon or other large cat.
You could try to measure your cat when she's resting to give you a better idea of what size to look for. But don't worry if you find a large pod bed that you think might be too large for your smaller cat. The bed will still have the enclosed quality your cat desires and will also give her the option of stretching out.
Material
Many cat pod beds are made from natural materials, while others are synthetic. Because cats are very sensitive to smells, you might want to opt for beds made from natural materials, such as wool, as they won't have any associated chemical smells. But if your cat has never seemed bothered by any synthetic scents, then you could look at any pod bed you want.
Washability
Now to go against what we just said, the easiest thing for you would be to get a bed that is easy to wash, which generally means synthetic materials. Wool tends to lose its shape, even when carefully washed, so this is something to keep in mind while shopping for a cat bed.
When you do wash the bed, always read and follow the washing instructions very carefully. If you opt to make any changes to the washing routine, it can make a big difference in the outcome of the pod. Shrinking, flattening, and even physical damage may occur.
Comfort
Another consideration includes how mobile your cat is. For example, if you have a senior cat, you won't want to purchase a pod elevated off the ground and that only an agile cat can jump into. If your cat has arthritis, you will want to consider purchasing a separate orthopedic cushion to support her inside the pod and with an accessible entrance. But if you have a young, healthy cat, the cat pod world is your oyster.
Cushions
Many of the cushions in cat pods tend to be on the flatter side, but don't let this deter you. Yes, if you're paying a lot for the cat bed, it doesn't seem fair if you feel it's necessary to buy a separate cushion, but we all know how finicky cats are. Sometimes you need to personalize almost anything you buy for your cat.
At the end of the day, don't despair if your cat doesn't seem to take to her new pod bed right away. As just discussed, it might just need a new cushion, or perhaps throw a few treats in there. If the pod has a lid, start off by removing it so your cat can investigate it without feeling trapped. You know your cat best, so a little trial and error might be in order until it becomes your cat's favorite place.
Conclusion
We hope our reviews of these seven cat pod beds have helped you to find the right one for your cat. The best cat pod bed overall was the Hepper Pod. It's very modern and attractive and features a very stable stand and a cozy washable lining. It will fit into your household furniture very nicely, and your cat will appreciate how comfortable and private it is.
Our pick for the bed with the best value is the K&H EZ Mount Window Bed, which requires no assembly or setup and just easily attaches to the window itself. Combining a comfy pod in addition to built-in entertainment so your cat can lounge in the sun and watch the birds, and all for a great price makes this a great option. Lastly, the Bessie + Barnie Cat Bed, as our premium choice, is a fluf     fy, cozy bed that can be as flat or as round and pod-like as you want, making this a fun alternative to the others on this list.
We all know that cats love a snug and private area to sleep, so they feel secure and comfortable. These pod beds are perfect for any cat who loves to curl up in a comforting place, and we hope that you'll bring home a pod bed that your cat will absolutely love.
See also: 
---
Featured Image Credit: AerynLeia, Pixabay