3 Dog Adoption Contract Templates (PDF) in 2023
Pet adoption contracts are intended as legal protection for all parties entering into an adoption situation, including the adopter, adoptee, and the pet being adopted. Everyone taking part in an adoption should ensure that their bases are covered by using an adoption contract. Of course, each contract is different, which requires some research to ensure you're choosing the right one.
If you're adopting a dog, you'll want to use a contract to protect yourself as its new owner and to protect your pet as well. Shelters need adoption contracts to make sure their pets are well-cared for and that any requirements are meant prior to the finalization of the adoption. While it's always best to have a lawyer look over anything before you sign it, we're going to offer you four adoption contract outlines that you can use to get you started.
The Importance of Using a Contract When Adopting a Dog
Pets don't get the same protection that people do under the law. They don't have birth certificates and they also can't speak up for themselves. Your adoption contract will keep the pet that's being transferred safe to some extent, while also protecting both parties involved in the adoption.
For instance, many adoption contracts contain stipulations about the living conditions at the adopter's residence. This allows the group that's giving up the pet for adoption to be certain that the pet is going to a safe residence that's capable of caring for a pet. Additionally, contracts might dictate that particular vaccines or health care be administered to the dog in question, such as neutering or spaying.
Adoption contracts can also protect the adopting party. If someone were to try and take the dog back after giving it up for adoption, your adoption contract will offer some legal protection against such action. Similarly, many adoption contracts are set up so that if the adopting party can no longer provide proper care for the pet in question, they must return it to the original party, rather than sell it or give it away to an unknown party.
Shelters that take in rescue animals must also use a contract to protect themselves and the pets they take in from ownership claims. Since pets are owned property, owners can make claims on pets that they've given up if the shelter or rescue doesn't have proper documentation that the party waived their rights through a legal contract.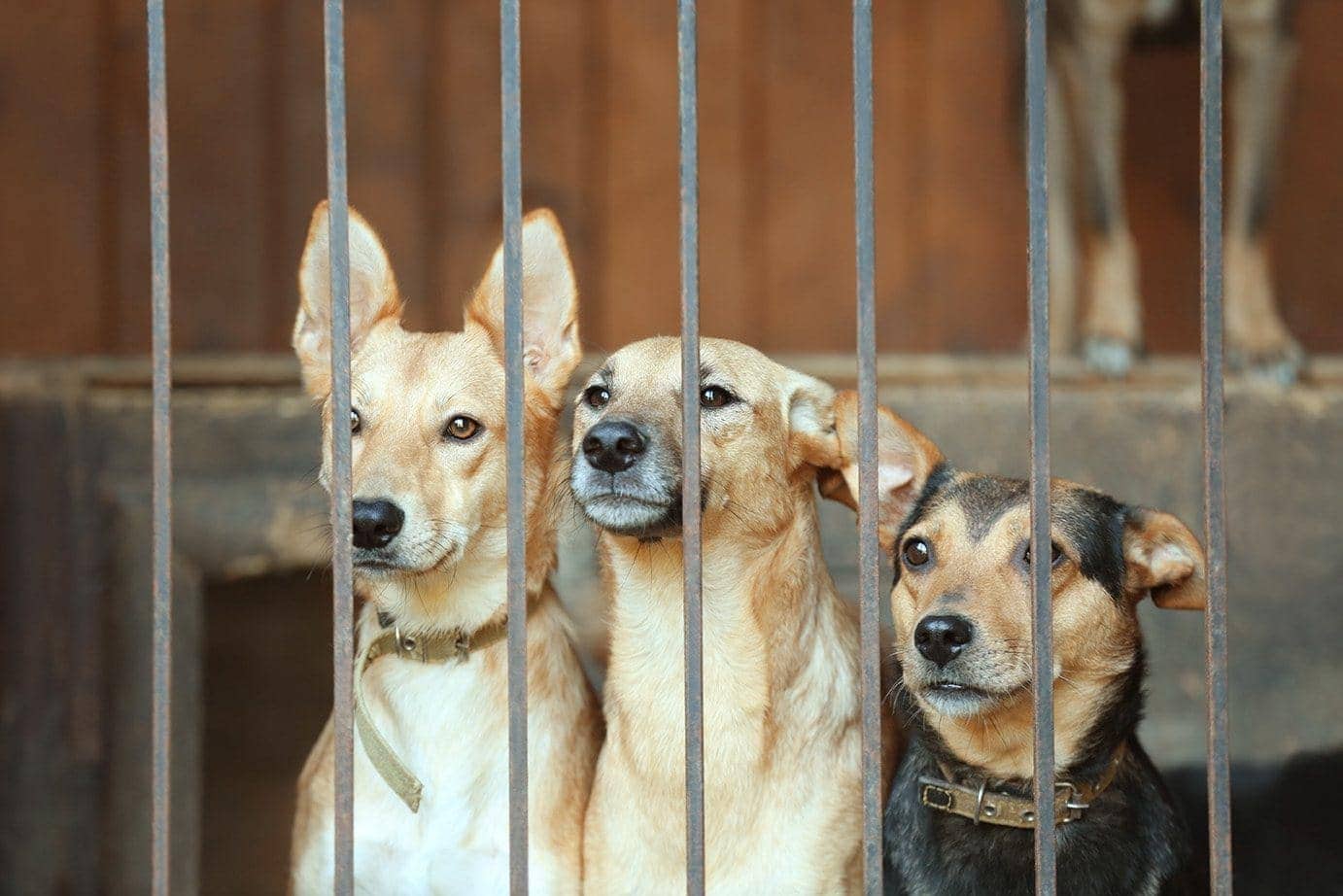 First Consider Existing Local Laws and Rules
You might be surprised to find out that there aren't too many laws specifically relating to the adoption of dogs. Different animal shelters and rescue facilities you might work with each have their own rules, but these aren't legal laws and judges aren't often presiding over cases dealing with animal adoption.
Still, there are things you'll need to check for. If you live in an HOA and you're adopting a dog or you want to foster pets, you might need to check with your HOA first. There could be breed restrictions or limits on the number of dogs you can keep. Local laws can also limit the number of canines legally kept in a home. For those wishing to foster pets or run a shelter, there will be many legalities to consider and your first step should be to contact a lawyer.
The most important thing is to protect yourself against ownership disputes. Sometimes, foster homes don't want to give up pets that they're fostering, which can turn into a legal battle. Other times, people who adopt try to give their dog back at the first sign of trouble, such as difficulty training or housebreaking. You don't want a judge to be forced to step in and decide who the rightful owner is.

The 3 Dog Adoption Contract Templates
1.

Jot Form Pet Adoption Contract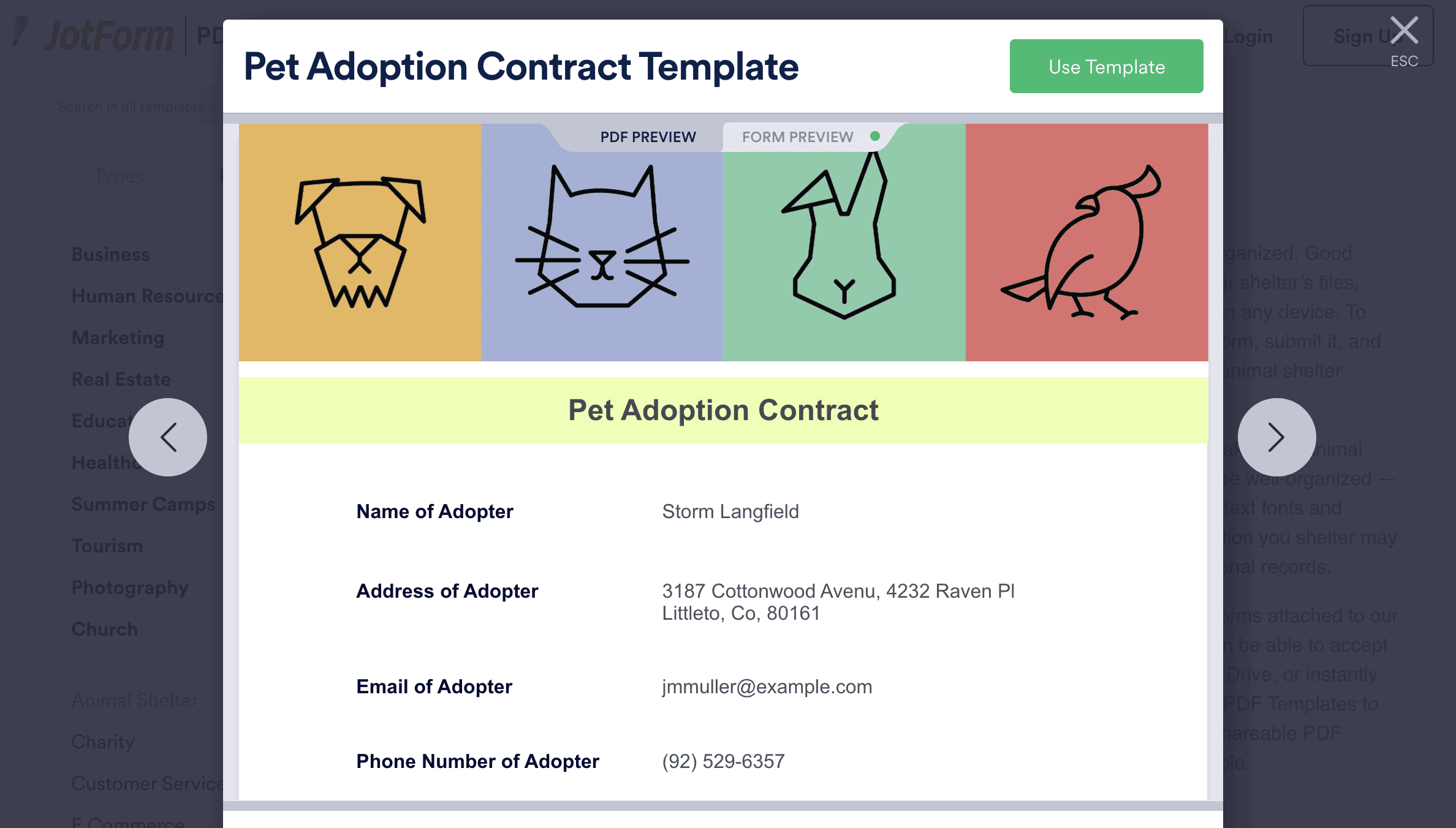 Here's a great adoption contract from Jot Form. What's so special about this contract is that you can fill everything out using the Jot Form PDF filler. Just type in a few pieces of information and Jot Form will automatically fill out the form using your input. This can save you time and make your adoption contract look super professional. Just fill everything out with the Jot Form PDF filler and print the contract for signing.
---
2.

Pet Rescue Adoption Agreement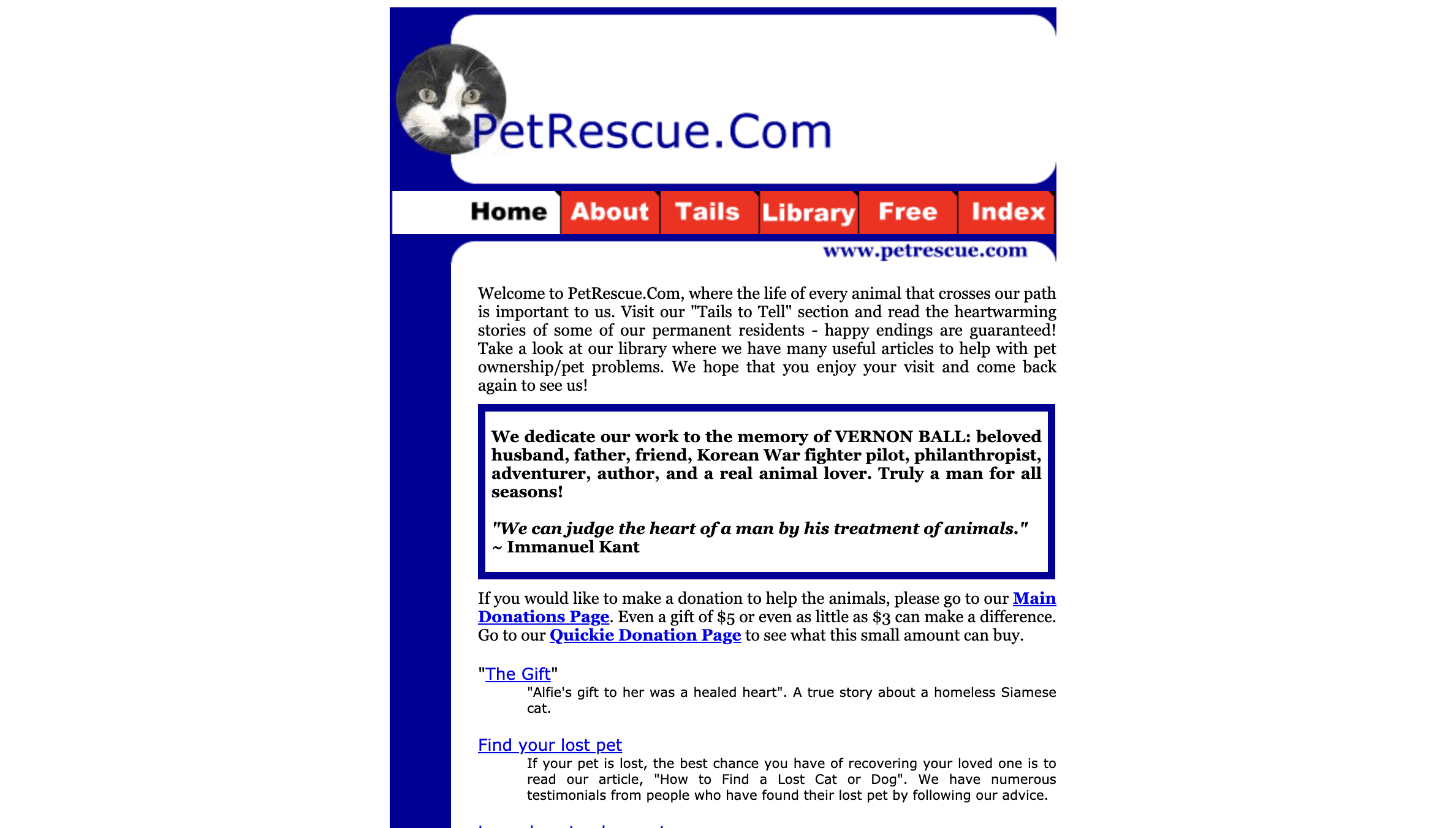 This pet adoption agreement is from petrescue.com. It has room for you to fill in all the necessary information about the new owner and the rehoming party. Plus, there are lines to write in all the applicable information about the dog being rehomed. You can also fill in the adoption fee section to set a particular rehoming fee, and it has a clause about the fee being non-refundable after a 14-day trial period.
---
3.

Animal So Puppy Contract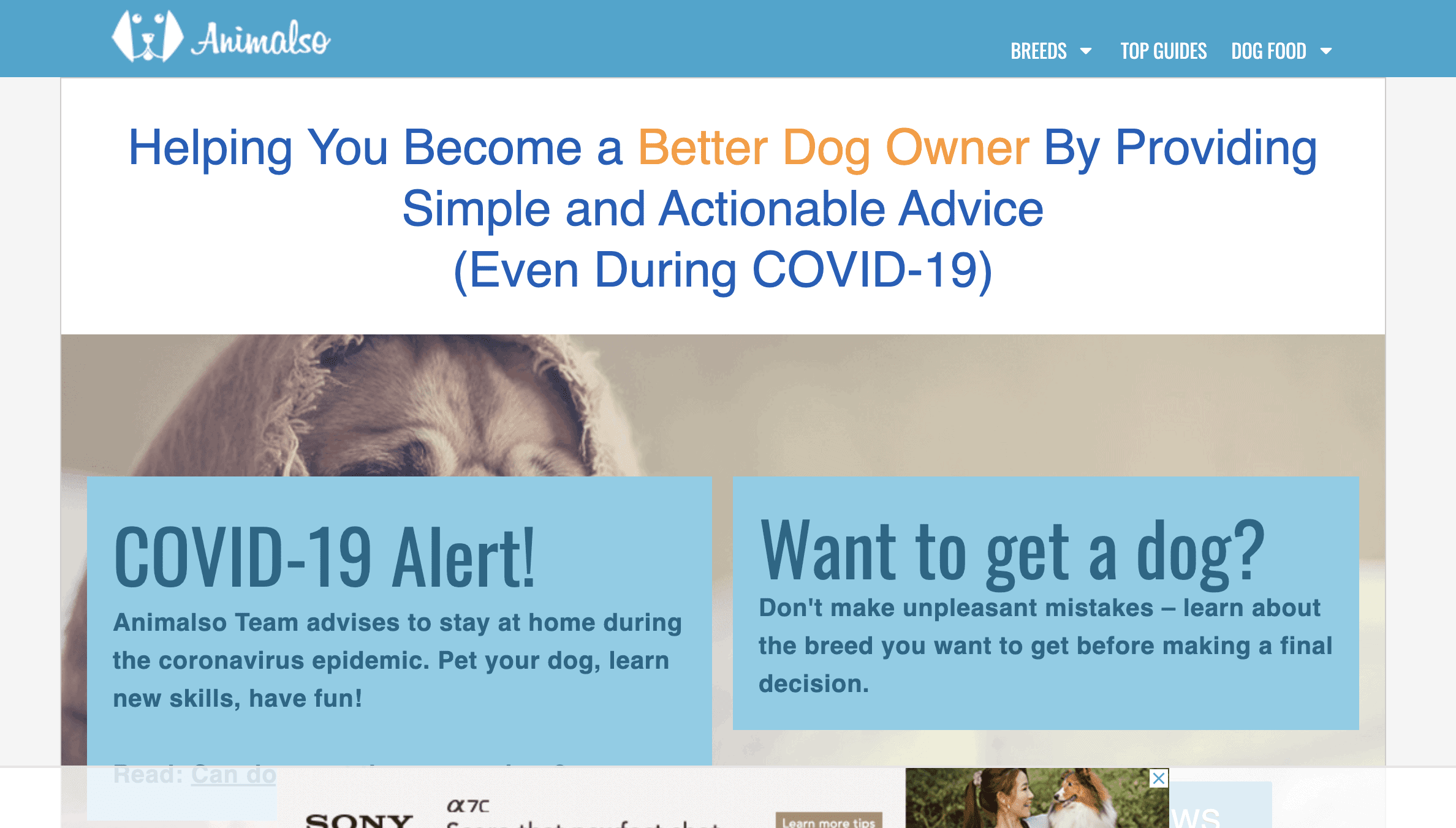 This puppy contract from Animal So is complete and thorough. It lays out ownership responsibilities, including a human living environment, training, necessary medical care, and more. It's even got special stipulations regarding show-quality dogs. Additionally, there's a section that covers the right of the rehoming party to recover the dog should the new owner not be able to fulfill their end of the contractual obligations.

Optional Additions to Your Contract
Adoption contracts can cover a lot more than just the basic terms of adoptions. Inside the contract, you could find many different requirements, including vaccinations, legal ownership clauses, pet registration requirements, housing stipulations, and more. Some of the most common contract additions include:
Requirements for home visits to check on the pet's new environment and ensure it's pet-safe and meets sufficient standards
Additional home visits to ensure the pet is adapting well
Agreements for neutering and spaying
Requirements that the pet is registered with a kennel or club
Clauses that state the pet must be returned to the original owner if the new owner can no longer care for the pet
Discussion of adoption fees
Agreements that the pet will not be kept outside in inclement weather
Vaccination and deworming agreements
Agreement to provide a certificate of health
How to Prepare Your Dog for Adoption
Adoption is a major life change and it will have drastic effects on everyone involved; especially the dog in question. As such, you'll want to prepare your pooch to make the transition as easy as possible.
Before bringing the dog home, get as well-acquainted with it as possible. Spend time with it at the shelter giving it attention and love so that it gets comfortable with you. You can even try offering it a special toy that it can start to bond with. Then, when it brings that toy along to its new home, it will have something there that it's comfortable with already.
You can also sign up for a dog-training class. This would be a great way to instantly start building a strong bond with your new dog while also getting professional help and supervision.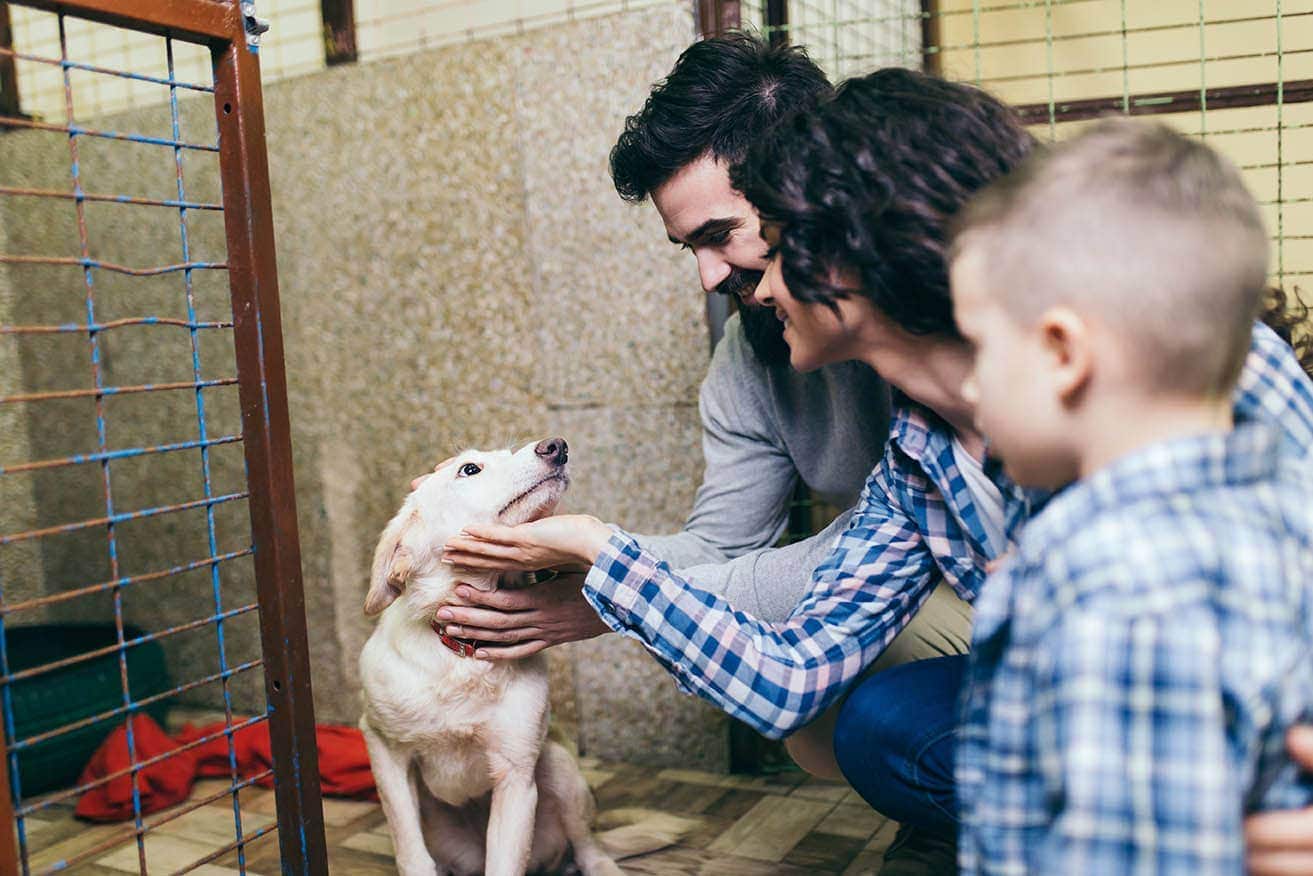 How to Prepare as a New Dog Owner
As a new dog owner awaiting your freshly adopted pet, you have a lot to prepare for. First, you'll need to ensure that your house is prepared for a new pet. This means that it's clean and there's nothing that could be easily destroyed by your new pet. Also, you can't have anything that's an obvious hazard to your new pet's health. Plus, you'll have to provide a fenced-in yard or kennel to show that your home is suitable for a pet to live in. Remember, the shelter you're adopting from will likely make a house visit to ensure your home is ready for a new pet.
Once you're certain your home is safe and ready, you'll want to think about the small things. Consider the items your pet will need, such as food and water bowls, a bed, a litterbox for cats, a leash for dogs, toys to play with, etc. You'll also need to have the number of a vet available for medical care, both emergency and standard.
Before your new pet comes, do some research on how to train it. You don't want to be flying blind when your new companion arrives. Instead, have a game plan. Know how you're going to handle everything before your pet is home.

Conclusion: Dog Adoption Contract Templates
Adopting a dog can be one of the greatest times in your life. The bond you form with your new canine companion will last forever, and it's one of the most special relationships you ever form. However, the adoption process can be lengthy, difficult, and stressful. But if you protect yourself from the beginning with a proper adoption contract, you'll have a lot less to worry about, knowing that both you and your new buddy are well protected.
Make sure you go over any adoption contract with a fine-toothed comb before you sign. Be certain that you understand the contract's stipulations and can follow everything laid out by the agreement. The four templates we've provided make a great starting point, but you should have a lawyer double-check anything before you start making it official.
Related Reads:
---
Featured Image Credit: Pavlinas, Shutterstock