100+ Great Dane Names: Ideas for Giant & Gentle Dogs

If you're adding a Great Dane to your family, you will quickly learn why they are called gentle giants. Their size can be intimidating, and they are protective and tough if need be, but they are mostly sweet like a teddy bear with a heartbeat.  
So how do you find a name that fits all these qualities, and will suit your Great Dane from puppyhood to gianthood? We've gathered a list of our favorites for females and males, and added some ironic names for those of you who like to be a bit funny.
Scroll down to get your search through our selection of perfect names for Great Danes and remember to relax and have fun with the process of choosing your pup's name.

Female Great Dane Names
Hera
Bebe
Rebel
Dalia
Duchess
Kindy
Luna
Oreo
Delilah
Pearl
Millie
Zara
Kafira
Lilo
Ursa
Aspen
Sierra
Caramel
Candy
Olympia
Sasha
Sheba
Cuddles
London
Brandy
Bella
Coconut
Roxy
Willow
Sky
Poppy
Ada
Dana
Cookie
Bess
Male Great Dane Names
Sumo
Boomer
Grizzly
Wolf
Hercules
Sebastian
Rambo
Bali
Hagrid
Charlie
Rocky
Nash
Duke
Mack
Baron
Sarge
LeBron
Hooch
Alaska
Memphis
Noah
Marmaduke
Baldwin
Winston
Apollo
Arlo
Rex
Burke
Scooby
Kobe
Champ
Mozzie
Moose
Kingston
Zeus
Titan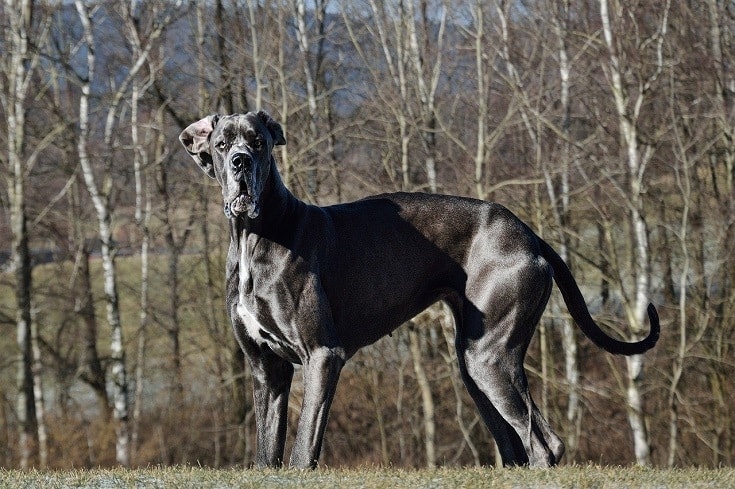 Ironic Great Dane Names
There's nothing like a little irony when naming a pet. Giving your massive dog a delicate name will surely bring a smile to your face each time you say it, as well as everyone you meet. The beauty of the Great Dane is that no matter how fragile-sounding the name might be, their size and stature will never let the name hurt them. Basically, you're not going to find a Great Dane that doesn't have a strong side, despite how lovable and cuddly they can be. So, we say, go for the irony!
Fifi
Dobby
Pixie
Jellybean
Sweetpea
Runt
Minnie
Frodo
Mouse
Spud
Tootsie
Mite
Pippin
Pebbles
Squirt
Piglet
Yoshi
Diva
Munchkin
Crumbs
Princess
Thumbelina
Bean
Teddy
Shorty
Bitty
Tiny
Squirt
Nugget
Pip
Kernel
Lamby
Peanut
Cupcake
Bunny

Finding the Right Name for Your Great Dane
Great Danes are lovable and friendly with a big frame and a bigger heart. Yours deserves a great name that shares his or her personality with the world. We hope our list has helped you find the perfect name for your newest family member, whether it's funny, ironic, or simply unique.
Remember to have fun while you pick your Great Danes name, don't take it too seriously, because your pup is going to love it no matter what. And regardless of the name you select, you'll always find a special nickname that you call your dog when no one else is around. So, think about a more proper name for his collar, and maybe one of the ironic names, like Squirt or Shorty, just for the family.
If you didn't find what you were looking for, though, we do have plenty more names where these came from. Try one of our other lists:
---
Feature Image Credit: Piqsels