100+ Soccer Inspired Dog Names: For Athletic Ball Chasing Canines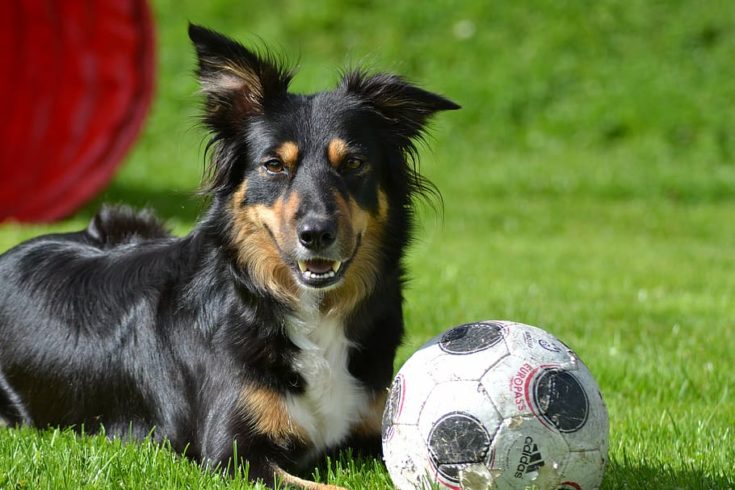 True sports fans are a group of individuals who love a game so passionately their support can be heard, felt, and seen by almost every person who meets them. Memorabilia – whether it be from their favorite sports team, by way of a jersey or signed equipment, or pictures, trophies, and a good luck charm they held each time they played – are proudly displayed in their home and on their socials. Soccer fans are no exception – their devotion to the game is fierce. Soccer has secured its rank as the top sport globally so it's only natural that their fans would follow suit. 
But you already know this, being an unwavering soccer fan yourself. That's why you've come to find a soccer-themed dog name. While you might have an idea of what you want, there is no harm in taking a glance at the comprehensive list of soccer players, coaches, lingo, and terminology that we've come up with for some additional inspiration. 
We hope to take out the guesswork work so you can get back to explaining the rules of futbol to your new addition. 

Girl Soccer Player Dog Names
Pernille | Pernille Harder 

Julie | Julie Ertz 

Miedema | Vivianne Miedema

Lucy | Lucy Bronze 

Wendy | Wendie Renard 

Mapi | Mapi Leon 

Chrissy | Christine Sinclair

Hope or Solo | Hope Solo

Mandine | Amandine Henry 

Nilla | Nilla Fischer 

Maren | Maren Mjelde 

Lina | Lina Magull 

Panos | Sandra Panos 

Mia | Mia Hamm 

Pressly | Christen Press
Boy Soccer Player Dog Names 
Messi | Lionel Messi 

Ronaldo | Cristiano Ronaldo 

Frankie | Frenkie de Jong

Iniesta | Andres Iniesta 

Falcao | Radamel Falcao Garcia 

Mane | Sadio Mane

Becker | Alisson Becker 

Kane | Harry Kane 

Neymar | Neymar 

Bale | Gareth Bale 

Sterling | Raheem Sterling 

Hazard | Eden Hazard 

Beckham | David Beckham 

Persie | Robin Van Persie 

Iker | Iker Casillas Fernandez 
Soccer Lingo Dog Names 
We wanted to include a diversified list of everything soccer to provide you with the most adorable and fun ideas for your fur baby. Among this list you will find soccer lingo, terminology, positions, plays,  tournaments, trophies and more. An inclusive one stop shop for the most random soccer dog names, but each lending itself as a bright and eager dog name for a pup who shares these same qualities. 
Kit 

Caps 

PItch 

Fifa

Derby

Striker

Boots 

Match 

Clasico

Booted

Futbol

Nutmeg

Winger 

Sweeper 

Coach

Liga 

Punt

Cleats

Volley 

Trap 

Jersey

Dribble 

Cross 

Hat Trick 

Tuck
Soccer Team Dog Names 
While the FIFA World Cup doesn't necessarily have team names but are rather represented by their country, that doesn't mean other organizations are without catchy team names. Although they may not be as well known, they are still fabulous choices for soccer themed dog names. Whole were on the topic, how adorable is FIFA for a dog's name?! 
Lyon | Olympique Lyonnaise

Barcelona | FC Barcelona

Dynamo | FC Dynamo 

Chelsea | Chelsea FC 

Manchester | Manchester United FC 

Santos | Sa

ntos FC 

Balboa | Pug | Mesut Ozil 

Everton | Everton FC 

Napoli | SSC Napoli 

Bayern | FC Bayern Munich 

Arsenal | Arsenal FC 

Boca | Boca Juniors 

Ajax | AFC Ajax 

Monaco | AS Monaco 

Roma | AS Roma 

Juventus | Juventus F.C. 

Bordeaux | FC Girondins de Bordeaux 

Aston | Aston Villa FC 

Lazio | SS Lazio 

Madrid | Real Madrid CF

Porto | FC Porto 
Bonus: Dogs Owned by Famous Soccer Players 
Soccer superstars might seem like heavenly gods of the sports world, but you can always find solace in knowing these talented individuals share the same love and devotion to their very own fur babies. How charming and relatable is that?! Here is a list of the most notable players and their dogs. 
Humber | Golden Retriever | Alex Sanchez

Flush | Retriever |Neymar 

Bowser | Staffordshire | Mario Balotelli 

Lola | Newfoundland | Marcelo 

Halo | Beagle | Aaron Ramsey 

Lizzy | German Shepherd | Sergio Ramos 

Nala | Labrador | Marcelo 

Atom | Golden Retriever | Alex Sanchez

Saint | Cane Corso | Marcus Rashford 

Truco | Retriever |Neymar 

Blue | French Bulldog | John Terry 

Matxo | Chow Chow | David de Gea 

Ully | French Bulldog| Marcelo 

Otto | Weimaraner | Hector Bellerin 

Luigi | Staffordshire | Mario Balotelli 

Kiara | English Bulldog | Marcelo 

Maluma | British Bulldog | James Rodriguez 

Senor Hulk | Dogue De Bordeaux | Lionel Messi 

James | Australian Terrier | Wesley Sneijder 

Jagger | German Shepherd | Sergio Ramos 

Bella | Miniature Pinscher | Marcelo 

Poker | Retriever |Neymar 

Simba | Chow Chow | Memphis Depay 

Thaig | English Bulldog | | Marcelo 

Chulu | Jack Russel Cross | Sergio Ramos 

Finding the Right Soccer-Themed Name for Your Dog
Being a soccer fan is rewarding, gratifying, and even difficult at times. Being a dog owner will likely be similar in the sense that you will share both great and hard days, but in the end, your love and devotion will conquer all! We hope that you were able to combine your two true passions and find the right soccer dog name for your pup. 
If you are having a little trouble narrowing it down, here are a few tips to consider: 
Choose a name that's short and easy for your pup to understand. You might be interested in using your favorite soccer player's name such as Lionel Messi, but shortening it up to either Lionel or Messi will be much easier for your pup to learn and respond to. 

If your puppy is quite new, you might want to consider its personality. Giving them a few days to warm up to their new environment will allow their personality to shine and might point you in the direction of a fitting name. 

Enlist a few trusted people to give you input on your top three soccer-themed dog names. While their opinions could provide clarity, it might also muddy the water for you – so tread lightly here! 
At the end of the day, this is your new companion and you should live the name above all else. Your dog will grow into it and undoubtedly love whatever you choose. When all else fails, we think Soccer would make for an excellent name.
Here are additional puppy name links if you are still undecided: 
---
Feature Image Credit: Pxfuel