170 Unique Dog Names: Uncommon & Silly Options for Your Pup
So, you're looking for a name for your new furry friend, a dog. However, you may have grown tired of the common names on every online list. Luckily, we've compiled a list of unique and fun dog names for both male and female dogs.
We have many unique names listed below, and we're sure you'll find the perfect one for your new pet. These names range from cute to cool to nature inspired. Let's dive in.

Tips for Naming Your Dog
Finding a name for your new dog is a very important part of your dog's life journey. It will remain with them forever, so you want to find the perfect name. However, there are just so many names out there.
Perhaps you're looking for a name that fits a certain theme or just a simple one to match your dog's gender. Either way, this list is for you. You could name your dog based on their personality or attributes, such as "Dash" for a wild and speedy dog. Many different names are silly and fun, like "Bark Vader" and "Wafflepaws."
You could also base your dog's name on a certain theme. Perhaps "Cosmo" for a space lover or "Lily" for a nature theme. Your dog's silly quirks could also come into play while searching for the perfect name. "Wigglebottom" would be perfect for a dog whose tail wags and wags. Perhaps even "Mr. Puddles" for a dog that just loves to get dirty.
Whatever path you choose in your journey, this list of unique names is a great tool to find that perfect name.
Unique Male Dog Names
Whether your male dog is speedy, soft, cool, or fun, this list could be his perfect name. These male names range from many different aesthetics and ideas, putting all of them into one easy-to-find place.
Bane
Blitz
Brody
Bronx
Bruno
Cairo
Cosmo
Czar
Dash
Dexter
Diesel
Django
Enzo
Finnegan
Gizmo
Hendrix
Indigo
Jagger
Jet
Kairo
Kane
Knox
Koba
Koda
Loki
Magnus
Maverick
Nash
Odin
Onyx
Orion
Ozzy
Phoenix
Reef
Zephyr
Tango
Rocco
Gunner
Jaxson
Thor
Ziggy
Axel
Gideon
Magnum
Zeppelin
Bodhi
Renegade
Titan
Marley
Saxon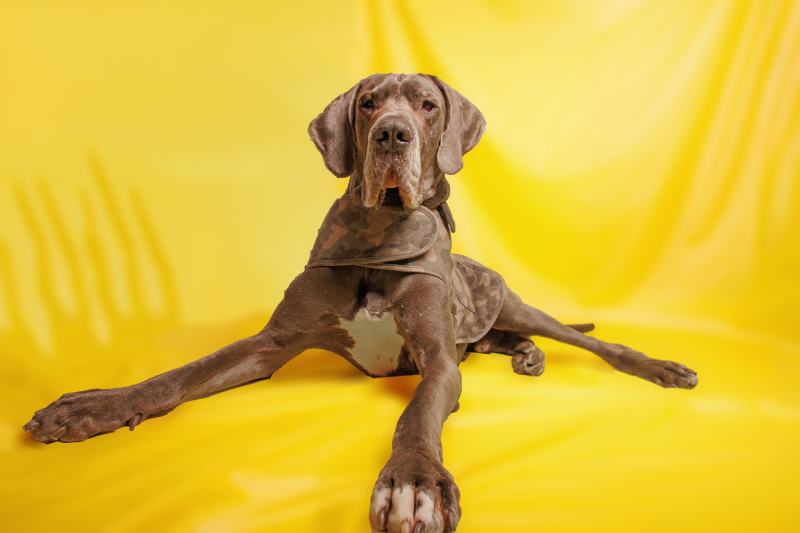 Quirky Female Dog Names
These names for female dogs are all unique and like the list for male dogs, this list contains many themes and ideas. Many of these are themed around goddesses, beauty, and perhaps cuteness.
Aella
Amara
Arya
Astra
Athena
Aviva
Calliope
Calypso
Cassia
Cleo
Cyra
Echo
Elowen
Ember
Emberly
Faye
Freya
Gemma
Inanna
Inara
Indie
Irie
Isolde
Jada
Jinx
Jora
Juno
Kaia
Kalista
Kora
Lumina
Luna
Lyra
Marigold
Mira
Misty
Moxie
Nala
Nerissa
Nirvana
Nix
Nixie
Nymeria
Nyssa
Nyx
Oona
Orla
Paloma
Pandora
Silly Dog Names
These are some names you won't find anywhere else! They are unique and funny, ranging from puns to popular references to just plain silly. If you're looking for a unique and possibly the perfect name for your silly pup, this list is perfect for you.
Admiral Snugglepaws
Bark Twain
Bark Vader
Barkley McBarkface
Barky McBarkerson
Biscuit McSnorty
Bubbles
Bumblebee
Captain Wigglepants
Chewbacca
Chewy Louie
Doodlebop
Doodlebug
Drools-a-Lot
Drooly McDroolface
Fido Foxtrot
Fluffbucket
Furrball
Fuzzinator
Fuzzy McFuzzface
Fuzzy McWiggle
Puddles
Wigglytail
Poochie Paws
Puddlepaws
Ruff Ruffman
Ruffles McFluffington
Slobberwoof
Snickerdoodle
Sniffles McGee
Snuffles McNugget
Snuggle McSnuggleface
Snugglepuff
Wafflepaws
Waggles McWoofer
Wagglesworth
Waggly Wiggles
Waggly Woo
Wigglebottom
Unique Nature-Inspired Dog Names
Nature is everywhere in the world. There are many nature lovers out there, and if that applies to you, this list is perfect. You will find that these names are mostly unisex, making them perfect for any gender of dog. These names range from referencing the sky to the land and the sea. All parts of nature can be seen in this list.
Acorn
Aspen
Aurora
Autumn
Blaze
Cedar
Clover
Comet
Coral
Fern
Finch
Forrest
Hazel
Ivy
Jade
Maple
Meadow
Moss
Olive
Petal
Poppy
Ridge
River
Rocky
Rose
Sandy
Savannah
Sierra
Sky
Stone
Thunder
Willow

Conclusion
We truly hope these lists have aided you in your journey. Finding your new dog's perfect name can be a struggle, as you want to find the perfect name for your pup. The names on these lists are unique, special, and varied, including unique names from every part of the world.
See also:
---