100+ Rottweiler Names: Ideas for Unique & Strong Dogs

Rottweilers have been around for a long time – they descended from Roman cattle dogs. Though they have a reputation for being aggressive, many Rotties are confident and affectionate family dogs. They are extremely loyal and have been known to be great baby sitters. But even with their kindness, they are a strong and fearless breed. So what should you name your tough pup?
To help you pick out a great name, we created this list of over 100 Rottweiler names, including cool options for males and females. And if you want a German name for your Rottweiler, we've got that covered, too. What are you waiting for? Get selecting!

Female Rottweiler Names
Elizabeth
Lex
Susan
Ella
Leia
Indiana
Jemima
Flash
Harley
Echo
Zoe
Blaze
Jordan
Huntress
Winona
Rose
Ember
Cleopatra
Pippa
Adele
Abby
Martha
Geneva
Eva
Alice
You may also like: Best Bully Sticks for Dogs: Our Reviews & Top Picks
Male Rottweiler Names
Axel
Roamer
Boss
Blitz
Defender
Admiral
Billy
George
Hank
Ron
Buck
Bing
Caesar
Brutus
Captain
Samson
Bolt
Chief
Peter
Frank
Joe
Bane
Butch
Romeo
Bear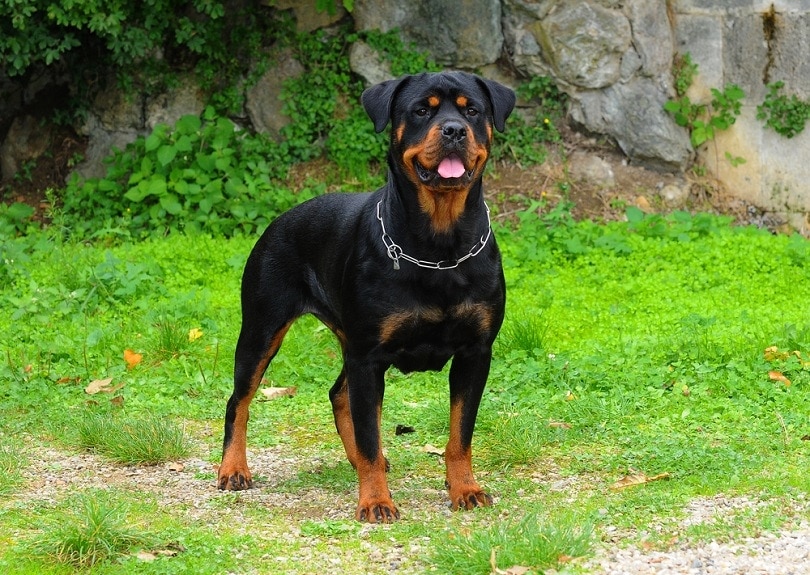 Rottweiler Puppy Names
We all understand that our little ones will eventually grow up and no longer be a puppy. This doesn't mean our Rotties can't have an adorably youthful name that grows with them as they get bigger. Some of these names may not be your typical choice, but they are excellent for your pups. Here are our favorite Rottweiler puppy names.
Ernie
Buttons
Asterix
Cheech
Ella
Yoga
Chip
Alfie
Dizzie
Weina
Banana
Wiz
Gus
Whoa
Kit
Pep
Turnip
Yin
Belle
Chewy
Buggie
Wishbone
Zag
Alvin
Biscuit
Lulu
Gin
Herbie
Ollie
You should check out our top picks for dog treats – find them here!
German Rottweiler Names
Rottweilers originated in Germany (their name comes from a German town called "Rottweil"), so why not choose a German name? Below are our favorites, but be sure say the names aloud a few times before you make your decision, and maybe listen to the name on a 'translate' site just to be sure you're getting it right (especially if you don't know the German pronunciations perfectly well just yet). Scroll down to see the list.
Ernst
Hund
Wunderbar
Kurt
Hans
Dunkel
Louisa
Hans
Schön
Günter
Fisch
Gretel
Liebe
Oktober
Friedrich
Heinrich
Glück
Gerhard
Ja
Cool Rottweiler Names
Maybe it has something to do with their ease and strong disposition, but these pups are just naturally cool looking. Throw on a pair of shades and a patterned neck bandana and your Rottie will be the trendiest around. Here are favorite picks for easy-breezy Rottweiler names:
Buck
Bruiser
Tug
Bandit
Pyro
Pistol
Remington
Nitro
Rifle
Moose
Ranger
Avalanche
Blaze
Wag
Astro
Rambo
Bomb
Gizmo
Maximus
Spider
Buck
Crash
Bullet
Pirate
Snap
Ammo
Marine
Boss
Sheba
Gangster
Maverick
Jax
Boomer
Tank

Finding the Right Name for Your Rottweiler
Rotties are goofy and playful family dogs, not to mention great defenders. If you haven't already adopted a Rottweiler but are thinking about it, we know that you will be so happy to welcome one into your home.
And when it comes to selecting the perfect name, there are so many wonderful options out there. It is important you go with your gut because ultimately, you'll be the one calling the name most.  Make sure it is easy to say and sounds strong for training purposes, but can be said in a calming way for all the cuddle times you will have with your big beautiful dog.
We hope this list helps you honor your loyal Rottweiler with a powerful name. Whether you choose a cool, classic, or German name, your new best friend will thank you for taking the time to find the best possible option.
If you haven't found your ideal name, take a look at one of these lists:
---
Featured image credit: Freepics4you, Pixabay