49 Dog Breeds That Start With W – Complete List (with Pictures)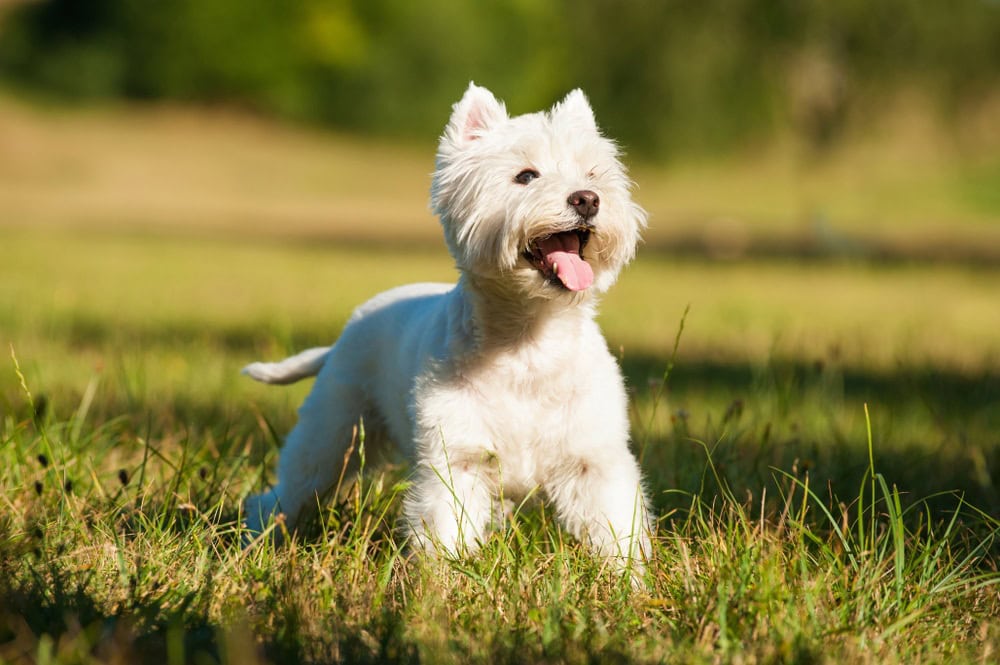 Dogs are certainly one of the most diverse mammals on the planet, and it's hard to believe some of these unique animals are descended from wolves. Humans have bred dogs for many different reasons, and it has resulted in a wide range of sizes, colors, and temperaments, with dog breeds to suit almost any owner. The American Kennel Club (AKC) currently officially recognizes around 200 breeds, with more being added every year. Around the world, though, there are well over 300 breeds, according to the Fédération Cynologique Internationale (FCI), an international federation of kennel clubs.
Making the AKC breed list is no easy feat, and only nine breeds starting with W have made the cut. Of course, these are officially recognized purebred dogs, often with long and deep lineages. With the recent desire for healthier, genetically sound animals and small "designer breeds" has come a host of interesting hybrid breeds. While most of these are not recognized by the AKC and some may never be, they are just as unique and interesting. We found all the dog breeds that start with W, including well-known hybrids, to help you get to know them a little better.

The 49 Dog Breeds That Start With W
1.

Walker Greyhound
This unique pooch is a hybrid, a cross between the regal Greyhound and the slinky Treeing Walker Coonhound. These dogs love a good run, but their highly affectionate nature makes them adore relaxing with their human companions just as much. They can be stubborn and will require patience and dedication when training.
---
2.

Wauzer Dog
A cross between the West Highland Terrier and Schnauzer, these shaggy little dogs are equal parts intelligent and loving. They are active pooches that love to play and are great with children and have plenty of energy reserves to keep up. Chewing can be an issue with these dogs, so make sure not to leave any valuables lying around the home!
---
3.

Wee-Chon Dog
This West Highland Terrier and Bichon Frise hybrid are about as adorable as it gets. They are usually white with a thick curly coat but can also have black patches. These dogs bond strongly with their owners and will quickly become your little shadow. They are the quintessential lap dog and love nothing more than curling up on their owner's lap.
---
4.

Weeranian Dog
The Weeranian is another West Highland Terrier cross, this time with the dainty Pomeranian. They are sweet, loving, and cheerful dogs that quickly make friends with everyone, even strangers. They are eager to please and thus easy to train and form strong bonds with their owners. These friendly pooches are great with both kids and other animals, including cats.
---
5.

Weiler Dane
If you want a dog that is as tough as it is large, this Rottweiler crossed with a Great Dane may be the perfect choice. These dogs are protective yet gentle, with loyalty and intelligence to match. Their large size is somewhat misleading, as they have an even and mellow temperament and are rarely aggressive. They are notoriously stubborn, though, and need a firm hand in training.
---
6.

Weimaraner Dog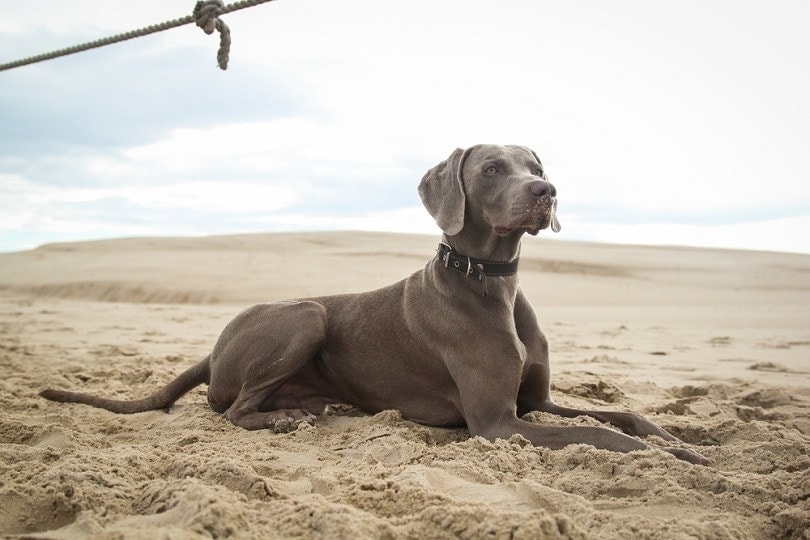 The first AKC-recognized dog on our list, the Weimaraner is a large, slinky dog originally used for hunting big game. Today, they are affectionately known as "silver ghosts," largely due to their striking silver coats and beautiful grey eyes. These gorgeous dogs have a ton of energy and stamina that need to be burned off on a daily basis and a powerful prey drive that your cat may not be happy about!
---
7.

Weimardoodle Dog
This Weimaraner and Poodle hybrid breed is a mix of two powerful hunting dogs, so you can be sure that the Weimardoodle will have a matching prey drive. They are loyal and protective pooches that form strong bonds with their owners, and their highly intelligent parent breeds make them super smart and easy to train. This is a gentle and loving breed that is great with children.
---
8.

Weimarman Dog
A cross between the Weimaraner and Doberman Pinscher, this pooch has a sleek and elegant appearance. They are large dogs that make excellent hunting companions, as well as loyal family pets. Their size, strength, and power make them a formidable breed that needs a firm hand in training, but they are generally gentle and loving with children.
---
9.

Weim-Pei
A cross between the slinky Weimaraner and the Chinese Shar-pei, this hybrid is a keen watchdog that forms a strong bond with its owners. They are highly intelligent dogs that are easy to train, but they can be somewhat guarded at times and may take a while to warm up to strangers. They are low-maintenance pooches, but typically inherit the characteristic wrinkles of their Shar-pei parents that may need some regular attention.
---
10.

Welsh Corgi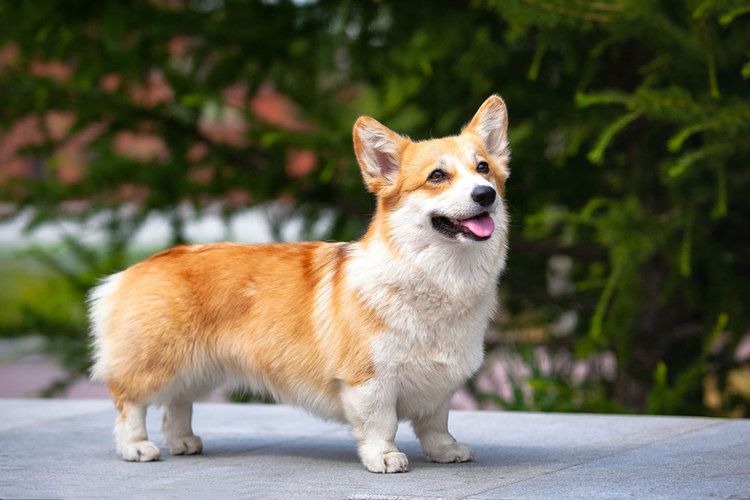 The Welsh Corgi, also known as the Pembroke Welsh Corgi, was originally bred as a cattle and herding dog and is an active and easily trainable breed. They are the smallest breed in the AKC's herding group but are just as capable as any other working dog due to their high intellect. With this intellect comes a stubborn streak, and these dogs are known to be highly vocal, barking at almost everything that moves.
---
11.

Welsh Hound
The Welsh Hound is a formidable hunting dog despite their small size and were consequently rarely kept solely as companion dogs. With hunting being banned in many countries around the world, they have now found their place as working dogs on farms, and are great little companion animals. They were bred to hunt in packs, and as such are highly social animals that tend to get along great with other dogs.
---
12.

Welsh Sheepdog
A capable and efficient herding dog originating in Wales, the Welsh Sheepdog is a highly intelligent and independent animal that loves to work. They are equal parts eager to please and trustworthy, leading them to be a valued dog with an unmatched work ethic renowned by farmers. This high energy, friendliness, obedience, and intellect make them ideal on the farm or in large yards, but they are not suited to apartment living.
---
13.

Welsh Springer Spaniel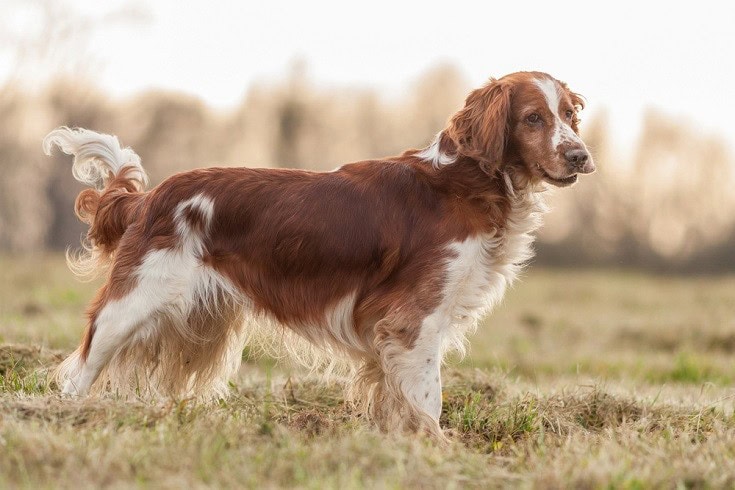 The Welsh Springer Spaniel was originally bred as a capable gundog, used to flush out small game in the field. The breed has been a favorite with hunters for almost two decades, due to both their proficiency at their job and their loyal and affectionate temperament. They are generally friendly dogs but tend to be wary of new faces and may see other smaller pets as prey due to their hunting heritage. That being said, they are eager to please and easy to train, and with early socialization, this shouldn't be an issue.
---
14.

West Highland White Terrier (Westie)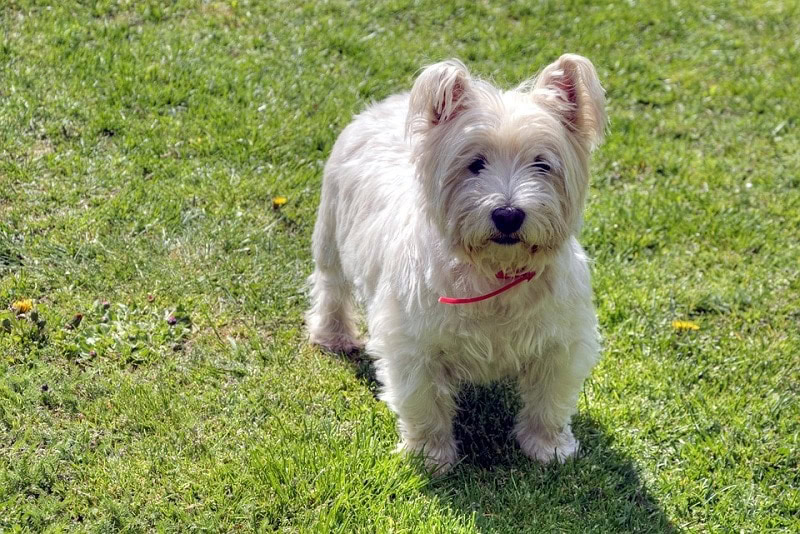 The West Highland White Terrier, or Westie, is a high energy dog originating in Scotland and has a personality that is disproportionate to their diminutive size. These dogs are always ready to go, and although they have a stubborn streak at times, their eagerness to please their owners is usually all the motivation they need. They were originally bred for ratting, and so have a strong prey drive that needs to be kept in check.
Related Read: How Much Does a West Highland White Terrier Cost? (2021 Price Guide)
---
15.

Weshi Dog
The Weshi is a unique hybrid breed, a cross between a Shih Tzu and West Highland White Terrier. They are friendly and loving little lapdogs that were bred with the express purpose of being lapdog companions. That being said, West Highland Terriers have a hunting heritage, and this prey drive may show itself around smaller animals. They are adaptable animals that do well in apartments or out in the countryside.
---
16.

West Highland Husky
The West Highland Husky is a hybrid breed, a cross between the West Highland White Terrier and a Husky. They are a fairly rare breed, and most closely resemble their Westie parents. They are happy, playful, and gentle dogs that get along great with children, and have seemingly endless reserves of energy. Their small size and adaptable nature is great for apartments and country homes alike, but they require a great deal of exercise to stay happy and out of mischief.
---
17.

West of Argyll Terrier
A cross between the energetic West Highland White Terrier and the self-confidant Beagle, the West of Argyll Terrier has plenty of personality and confidence, and a friendly temperament to match. They are stubborn dogs, with stubbornness being a prominent trait in both parent breeds, and they will require a great deal of patience and consistency in training, making them not ideal for first-time dog owners.
---
18.

Wel-Chon
The Wel-Chon is a cross between the spritely Welsh Terrier and cheerful Bichon Frise. They are happy, high-spirited little pooches that love to play and be close to their owners. These pups are highly intelligent, making them a breeze to train and an ideal choice for first-time owners. Their friendly nature makes them get along easily with other pets, and they are great companions for children.
---
19.

West Highland Doxie
A cross between the West Highland Terrier and Dachshund, this spirited little pooch is a bundle of energy that can be difficult to manage. They are as stubborn as they are adorable, making them difficult to train, and they have a protective streak that may make them aggressive toward other dogs at times. That being said, they are loyal and loveable and will want to be involved in your every activity.
---
20.

West Siberian Laika Dog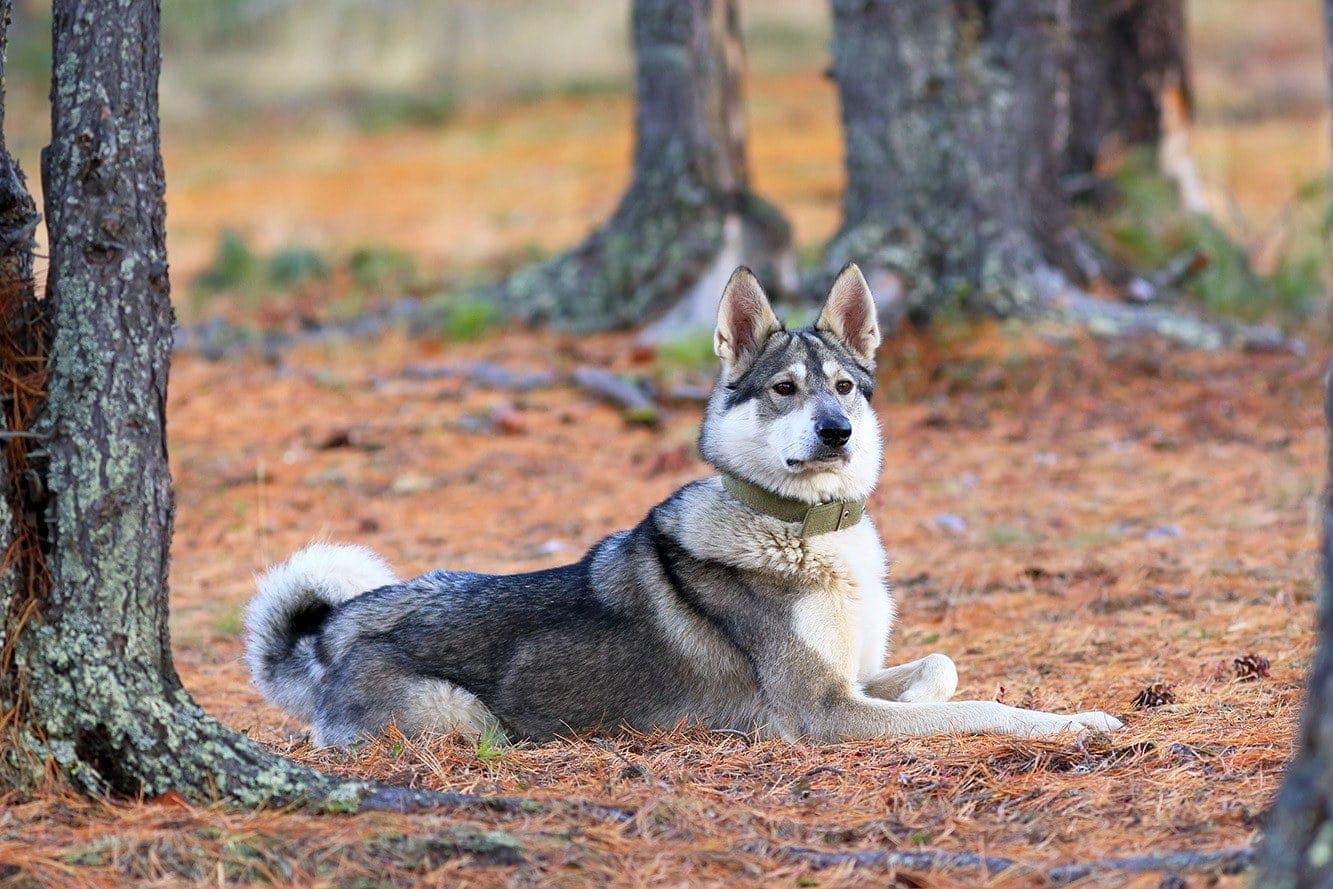 The West Siberian Laika is a Spitz-type dog bred for hunting in Western Siberia. They are affectionate, loyal, and devoted dogs that are fairly wary of strangers. They make great watchdogs as they are alert animals that are prone to barking, and they are highly protective of their owners. While they are rarely aggressive, this loyal and protective nature may cause them to act out at times, and patient and consistent training is needed to socialize them properly.
---
21.

Westeke Dog
This West Highland Terrier and Schipperke hybrid is full of personality and energy and has a bark far bigger than their bite. Their loyalty and protective nature can get them into trouble at times, but they make great little guard dogs all the same. They are confidant pooches that are not shy of strangers and form strong bonds with their owners.
---
22.

Western Mountain Cur Dog
These powerful dogs were originally bred for hunting and guarding, making them a valuable asset for early settlers. They are courageous animals that are highly loyal and protective of their owners. They are fast, extremely intelligent, and easy to train, making them an ideal working dog and companion dog too. Their strength, power, and size make them more suited to experienced dog owners.
---
23.

Westie Staff Dog
A unique and unlikely combination, the Westie staff is a cross of the West Highland Terrier and the American Staffordshire Terrier. They are typically small dogs that make up for their diminutive stature with a ton of confidence and personality. They are usually friendly and even-tempered dogs, but they have a fierce independence that can make training difficult.
---
24.

Westie-Laso Dog
This bearded little pooch is the result of crossing the West Highland Terrier and the Lhasa Apso. These dogs love to play and have a friendly and even temperament that makes them ideal for small children. That being said, their high intellect is mixed with a stubborn and independent streak, and they will often prefer to do their own thing rather than listen to their owner.
---
25.

Westiepoo Dog
A cross between the West Highland Terrier and Poodle, the Westiepoo is an intelligent and active breed that is easy to train and eager to please. They are curious dogs that love to be a part of their owners every activity and spend as much time as possible with humans. Westiepoos are low shedding, making them hypoallergenic and ideal for owners with allergies. They are energetic pooches that need a great deal of exercise to stay healthy and happy.
---
26.

Westillon Dog
A cross between the West Highland Terrier and Papillon, the Westillon is a designer breed with plenty of energy and adorable looks to match. They are highly intelligent, easy to train, and are thus ideal dogs for first-time owners. They are outgoing and playful pooches that are gentle with children, and they bond strongly with their owners. This makes them susceptible to separation anxiety and they do not enjoy being left alone for extended periods.
---
27.

Weston Dog
The Weston is a hybrid breed, a cross between the West Highland Terrier and Coton de Tulear. These designer dogs are friendly, gentle, and outgoing pooches that make ideal family companions. They are calm and even-tempered dogs that are known for their non-aggressive nature and will make fast friends with other family pets and strange dogs. If you are looking for a calm and patient lapdog, the Weston may just be it.
---
28.

Westphalian Dachsbracke Dog
The Westphalian Dachsbracke was bred as a hunting dog in Germany, with their short stature making them proficient at flushing out prey from the tunnels and dens of foxes, badgers, and other small mammals. They are active, eager, and alert animals that love to have a job to do, and thus need a great deal of exercise. With their hunting heritage, these dogs have a strong prey drive and will need early socialization to keep this drive at bay.
---
29.

Wetterhoun Dog
The Wetterhoun, or Frison Water Dog, originated in the Netherlands as a hunting dog used for hunting small mammals and waterfowl. They have gorgeous thick coats and adorable floppy ears, usually with black and white markings. They are excellent guard dogs due to their high intellect and loyalty but are affectionate and loving family companions too.
---
30.

Wheaten Terrier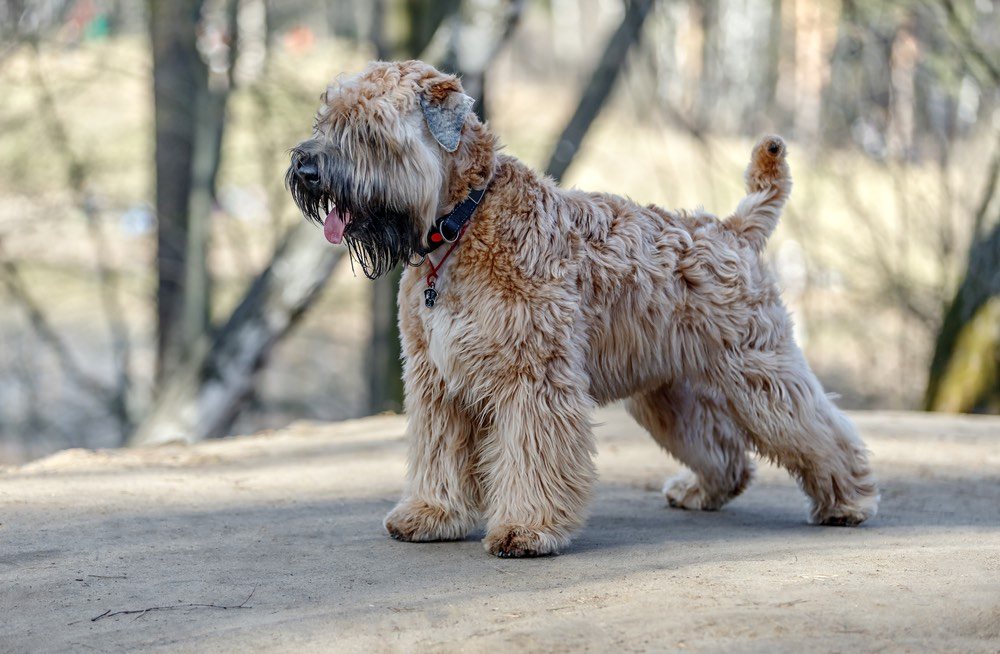 This soft-coated pooch originated in Ireland and is an energetic and playful breed. They are highly sensitive and don't take well to harsh training but are intelligent dogs that are easy to train with reward-based methods. They are known for enthusiastically jumping and greeting their owners, commonly referred to as the "Wheaton Greetin'." Their friendly and passive nature makes them ideal family companions.
---
31.

Whippet Dog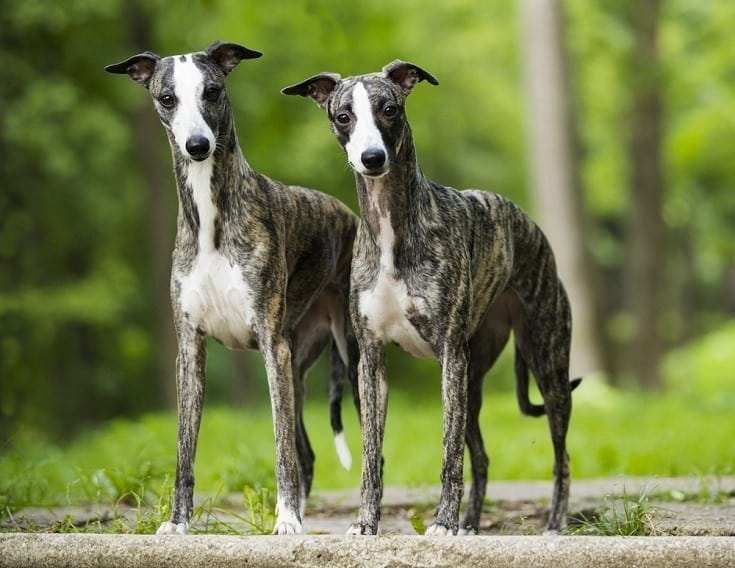 Originally bred for hunting, the Whippet is a tall, sleek dog with a short coarse coat and incredible agility. These dogs have a powerful prey drive and a stubborn, independent nature that is a real challenge in training. They are also highly sensitive pooches that can quickly become stressed and anxious by changes to their environment, so they need proper and early socialization.
---
32.

Whipador Dog
The Whipador is a truly unique hybrid mix of two unlikely breeds, the dependable Labrador, and the slinky Whippet. The result is a streamlined looking Lab, with incredibly high-energy and a playful, friendly nature. Of course, these dogs need a regular outlet for all that energy and will quickly misbehave if not given daily mental and physical stimulation.
---
33.

Whipperman Dog
A cross between a Whippet and Doberman Pinscher, the Whipperman is a friendly, obedient, and energetic dog with the speed and agility of their Whippet parents. They are light shedders and low maintenance, and their ease of trainability and gentle nature makes them great family companions. Their short coat makes them highly susceptible to cold weather, and they are more suited to temperate climates where they can exercise their love for swimming.
---
34.

White English Bulldog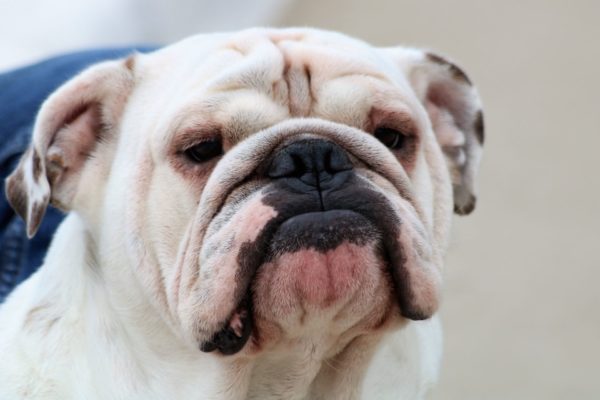 The white English Bulldog is an immediately recognizable dog, with their short legs, stocky build, wrinkled face, and characteristic Bulldog snout. They are even-tempered dogs that love to laze around but make no mistake, they are powerful dogs all the same. They are generally calm, gentle, and happy companions that are perfect for families.
---
35.

White Shepherd Dog
The White Shepherd is a completely white variation of the German Shepherd, their white coat caused by a recessive gene. Since the early 1930s, the Shepherds white coat was considered a fault by breeders, and not officially recognized and accepted as a German Shepherd. They are technically no different from their German Shepherd cousins but are recognized as a separate breed by the United Kennel Club.
---
36.

White Swiss Shepherd
Originating in Switzerland, the Swiss White Shepherd is descended from pure white German Shepherds. Although often confused with White Shepherds, they are actually a separate breed but are not yet recognized by the AKC. They tend to be more shy, reserved, and gentle than German Shepherds, and consequently is not used in police or military work.
---
37.

Wire Fox Pinscher
This hybrid breed is a cross between the Wire Fox Terrier and Miniature Pinscher. They are a "toy" breed that loves nothing more than being cuddled on their owner's laps. As loving as they are, they are highly independent, can be stubborn at times, and can be notoriously difficult to train. They are known for being hyperactive and impulsive pooches, so you'll need a good dose of patience to own one of these unique hybrids.
---
38.

Wire Hair Schnauzer
A cross between the Standard Schnauzer and Wire Fox Terrier, these "designer" dogs are deeply curious and intelligent, making them a busy and active breed. They will spend hours in the yard chasing smells, which can become a problem on walks around the park. They are generally aloof and disinterested at times and are independent, impulsive dogs that are happy to be left alone for hours on end.
---
39.

Wirehaired Fox Terrier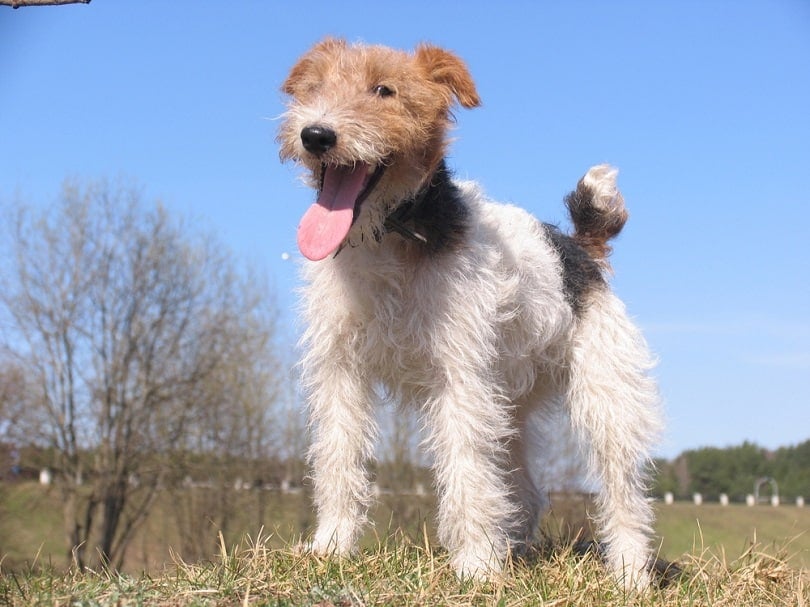 The smooth-haired Fox Terrier's close cousin, these dogs are Terriers in every sense of the word. With their distinctive bearded snouts and long legs, they are built for ratting. They are high-energy dogs that require a great deal of exercise and mental stimulation and almost constant attention from their owners.
---
40.

Wirehaired Pointing Griffon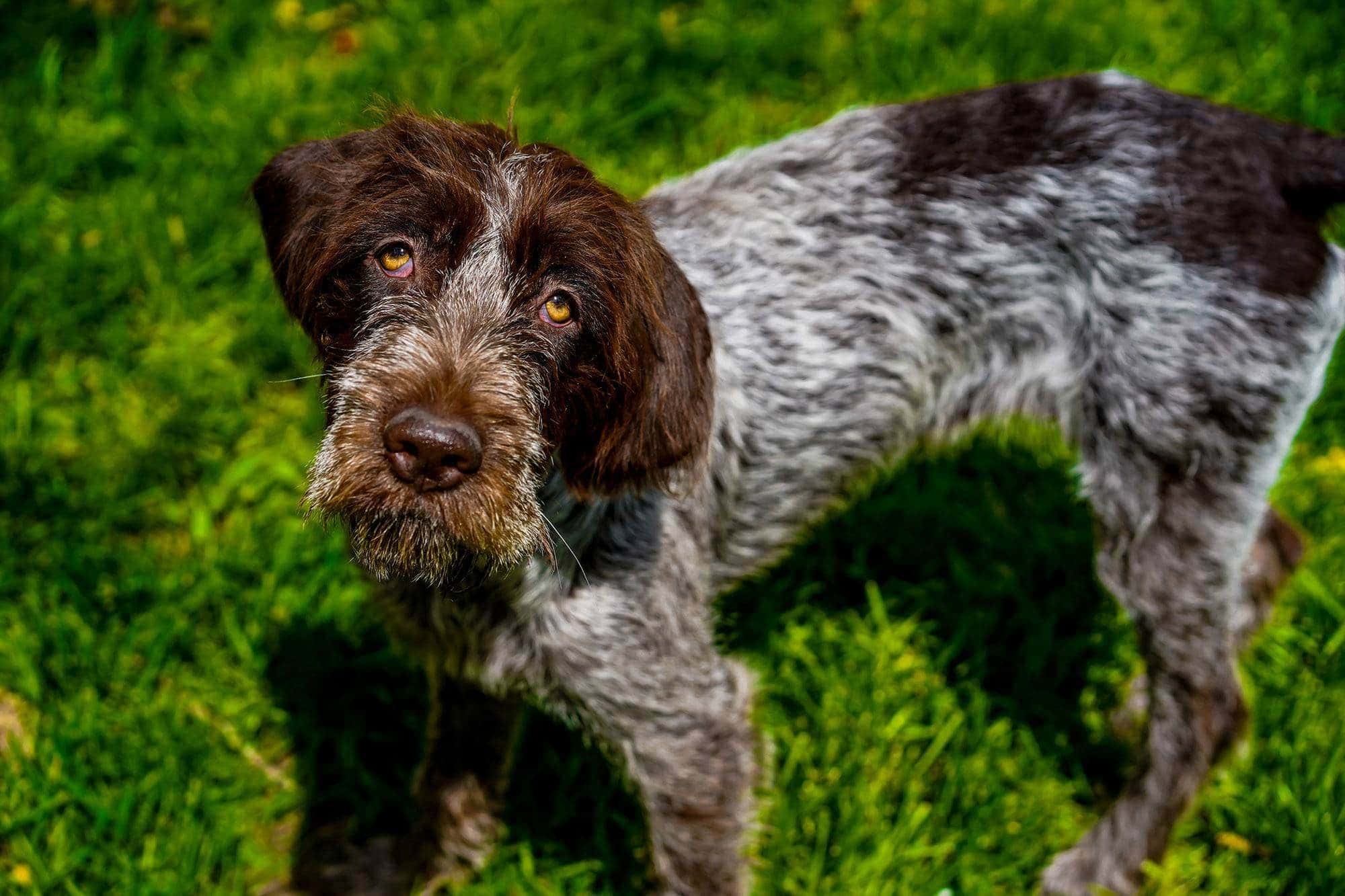 These energetic pooches are ideal family companions, as loving, gentle, and friendly as they come. They were originally bred for hunting and thus have a strong prey drive that can be difficult to manage. With this hunting heritage, they'll need a ton of mental and physical stimulation, and although they are friendly, they are wary of other dogs and strangers.
---
41.

Wirehaired Vizsla
A close relative of the Vizsla, the Wirehaired Vizsla has a dense shaggy coat as opposed to their smooth-haired cousin. They are also slightly taller and heavier, but both breeds have the same rusty-colored coat and round, brown eyes. They were bred as a sturdier and tougher version of the Vizsla that could handle the tough, cold terrain of their native Hungary.
---
42.

Wirelsh Terrier
A cross between the Welsh Terrier and Wire Fox Terrier, this breed makes an ideal watchdog due to their alert and keen nature. They are active, independent, and somewhat fearless dogs, a trait that often gets them into sticky situations. They are great family companions and are typically calm and gentle with children.
---
43.

Welsh Terrier
As the name suggests, this dog originated in Wales and was bred to be an independent little hunting companion. These dogs have an innate joyfulness that is contagious, so much so that it can take a great deal for them to relax or get tired. They are independent dogs that can be a challenge for first-time owners, but they have a ton of love and affection to give, and they are friendly with other dogs and strangers alike.
---
44.

Wowauzer Dog
The Wowauzer is a hybrid breed, a cross between a Welsh Terrier and Miniature Schnauzer. They are energetic, affectionate, and friendly dogs that make ideal little family companions. They need a great deal of exercise, without which they can swiftly become destructive and disobedient. They are highly alert and have a loud and distinctive bark that makes them great watchdogs.
---
45.

Wire-Poo
With their distinctive beard and energetic nature, this Wire Fox Terrier and Poodle hybrid is a new kid on the block of designer breeds. They are affectionate dogs but require double the amount back, and do not enjoy being left alone for extended periods. Both their parent breeds are prolific hunters, and consequently, they have a strong prey drive, but their eagerness to please and high intelligence makes them easy to train and keep this instinct at bay.
---
46.

Woodle Dog
The Woodle is a hybrid breed, a mix between a Welsh Terrier and Poodle. These dogs are typically calm and even-tempered pooches, but they are playful as they come and love to spend time in the backyard playing games with their owners. They are highly intelligent, with an eager-to-please attitude that makes training a breeze.
---
47.

Wolador Dog
The Wolador is a hybrid breed, a mix between a Timber Wolf and Labrador. These dogs are powerful, intelligent, and headstrong, and definitely not a good choice of breed for first-time owners. That being said, they are generally sweet and gentle with their owners, albeit a bit wary and skittish around strangers. They have a stubborn and independent nature at times that can make training difficult, but their Labrador heritage usually shines through in the end and they are eager to please their owners.
---
48.

Wolamute Dog
The Wolamute is a powerful and intimidating breed, a cross between a Grey Wolf and Alaskan Malamute. While these dogs are generally friendly and affectionate, they are best left to owners with a great deal of experience and patience. Their Wolf heritage makes them less dog-like and more instinctually driven, giving them powerful hunting instincts. They should never be left alone with children, can be highly territorial and aggressive at times, and consequently need a firm but gentle hand in training.
---
49.

Wolfdog
A wolfdog is a result of breeding a Grey Wolf or an Ethiopian Wolf with a domestic dog. They can thus come in a wide range of sizes, varieties, and temperaments depending on the cross, and are in fact illegal in over forty US states. They are powerful animals with a wild instinct, and this can make
---
Featured Image Credit: Dora Zett, Shutterstock